Galway GAA legends to continue 'on call
January 22, 2021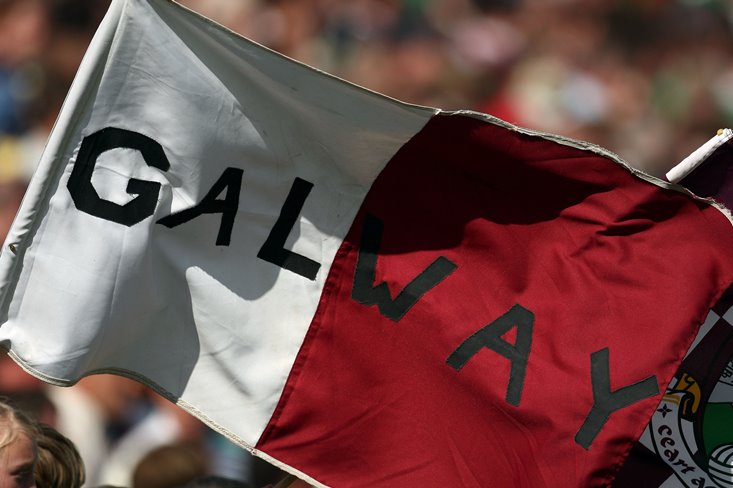 A Galway flag flies proudly in the crowd
A number of Galway GAA legends are once again making themselves available to talk to those living alone or most in need at this very difficult time.
The GAA chat initiative was first introduced last April and proved hugely successful, particularly with those cocooning. Brendan Mulry of Irish Rural Link is managing the initiative again in association with Galway GAA, Paul Byrnes Media and support from the 'Keep Well' Resilience Campaign.
Throughout this latest lockdown a number of Galway football and hurling legends have all very kindly made themselves available to talk to GAA fans on the phone. They include: 3-time All-Ireland winning manager Cyril Farrell, 3-time All-Ireland winner Noel Lane and Joe Connolly who captained Galway to All-Ireland success in 1980 as well as All-Star footballer John Tobin.
"We are very lucky to have the likes of Cyril, Joe, John and Noel all on board for this project. They are all legends of the game and are very kindly giving up their time to help," said Paul.
If you would like to receive a call from one of the legends or would like to arrange a call on behalf of a family member or friend just contact Brendan on 087 2194243 or [email protected] who will arrange the calls over the coming weeks.
Mr Mulry said; "While there aren't any firm rules, the focus is really on those fans who maybe need this most. Think of a parent or grandparent who is at home alone and would love to chat all things GAA with one of our legends."
Pat Kearney, Chairperson of Galway GAA said: "This initiative proved to be a great success last year and helped many stuck at home cocooning. It's still a very difficult time for everybody so projects like this really help in these uncertain times."
Most Read Stories