2019 hurling league fixtures: Cats to face Rebels
September 05, 2018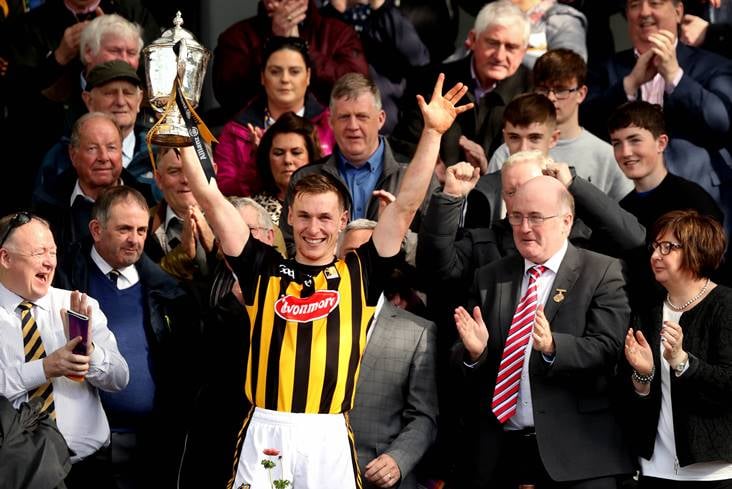 Kilkenny captain Cillian Buckley lifts the Allianz HL Division 1 trophy.
League champions Kilkenny will commence their 2019 Division 1A campaign with a home fixture against Cork.
According to a provisional fixtures revealed by the Irish Independent, Brian Cody and the Cats will entertain the Rebels in round 1 which is pencilled in for Sunday, January 27th.
Liam MacCarthy Cup winners Limerick will be looking to cement their place in the top flight after securing a long-awaited promotion earlier this year.
John Kiely's All-Ireland heroes will travel to Wexford to take on Davy Fitzgerald's side on the opening weekend.
Here is the provisional fixtures list in full...
2019 Allianz Hurling League Provisional Fixtures
Saturday 26 January
Division 1A round 1
(7.0): Tipperary v Clare
Division 1B round 1
(7.0): Dublin v Carlow
Division 2B round 1
(2.0): Warwickshire v Wicklow
Sunday 27 January
Division 1A round 1
(2.0): Kilkenny v Cork
(2.0): Wexford v Limerick
Division 1B round 1
(2.0): Waterford v Offaly
TBC Galway v Laois
Division 2A round 1
(2.0): Mayo v Meath
(2.0): Westmeath v London
TBC Antrim v Kerry
Division 2B round 1
(2.0): Donegal v Kildare
(2.0): Down v Derry
Division 3A round 1
(2.0): Lancashire v Tyrone
TBC Louth v Roscommon
TBC Monaghan v Armagh
Division 3B round 1
(2.0): Cavan v Leitrim
(2.0): Sligo v Fermanagh
Saturday 2 February
Division 1A round 2
(7.0): Limerick v Tipperary
Sunday 3 February
Division 1A round 2
(2.0): Clare v Kilkenny
(2.0): Cork v Wexford
Division 1B round 2
(2.0): Carlow v Galway
(2.0): Laois v Waterford
(2.0): Offaly v Dublin
Division 2A round 2
(2.0): Kerry v Westmeath
(2.0): London v Mayo
(2.0): Meath v Antrim
Division 2B round 2
TBC Derry v Donegal
(2.0): Kildare v Warwickshire
TBC Wicklow v Down
Division 3A round 2
TBC Armagh v Lancashire
TBC Roscommon v Monaghan
TBC Tyrone v Louth
Division 3B round 2
(2.0): Fermanagh v Longford
(2.0): Leitrim v Sligo
Saturday 16 February
Division 1A round 3
(7.0): Cork v Clare
Division 1B round 3
(7.0): Laois v Offaly
(7.0): Waterford v Carlow
Sunday 17 February
Division 1A round 3
(2.0): Kilkenny v Limerick
(2.0): Wexford v Tipperary
Division 1B round 3
(2.0): Galway v Dublin
Division 2A round 3
(2.0): Antrim v Westmeath
(2.0): Kerry v Mayo
(2.0): Meath v London
Division 2B round 3
(2.0): Donegal v Wicklow
(2.0): Kildare v Derry
(2.0): Warwickshire v Down
Division 3A round 3
(2.0): Armagh v Roscommon
(2.0): Lancashire v Louth
(2.0): Tyrone v Monaghan
Division 3B round 3
(2.0): Longford v Leitrim
(2.0): Sligo v Cavan
Sunday 24 February
Division 1A round 4
(2.0): Clare v Wexford
(2.0): Tipperary v Kilkenny
TBC Limerick v Cork
Division 1B round 4
(2.0): Carlow v Laois
(2.0): Dublin v Waterford
TBC Offaly v Galway
Division 2A round 4
(2.0): London v Kerry
(2.0): Mayo v Antrim
(2.0): Westmeath v Meath
Division 2B round 4
(2.0): Down v Donegal
(2.0): Warwickshire v Derry
(2.0): Wicklow v Kildare
Division 3A round 4
(2.0): Monaghan v Lancashire
(2.0): Roscommon v Tyrone
TBC Louth v Armagh
Division 3B round 4
(2.0): Leitrim v Fermanagh
TBC Cavan v Longford
Sunday 3 March
Division 1A round 5
(2.0): Clare v Limerick
(2.0): Cork v Tipperary
(2.0): Wexford v Kilkenny
Division 1B round 5
(2.0): Carlow v Offaly
(2.0): Dublin v Laois
(2.0): Waterford v Galway
Division 2A round 5
(1.0): Antrim v London
(1.0): Kerry v Meath
(1.0): Westmeath v Mayo
Division 2B round 5
(1.0): Derry v Wicklow
(1.0): Donegal v Warwickshire
(1.0): Kildare v Down
Division 3A round 5
(1.0): Lancashire v Roscommon
(1.0): Louth v Monaghan
(1.0): Tyrone v Armagh
Division 3B round 5
(1.0): Fermanagh v Cavan
(1.0): Longford v Sligo
Most Read Stories