16 counties represented on Masters International Rules squad
July 14, 2019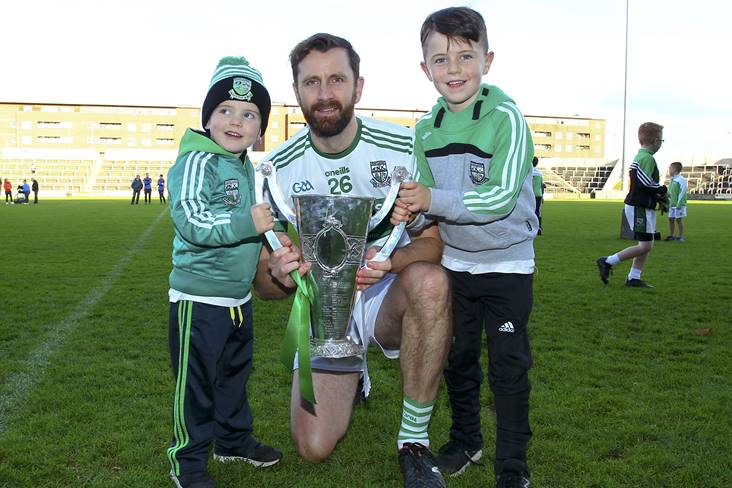 Portlaoise's Kevin Fitzpatrick celebrates with his sons Zach and Dillon. ©INPHO/Ken Sutton.
The Irish Masters (Over 40) squad to face their Australian counterparts in next Saturday's International Rules test in Denn, Co. Cavan has been named.
The 32-man squad features two players from each of the 16 counties that compete in Masters football, including London. Managed by Jimmy Galligan (Cavan), Joe Leonard (Tyrone) and Anthony Carroll (Roscommon), the squad includes a number of well-known former county seniors, including Kevin Fitzpatrick (Laois), Martin Flanagan and Alan 'Buddah' Mangan (Westmeath), Michael Moyles (Mayo) and Odhran O'Dwyer (Clare), who played in the senior International Rules series in 2003.
The countries will compete for the Paddy Gaffney Cup in memory of the late Paddy Gaffney. Paddy was a proud Denn GAA clubman and represented Ireland Masters in 2004 in Ireland and in April 2006 in Australia. He died from a heart attack in May 2006, and current Leitrim manager Terry Hyland donated the Paddy Gaffney Cup to the Masters in Paddy's honour.
Since the Paddy Gaffney Cup has been played for, Ireland have won the series twice (October 2006 and 2016), and Australia have won it twice (2008 and 2009).
A novel twist to this year's test is that two quarters will be played with the Australian footy, with the Gaelic football used in the other two quarters.

The Ireland squad is: Sean McDaid, Michael Ward (Donegal); Carl McGrane, Noel Casey (Kildare); Colin Gordon, Con O'Meara (Sligo); Alan Mangan, Martin Flanagan (Westmeath); Paul Gilleran, Terence Kelly (Roscommon); Pat Mulchrone, Michael Moyles (Mayo); Kevin Fitzpatrick, John Kealy (Laois); Chris Byrne, Keith Geraghty (London); Pat Cunningham, Paraic de Paor (Galway); Tony Convery, Laurence Higgins (Antrim); Kevin McGrath, Johnny Burns (Down); James O'Connor, Damian Flanagan (Dublin); Eamon McElroy, Eoin Gormley (Tyrone); JP McManus, Noel Reynolds (Leitrim/Longford); Jerome Kiernan, Mickey Brennan (Cavan); Odran O'Dwyer, Ronnie Slattery (Clare).
Most Read Stories