LGFA All Star exhibition game from Texas to be live-streamed on Easter Sunday
April 04, 2023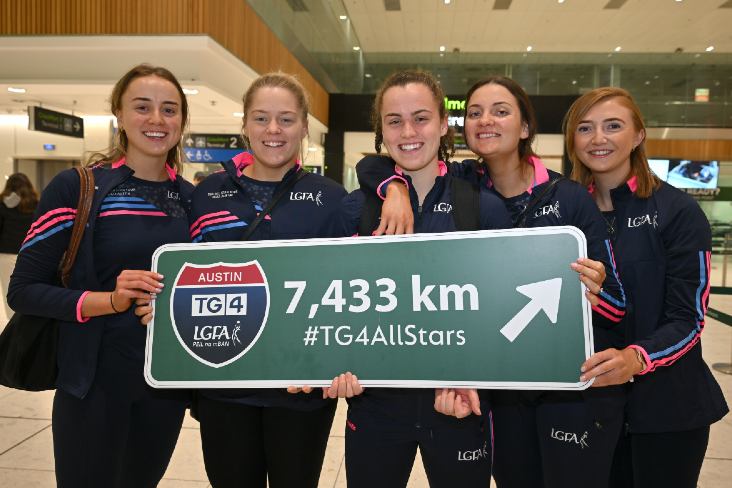 Meath players, from left, Aoibhín Cleary, Monica McGuirk, Emma Duggan, Máire O'Shaughnessy, Aoibheann Leahy at Dublin Airport in Dublin before their departure for the 2023 TG4 LGFA All-Star Tour to Austin in Texas, USA. Photo by Brendan Moran/Sportsfile
The 2021 and 2022 TG4 All Stars are en route to Austin, Texas, for the 2023 TG4/LGFA All Star tour.
38 of the game's leading stars are making the trip to the US, with this tour rescheduled after it was postponed in 2020 due to the Covid-19 pandemic.
The local Celtic Cowboys will host the traditional exhibition game between the 2021 and 2022 All Star selections, which will be played at St Edward's University on Easter Sunday, April 9.
This game, which can be viewed at http://bit.ly/42YMFwN, will be live-streamed on the Spórt TG4 YouTube page, with coverage getting underway from 2.20pm local time (8.20pm Irish time), ahead of throw-in at 2.30pm local time (8.30pm Irish time).
The 2021 selection will be managed by former Meath supremo Eamonn Murray, who guided the Royal County to TG4 All-Ireland Senior championship glory in 2021 and 2022, with Kerry joint-manager Darragh Long taking charge of the 2022 team.
The match will be overseen by Cavan's Maggie Farrelly, one of the most experienced whistlers on the circuit and referee for the 2014 and 2022 TG4 All-Ireland Senior Championship Finals.
This is the ninth All-Star tour for the LGFA and the travelling party left Dublin airport early this morning.
Prior to departure, Ladies Gaelic Football Association President Mícheál Naughton said: "For many of our players, the prospect of a TG4 All Star tour is a once in a lifetime experience.
"After the proposed 2020 tour was cancelled, we are delighted to now finally get the chance to visit Austin, Texas, and this trip is a brilliant reward for our players who have provided such wonderful football in recent times.
The travelling party will return to Ireland on Tuesday April 12, with local school visits and river cruises also factored into a packed itinerary.
The squad line-outs for the 2023 TG4/LGFA All Star Exhibition game are as follows:
All Star Team 2021
1 Monica McGuirk Meath
2 Emma Troy Meath
3 Mary Kate Lynch Meath
4 Leah Caffrey Dublin
5 Erika O'Shea Cork
6 Aoibhín Cleary Meath
7 Orlagh Nolan Dublin
8 Hannah Looney Cork
9 Máire O'Shaughnessy Meath
10 Hannah Tyrrell Dublin
11 Rachel Kearns Mayo
12 Niamh O'Sullivan Meath
13 Vikki Wall Meath
14 Emma Duggan Meath
15 Geraldine McLaughlin Donegal
16 Róisín Phelan Cork
17 Lauren McConville Armagh
19 Olivia Divilly Galway
20 Lyndsey Davey Dublin
All Star Team 2022
1 Ciara Butler Kerry
2 Shauna Ennis Meath
3 Kayleigh Cronin Kerry
4 Danielle Caldwell Mayo
5 Aishling O'Connell Kerry
6 Aoibheann Leahy Meath
7 Nicole McLaughlin Donegal
8 Cáit Lynch Kerry
9 Niamh McLaughlin Donegal
10 Niamh Carmody Kerry
11 Carla Rowe Dublin
12 Shauna Howley Mayo
13 Aimee Mackin Armagh
14 Stacey Grimes Meath
15 Louise Ní Mhuircheartaigh Kerry
17 Sinéad Cafferky Mayo
18 Nicola Ward Galway
19 Anna Galvin Kerry
20 Mo Nerney Laois
Most Read Stories