10 years ago today, Stephen Cluxton sees red for hitting Irish soccer legend
April 04, 2021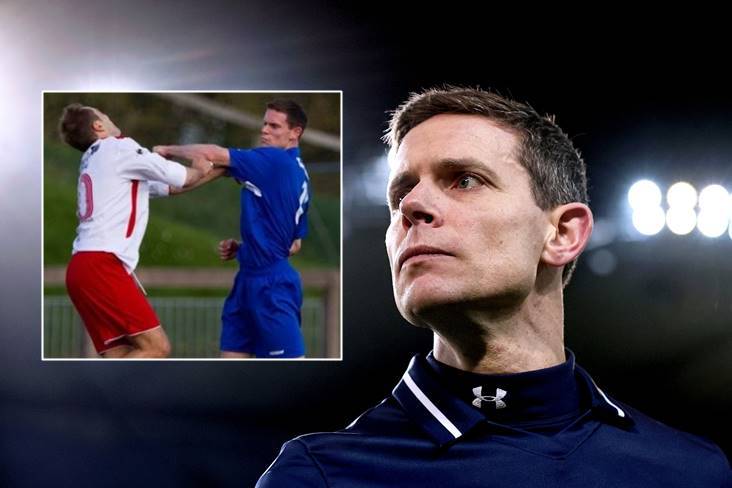 Dublin captain Stephen Cluxton, and inset, hitting Irish soccer legend Jason McAteer a punch during a charity match in 2011.
Seeing red. For hitting an Irish soccer legend. In a charity match. That was the fate which befell Dublin goalkeeper Stephen Cluxton on this day 10 years ago.

Cluxton, who kept a clean sheet as Dublin maintained their 100 per cent Allianz National League record against Down on Saturday night, was part of the Darndale FC side which took on a Liverpool Legends XI at Santry's Morton Stadium.

The game was ostensibly in aid of the Autism Ireland charity, but it seems there wasn't much charity in the air when Cluxton and former Ireland star McAteer squared up.

The moment that the All Star goalkeeper landed a left hook on his rival's chin made the back page of the Irish Daily Star the following morning

The Sun, meanwhile, claims the pair pre-planned the altercation for the entertainment of the crowd of around 2,500 in attendance.

Former world boxing champion Bernard Dunne was among those at the game, drawing attention to the incident on Twitter.

"#StephenCluxton is my hero," he tweeted. "Showed a soccer player today (Jason McAteer) GAA boys don't fanny about like those soccer players.. 1-2 uni flu!"

A later tweet from Dunne read, "I don't condone it of course but [email protected] me that was impressive. Unlike our western neighbours sport GAA boys dont mess about.."

And another: "It was a whopper. If be careful about saying anything about hid mistakes in future if I was on the Dublin panel. Legend."

Cluxton's then Dublin teammate and Footballer of the Year Bernard Brogan joined the Twitter conversation by telling Dunne, "You would of been proud of that left hook!!!"
Most Read Stories