A new book gets key advice from players nationwide
September 27, 2021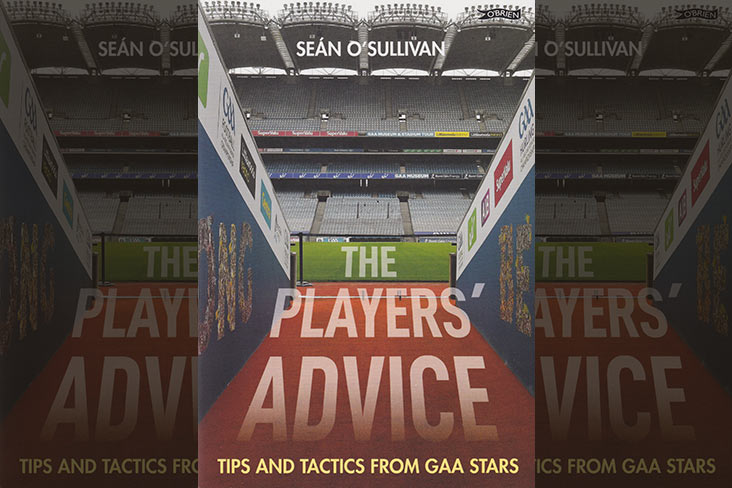 The Players Advice, Tips and Tactics from GAA Stars by Sean O'Sullivan
Do you love GAA? Do you want to know how to be the best that you can be?
The Players' Advice is an invaluable collection of advice from more than 100 of the top footballers, hurlers and camogie players from across Ireland.The players share tips on nutrition, lifestyle, mental attitude, skill development across all positions, game preparation, recovery, and much more. Advice by players, for players with forewords by Mick Bohan and Marty Morrissey.
Praise for The Players' Advice
'An essential read' -Tommy Walsh, Former Hurler of the Year and 9-time All-Ireland winning hurler with Kilkenny. 'An invaluable resource'- Brid Stack, 11-time All-Ireland winning footballer with Cork.
'An honest insight into what it really takes to make it to the top' - Kieran Donaghy, Former Footballer of the Year and 4-time All -Ireland winning footballer with Kerry.
From The Players' Advice:
'Practise, practise, practise' - Jason Doherty
'Don't compare yourself to others ... Focus on what you are good at and work your socks off to become better' - Tommy Walsh
'There are always going to be losses that stick with you ... but it's about learning from these experiences to better yourself' - Eoin Murchan
'Enjoy every win that comes along' - Chloe Sigerson
'Practise as much as possible and to pay attention to coaches at training' - Noel McGrath
'Practise ... You'll be surprised how much a difference ten minutes a day can make' - Sean Powter
'Playing 'keepie uppies' or trying to aim for the same spot on the wall all helped to having that bit of skill on the pitch' - Eimear Scally
'Kick the ball high, but with a smooth and easy strike' - Ross Munnelly
'Every day, I went to a hurling wall to practise the skills of the game. I worked on developing my skills using both sides of my body' - Zak Moradi
'Keep going to the end ... no matter what' - John Mullane
Invaluable and inspirational, The Players' Advice by Sean O'Sullivan is out now.
'What a fantastic achievement for a young man to have pulled a piece of work together like this. What a positive reflection on the GAA community nationwide for so many young people to have taken time out to share some of the nuggets that they have picked up during the course of their careers with a young man the majority of them hadn't met before. Our games are special and they grip us from an early age, they give us an identity, a pastime, a place of refuge, an escape and a purpose. They give us friendships, they teach us how to deal with upset and failure, and sometimes when we are really fortunate we experience the absolute satisfaction of victory. This book shares the many stories, lessons and nuggets that players have learnt or had passed on to them down through the years' Mick Bohan
Sean O'Sullivan is a fan, Gaelic footballer, coach and student, in that order. The Dubliner has been involved with his local club, CLG Na Fianna, since he was six years old. He coached his first team when he was only sixteen. Sean is studying for a BSc in Education and Training in DCU. His passion for the GAA drove him to follow his dream to bring this book to life. He is one of the youngest authors ever published by The O'Brien Press. This is his first book.
The Players' Advice by Sean O'Sullivan
Most Read Stories