Mayo supporters should appreciate 'privileged position' a little bit more - Hennelly
September 26, 2021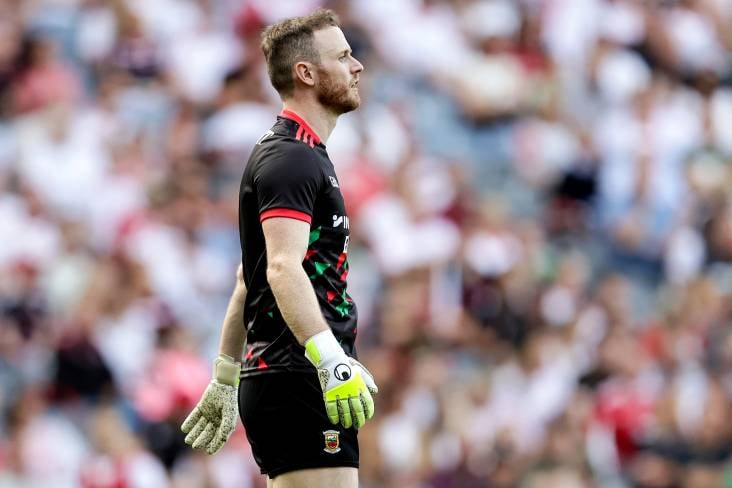 Mayo goalkeeper Rob Hennelly during the All-Ireland SFC final against Tyrone ©INPHO/Laszlo Geczo
Mayo goalkeeper Rob Hennelly says supporters in the county should appreciate that they are in "a privileged position" with the team being one of the top contenders for the All-Ireland SFC title.
Mayo county board last week condemned what it described as "personal attacks" on players and management in the wake of the Connacht champions' All-Ireland final defeat to Tyrone.
Speaking to TG4 after his club Breaffy defeated The Neale in their Mayo SFC opener earlier today, Hennelly says there's lots to look forward to with this current group of Mayo players.
"The first week is a bit of a blur," he said. "You're just trying to avoid people a little bit. This week, I watched back the game a couple of times, took a few learnings from it. We just have to take the positives from it.
"I was looking at the players in the squad, and in the dressing room after the game, it's a new group. There's lots to look forward to. We should be a lot more positive than people are at the moment.
"In fairness, I understand where supporters are coming from, but everyone is disappointed. It's tough, and obviously it's tough on the players as well. I think it's important that we put it in context: We're very lucky in Mayo that we can compete at the highest level. We've got another great squad of players who have an opportunity to go on and improve on this year, which was a really successful year, bar the last game where we didn't do ourselves justice.
"If we learn from it, build on it again, there's so to look forward to. If I was talking to Mayo supporters, we are very lucky, we are in a privileged position in Mayo, and we should probably appreciate it a little bit more."
Most Read Stories