'Trust' from Dooher and Logan in players was massive - McGeary
September 24, 2021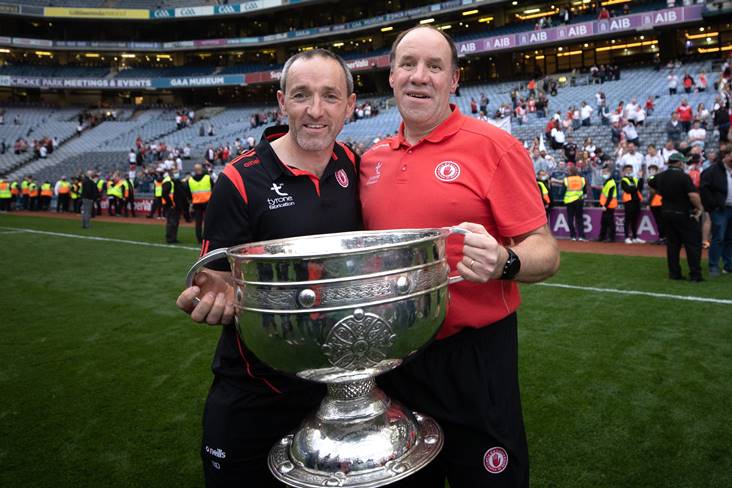 Tyrone joint-managers Brian Dooher and Feargal Logan celebrate with the Sam Maguire Cup. ©INPHO/James Crombie.
Tyrone star Kieran McGeary says trust was the key element to Brian Dooher and Feargal Logan's success with the Red Hands this past season.
Dooher and Logan succeeded Mickey Harte last November, with the latter having stepped down from his post after 18 years in charge of the team.
Tomorrow marks a fortnight since Tyrone captured their first All-Ireland SFC title in 13 years and, speaking to RTE Sport, McGeary says the trust the new joint managers had put in the players this year was colossal.
"One of the big words used this year, was that 'We trust ye, we trust ye. Ye will know what to do in the moment'," he said.
"As a team, we had small things this year, one of them was 'Head, legs, heart' and if you were to use those three things in your game, that would take you through it.
"Playing without fear was one of my big ones. The ability to know that you're trusted was a massive one, that you're being trusted to make a decision. If you made mistakes, you'd soon hear about it. Brian was still a ruthless man, but in a really good way. You were trusted, but your own ability was trusted - you weren't asked after why did you do a thing. You had your reason for doing it in the moment.
"We always talked about 'the we, the we, the we' and giving the ball to the best person in the best position. If somebody's goosed, you sprint up the field for them because you know you've got the legs to do it. It was just small things like that which were the trust."
Most Read Stories