What they said…the weekend in quotes
October 26, 2020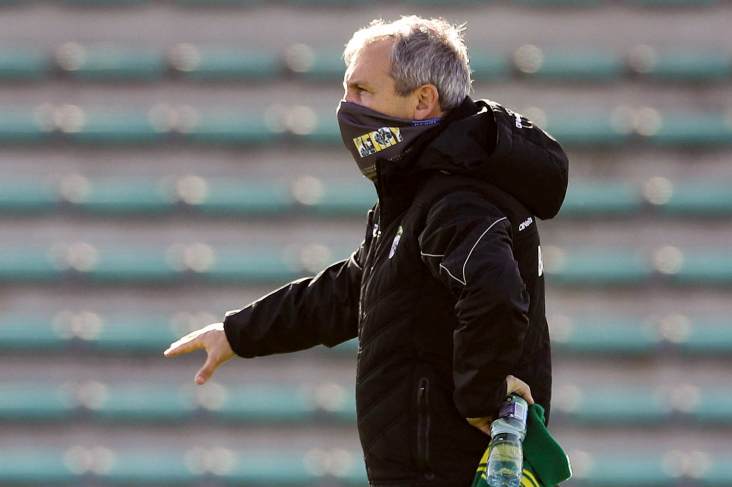 Kerry boss Peter Keane during his side's win over Donegal at Austin Stack Park
It was a weekend which saw promotions and demotions across the Allianz Football League and the 2020 All-Ireland SHC finally commence...
"From a Galway point of view all we can do is worry about ourselves. The lads are working very hard to stay away from people and they are treating everyone they meet as if they have Covid, that's what you have to do."
Padraic Joyce aired his concerns over the Covid-19 close contact rule after being down a couple of players in Sunday's loss to Dublin
"Some of the personnel involved with the various squads around the country are doing trojan work in terms of the doctors and the logistics people. So far so good, there has been a couple of episodes but at this stage, all fingers crossed, we'll have a very good championship."
After seeing his side finish second the Division 1 with victory over Galway, Dublin manager Dessie Farrell is keen for a smooth All-Ireland SFC in the coming weeks and months.
"I mean he adjusted seamlessly back into Gaelic games and the first night he came to the training, he was just like lad that was always there. He enjoys football, he's just a real fanatic for any kind of sport and I'm glad now that Gaelic is his game of choice."
Conor McKenna's Man of the Match performance for Tyrone against Mayo delighted manager Mickey Harte.
"There's no time to feel sorry for ourselves, no time to drop the heads and hide in the corner. We'll just have to take it on the chin."
Cavan boss Mickey Graham was quick to turn his attentions towards the Monaghan clash after suffering relegation from Division 2 on Saturday.
"We wanted a bit of revenge for last year. We didn't do ourselves justice. But from tomorrow we'll get our heads right for next week."
Dublin's 14-point win over Laois on Saturday helped right a wrong from last year for supremo Mattie Kenny.
"The fear we have in hurling is that the black card is going to come in now, if we see too much more of that it's going to happen."
Former Tipperary 'keeper and Sunday Game analyst Brendan Cummins gave his thoughts on the incident which saw Dublin's Danny Sutcliffe used his hurl to trip Paddy Purcell with his Laois opponent headed towards goal.
"It was cynical but it is something we don't want to see creeping in to the game."
Former Galway boss Micheál O'Donoghue agreed with is fellow analyst Cummins on The Sunday Game.
"We've got to become a better team, we've got to become effectual in any weather, in any conditions. I'm confident that we can improve again on today's performance."
While pleased with his team's 0-36 tally, Limerick manager John Kiely is targeting further improvement from the performance which defeated Clare yesterday.
"Some people say be careful what you wish for, because we are going to be going up against the big boys now and mistakes that were forgiven today won't be. But I'm delighted for the fellas."
A happy Kieran McGeeney speaking in Ennis after his Armagh side clinched promotion to Division 1 of the Allianz Football League with victory over Clare.
"Cork have had a great year and they have been promoted out of Division 3 as champions. We had a very difficult game there last year so we are very wary of them."
Peter Keane was quick to turn attentions towards his side's Munster SFC opener next month after the Kingdom recorded a 21st National League success on Saturday.
Most Read Stories