McKenna start surprised Canavan
October 21, 2020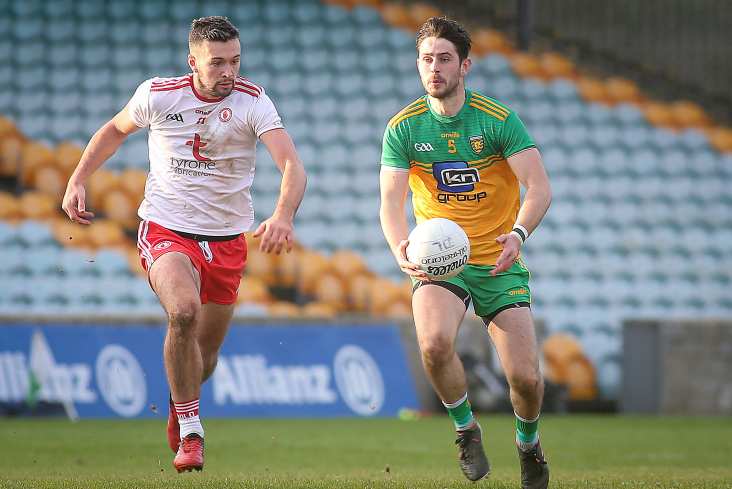 Tyrone's Conor McKenna chases down Donegal's Ryan McHugh
Peter Canavan says he was surprised to see Conor McKenna in Tyrone's starting line-up this past weekend.
The Eglish clubman started at centre-forward as the Red Hands fell to a 2-17 to 2-13 to Donegal in Ballybofey, where McKenna saw his first bit of competitive action in Gaelic football since announcing his retirement from the AFL six months.
The 24-year-old notched 1-2 in his side's defeat and, writing in his Sky Sports column, Canavan feels he gives manager Mickey Harte "serious options moving forward".
"I was surprised when I saw Conor McKenna on Tyrone's starting team on Sunday," the two-time All-Ireland-winner wrote.
"I didn't think he would compete and play the way that he actually is. I thought he would have needed a bit more time to adjust to the pace of the game.
"It was obvious from what Mickey Harte had seen in training that he was producing the goods and that was very evident once the game started. Not only was he able to get himself in good scoring positions and take those chances but he had a couple of quality passes as well and was able to stand up the physicality.
"Not many can take Michael Murphy head on; McKenna was game enough, and it didn't take a flinch out of him!
"That was probably the most pleasing aspect from a Tyrone point of view. He has adapted quicker than many expected and he gives Mickey serious options moving forward."
Most Read Stories