Con not sure if Gavin will stay
September 20, 2019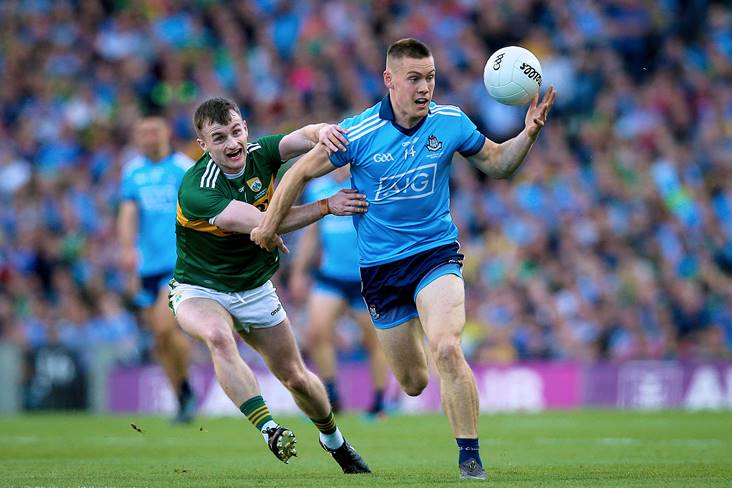 Dublin's Con O'Callaghan with Tom O'Sullivan of Kerry
Con O'Callaghan says he has no idea if Jim Gavin will continue as Dublin football manager in 2020.
Speculation has surrounded Gavin's future since he led the Dubs to an unprecedented five-in-a-row of All-Ireland SFC titles last weekend and O'Callaghan couldn't shed any light on the matter when speaking to reporters after collecting his PwC GAA/GPA Player of the Month award for August yesterday.
"That is absolutely Jim's decision," the star forward stressed.
"All the players love playing for him, but that will be his decision. I don't know any more. There has been a lot of talk in the media but as far as we are concerned it is the same as usual – celebrate in the next couple of months, reconvene come December, and figure out a plan."
O'Callaghan, who will be back in club action with the Cuala hurlers on Sunday, attributes his bulkier and more muscular frame to "four years of good gym work with Bryan Cullen."
He said: "I suppose I've been getting stronger every year, but there is probably only a kilo or two difference in my weight since last year.
"It was a good bit of hard work. This year was the first year I had a league campaign with Dublin because we were knocked out with Cuala so I kind of had a bit more time to work on all aspects of my game.
"Jim (Gavin) was obviously a part of that, but it wasn't my (deliberate) intention (to bulk up)."
Most Read Stories