Hurling All-Stars: Seven up for All-Ireland champions Tipp
October 31, 2019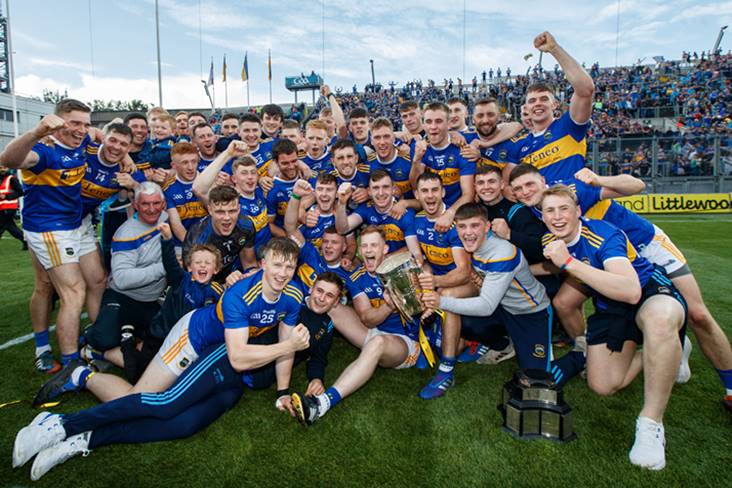 Tipperary players and management celebrate with the Liam MacCarthy Cup. ©INPHO/James Crombie.
All-Ireland hurling champions Tipperary lead the way on the 2019 Hurling Roll of Honour with seven places on the PwC All-Stars team as Pádraic Maher equals a county record with his sixth award.
The Thurles Sarsfields clubman equals the personal collections of Nicky English and Eoin Kelly, who claimed six awards each, and he is joined by brother Ronan who collects his second award.
The Liam MacCarthy winners are represented in every line of the field with goalkeeper Brian Hogan starting the haul and creating a father and son combination, joining his 1987 winning father Ken by claiming the goalkeeper's spot after his breakthrough season.
In becoming the first ever Tipperary father/son winners, they join the Larkins and Powers (Kilkenny) but become the first ever duo to win the hurling award in the same position.
Tipperary's other awards are won in defence (Cathal Barrett and Brendan Maher), midfield (Noel McGrath) and in attack (Séamus Callanan).
In all, five counties are represented with All-Ireland final runners-up Kilkenny earning three, Limerick and Wexford winning two apiece and Cork completing the line up with their solitary award for revered marksman Patrick Horgan.
Wexford's haul means they receive their first award since 2004 when Damien Fitzhenry was honoured.
Tipperary's awards see them breach the 100 award threshold and their tally of seven brings them to 104, behind Kilkenny and Cork.
Uachtarán CLG John Horan said: "Nearly 50 years on from their launch, the PwC All-Stars remain the gold standard for acknowledging exceptional achievement in Irish sport.
"This GAA/GPA scheme recognises the heroes who played such a prominent role in defining what was yet again another epic hurling season.
"In congratulating all those who have been chosen in this distinguished 15 in recognition of their excellence in playing our games, it's also a proud day for their families and the club volunteers who helped shape them."
GPA CEO Paul Flynn said: "Congratulations to our hurlers on this wonderful achievement. An All-Star is a fantastic personal accolade that has a profound impact on you personally, on the player's family, on their club, and on their county. They should enjoy this special time.
"On behalf of the GPA I'd like to thank each and every one of our nominees, and our players for their dedication throughout the year and for the joy that they bring us all."
Feargal O'Rourke, Managing Partner, PwC, said: "On behalf of PwC, I would like to congratulate each and every one of the 2019 PwC All-Star hurling team on their awards.
"Their talent and dedication gave us, as fans, so much enjoyment over the course of another brilliant season and their recognition as All-Stars is just reward for all of their efforts. We are delighted in PwC to be involved in an awards scheme that celebrates such amazing Irish talent."
The winning hurlers will receive their awards at the annual PwC All-Stars banquet at the Convention Centre in Dublin on Friday evening. The awards ceremony will be broadcast live on RTÉ 1 television between 7.0 and 8.30.
Ahead of RTE's live coverage of the Awards, GAANOWLive will air on the GAA's Facebook page from the Convention Centre at 6pm with exclusive red-carpet coverage of our nominee and winner arrivals, as well as other familiar faces.
The football selection and Player of the Year Awards will be announced on the night.
2019 PwC Hurling All-Stars:
Goalkeeper
1 Brian Hogan (Tipperary)
Defenders
2 Seán Finn (Limerick)
3 Ronan Maher (Tipperary)
4 Cathal Barrett (Tipperary)
5 Brendan Maher (Tipperary)
6 Pádraig Walsh (Kilkenny)
7 Pádraic Maher (Tipperary)
Midfield
8 Noel McGrath (Tipperary)
9 Diarmuid O'Keeffe (Wexford)
Forwards
10 Lee Chin (Wexford)
11 TJ Reid (Kilkenny)
12 Colin Fennelly (Kilkenny)
13 Aaron Gillane (Limerick)
14 Séamus Callanan (Tipperary)
15 Patrick Horgan (Cork)
Most Read Stories