U21 HC final: Goals see Trim retain title and complete the double
December 14, 2019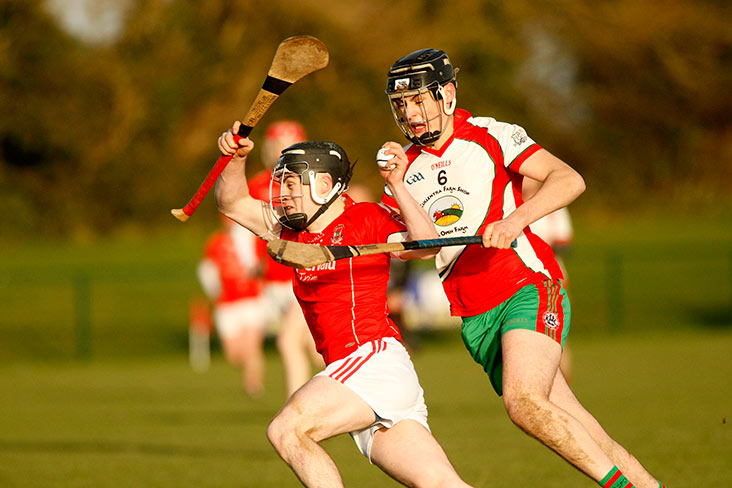 Trim's Mikey Cullen with Evan Burke Killyon/Longwood during the Meath U21 HC final at Lomans Park Trim
Trim 4-13 Killyon/Longwood 0-12
After picking up the Meath U21 A football championship title last Saturday Trim completed a fine double with this comfortable win over Killyon/Longwood at a cold and windy Lomans Park Trim. To view photos from this game click here.
A brace of goals from Mikey Cole in the opening half and playing against the wind set Trim up to retain the title. The winners led at the break 2-6 to 0-8. The accurate James Murray hit five of those points from frees. At the other end the combination side relied on the accuracy of Mikey Mullan who scored six fine points.
Killyon/Longwood failed to score from play in the second half and their only return was four pointed frees from Niall Smullen. Trim had this game in the bag in the opening eight minutes with 1-1 from corner forward Brian Dowling. Midfielder Cian Lee put the icing on the cake with ten minutes remaining. After good work from Cole the midfielder crash the sliothar to the Killyon/Longwood net to put the issue beyond doubt.
After the game Trim captain Charlie Ennis was presented with the U21 hurling championship cup.
Trim: Charlie Ennis, Cian Walsh, Gerard Dwane, Gary Fleming, Ben Holden, Conor Quigley, Jack Cottrell, Cian Lee 1-0, David Murtagh, Ian Bermingham 0-2, Peter Farrell, James Murray 0-9, Brain Dowling 1-2, Mickey Cullen, Mukey Cole 2-0. Subs: Dylan Farrell, Kevin Lennon, Daniel Coleman, Mark Murray.
Killyon/Longwood: Aaron Dunne, Robert Quirke, Brian Reilly, Shane Clarke, Niall Mulvey, Evan Burke, Liam Hayes, Jamie Smith, Paddy Coyne, Jake Ryan, Niall Smullen 0-5, Ross Kerrigan, Stefan Holsner 0-1, Mikey Mullan 0-6, Gavin Griffin. Subs: Ciaran Dowlyn
Most Read Stories