U21 A FC final: Trim one step away from a unique double
December 10, 2019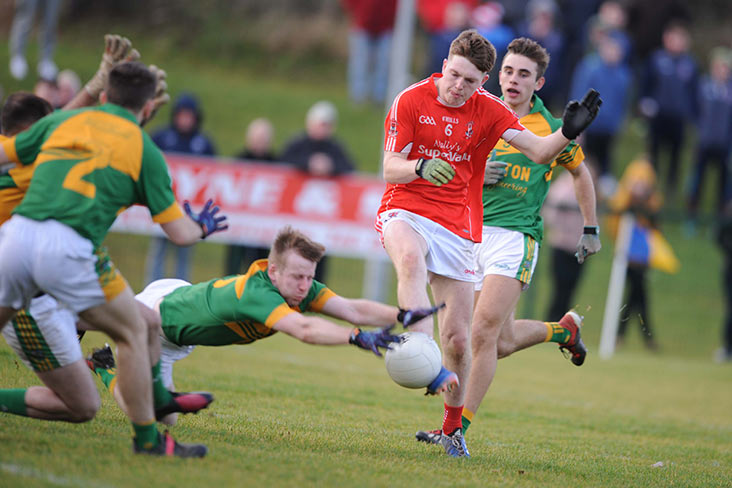 Trim's Ben Holden has his shot blocked by Sean Bannon (Ballinabrackey) during the Meath u21 A FC final in Clonard.
Trim 3-6 Ballinabrackey 2-8
Trim completed the first part of what would be a unique double with a tense and exciting victory over a well fancied Ballinabrackey outfit, at St Finian's Park, Clonard.
Part two will be next weekend when they face Killyon/Longwood in the Division 1 Under 21, Hurling Final, at St Loman's Park.
This was a game of two halves with a significant swirling wind which militated against scoring chances. While Trim had the better of exchanges in the opening half, it was Ballinabrackey who were pressing forward in search of an equaliser when referee Stephen Dawson sounded the final whistle at the end of almost eleven minutes of injury time.
Ballinabrackey were soon into their stride and David Carroll had an early pointed free. A quickly taken free by Mikey Cullen found Brian Dowling in space and Beano made no mistake with the equalising score after three minutes.
A fine penetrating run by Ben Holden ended with Aaron Lynch gaining possession and his low narrow effort squeezed past Dean Pluck in the Ballinabrackey goals.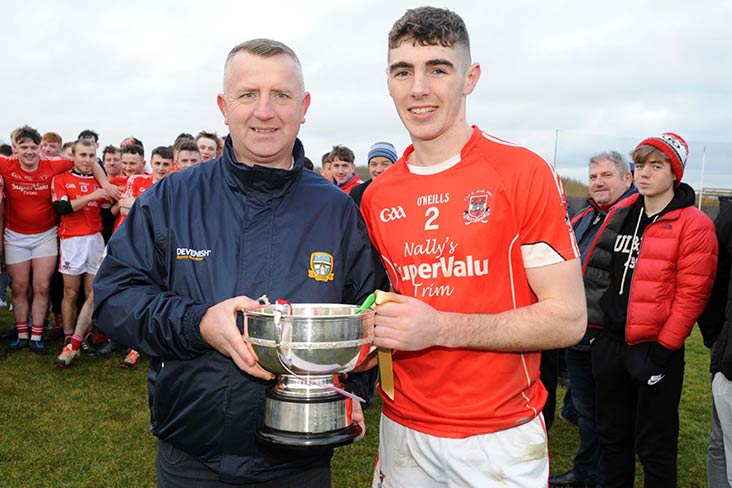 It was now nip and tuck stuff with both sides cancelling out the efforts of their opposing forwards. Referee Stephen Dawson, who was intent on pulling up for over carrying, spotted an off the ball incident and, once again, David Carroll benefitted with a well taken pointed free. Shortly afterwards, another indiscretion in the Trim defence resulted in a penalty to the 'Bracks and even though David Carroll's first attempt was brilliantly blocked by Trim 'keeper Peter Brennan he made no mistake with the follow up which nestled in the back of the Trim net.
This was a real wake up call for Trim and they really clicked into gear for the remaining ten minutes. Aaron Lynch found his range to equal matters, then a fine run by Mikey Cullen found David Murtagh and his unstoppable effort once more found the back of the Ballinabrackey net. Trim were now moving like a well oiled machine, displaying some fine team work, and Aaron Lynch followed up with two pointed efforts, firstly, following a fine solo run and secondly from the sharpest of angles, after good play by David Murtagh.
Trim were now in the ascendancy and any danger posed by their opponents was adequately dealt with by Gerard Dwane's well marshalled defence ably assisted by Dylan Finnerty, Colin Quigley, and Ben Holden.
With half time looming, Trim pressed forward once again and Mikey Cullen found Harry Kennedy in space whose clever placed effort evaded the Ballinabrackey 'keeper.
Half Time: Trim 3-4; Ballinabrackey 1-2
Ballinabrackey started the second half brightly and had registered their first two opening scores almost before everyone had time to settle down.
Mikey Cullen restored business for Trim following good work by Brian Dowling but scores were coming in short supply and Aaron Lynch's point in the fourteenth minute was to complete Trim's final tally. In between, David Carroll had another pointed free for the 'Bracks.
Trim had endured a plethora of injuries to some key players and there was always going to be a significant amount of injury time to be accounted for at the end of the game.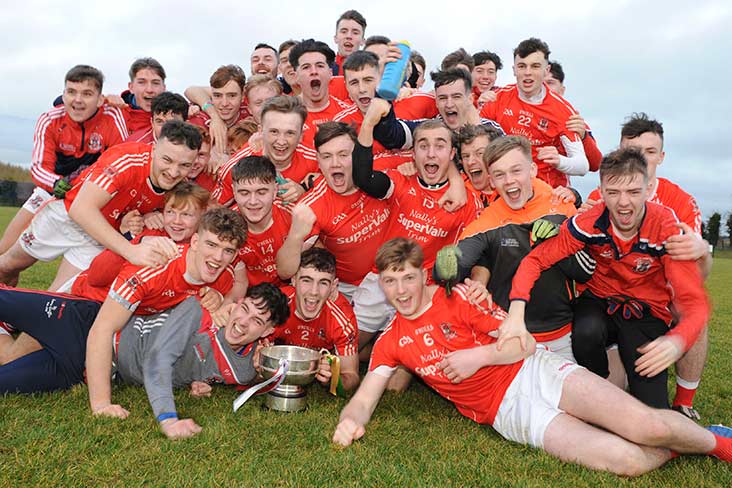 Early in the second half, David Murtagh hobbled off with a thigh strain and shortly afterwards Ben Holden succumbed to an earlier injury and, he too, gingerly left the field of play.
With twelve minutes remaining on the official clock, Trim still held a comfortable advantage, 3-6 to 1-5, helped in no small way by some wayward Ballinabrackey shooting, but also by some stout Trim defending, which was forcing their opponents to shoot from distance. However, a brace of pointed frees reduced the deficit to just five points while a rare point from play reduced the deficit even further.
Trim had earlier substituted goal scorer Harry Kennedy with James Murray and this duel minor star gained some masterful possession in midfield to supplement the hard working Ian Bermingham and the tireless efforts of both Peter Farrell and Mark Murray. Peter Farrell was forced to retire shortly afterwards and another minor stalwart, Danny Coleman, was introduced to help repel the relentless Ballinabrackey attack.
With time ticking away, and deep into injury time, it seemed that Trim had done enough to secure the title but, somehow, Ballinabrackey conjured up a last gasp effort and the ball ended up in the Trim net, with almost nine minutes injury time registered on the scoreboard.
In a nail biting finale Ian Bermingham secured possession for Trim to the sound of the final whistle and the cup was heading for St Loman's Park.
It was a remarkable tribute to Trim that all of their 3-6 scoreline came from play while Ballinabrackey's total of 2-8 included just 1-3 from play.
Trim: Peter Brennan, Dylan Finnerty, Gerard Dwane, David Murtagh (1-0), Conor Quigley, Ben Holden, Peter Farrell, Ian Bermingham, Mark Murray, Brian Dowling (0-1), Aaron Lynch (1-4), Mikey Cullen (0-1), Harry Kennedy (1-0).
Subs (used): Cian Lee, Brian Bolger, James Murray, Daniel Coleman
Most Read Stories