U15 Div 2 HL final: Gale force performance from Loughcrew Gaels/Gaeil Colmcille
December 09, 2019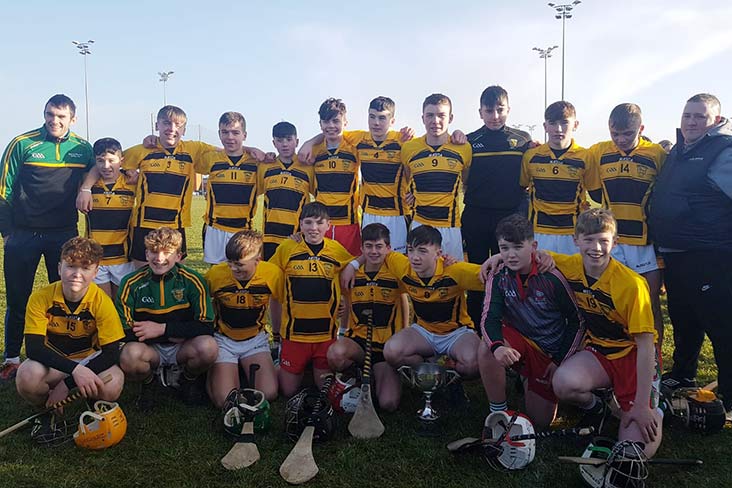 Loughcrew Gaels/Gaeil Colmcille celebrate at Dunganny
Loughcrew Gaels/Gaeil Colmcille 2-12 Rathmolyon 0-0
This title has been a long time in the making. Take you back to 2010 these bunch of lads were the youngest and the oldest juvenile players, playing hurling in Kilskyre, Kells and Moylagh because they were our only team at the start of restoring juvenile hurling in this area.
Roll on to Sunday the 9th of December 2019 at 11am in Dunganny on a harsh, stormy winters morning for a U-15 Hurling League Division 2 final and these lad were on a mission to prove that they wanted to take the next step on their journey to the top tier of minor hurling in Meath.
Within 15 minutes the result was never in doubt and that is not a statement of arrogance it was a statement of intent, hunger and sheer doggedness that would have made it pretty munch impossible for any team to handle on the day and Rathmolyon just happened to be that team on the day when it all went right for Loughcrew Gaels/Gaeil Colmcille.
The wind was fierce, and it was always going to be a case of who made it count most when it mattered most. For the opening 15 minutes Loughcrew Gaels/Gaeil Colmcille defence from No1 to No 9 were ruthless they hounded and harassed in packs and when they had possession, they were clever with how they used the ball in the conditions. Even when Rathmolyon did get their one big sniff on goal Tommy McKeon in goals was having none of it.
Loughcrew Gaels/Gaeil Colmcille got the scoring going from Kit-Og Lynch on the fourth minute with a fine point on the left following a pin-point cross ball from Tom Shine and that settled the unit. From then on it was all Loughcrew Gaels/Gaeil Colmcille with the next score coming from Oisin McDermot on 8 minutes on the back of some fine play form his co-midfielder Hughie Corcoran (Captain), these pair lorded the middle of the park and this score laid down the marker for the rest of the day. A point from play from Shine on 10 minutes was quickly followed up by another from Corcoran from an acute angle on 12 minutes. Tom Shine (free taker) rattled off another 3 points before half time two were from frees and the last probably the score of the day a clearance from Darie Shine picking out Kit-Og Lynch who plucked it from the sky and off-loaded to Shine to close out the first half on a score of 0:7 to 0:0.
Rathmolyon regrouped and started the second half with some industry but a well taken goal from James McDonald on the three-minute mark was probably the final nail for Rathmolyon who were now facing a mountain and a gale force wind.
It didn't matter Loughcrew Gaels/Gaeil Colmcille continued to play as if the game was still in the melting pot. McGovern and Farrelly in the corners were sweeping up everything and Darie Shine in the centre looked like a lad in his twenties bulling through everything in front of him.
The half-backs were relentless, suffocating any chance Rathmolyon had of getting back into the game. With Ronan Flynn & Taidgh Dardis tidying up on the wings and Jack Connell in the middle ho was unbreakable.
The forwards Oisin O'Reilly, Rian Early, James McDonald and Ronan Cunning kept the Rathmolyon backs preoccupied giving Shine & Lynch the space to work their magic. When the substitutes came in Liam Tunney, Paul Hennessy & Tiernan Anderson it was business as usual with the final score coming from the two young guns Tunney and Anderson with Anderson's goal coming from a sweet ground strike.
It was clear this team had the stamp of their manager county man Sean Geraghty, hunger, drive and passion. Let's not get carried away with this result but it was very significant coming from a very low base and these lads know that. Hopefully this is the first one of many steps upwards for this team.
For Rathmolyon they had they're Under 21s success the previous day and their green shoots are well advanced.
Loughcrew Gaels/Gaeil Colmcille: 1. Tommy McKeon, 2. Conal McGovern, 3. Daire Shine, 4. Matthew Farrelly, 5. Fergal Flynn, 6. Jack Connell; 7. Taidgh Dardis, 8. Hughie Corcoran (0:01), 9. Oisin McDermot (0:01), 10. Oisin O'Reilly, 11. Tom Shine (0:09 f0:05), 12. Ronan Cunning, 13. Rian Early, 14. James McDonald (1:00), 15. Kit Og Lynch (0:01)
Subs: Liam Tunney for R Early, Tiernan Anderson for R Cunning (1:00), Paul Hennessy for C McGovern
Most Read Stories