Curraha AGM results
December 09, 2019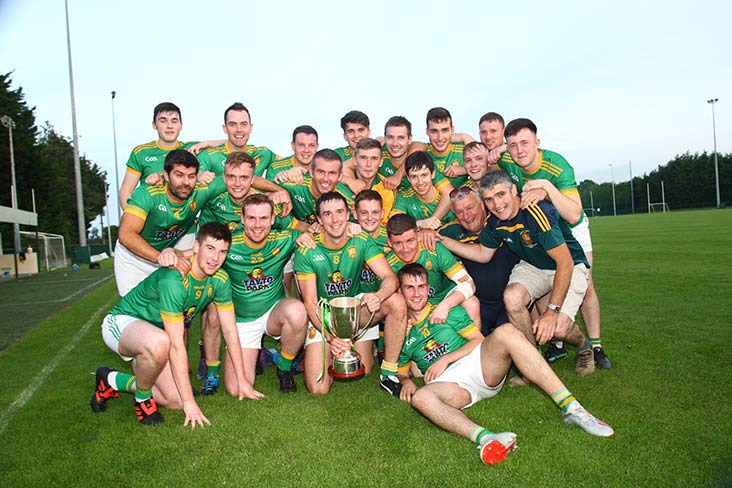 There was success for Curraha in the Division 3B FL final at Skryne
Curraha GAA Club AGM held on Thursday 5th December 2019.
The following club officers were elected
Chairperson: Cormac Keogh
Vice Chairperson: Tony McEntee
Secretary: Gavin Coyle
Assistant Secretary: Cecil Brennan
Treasurer: Denis Kelly
Assistant Treasurer: Brian Fay
Joint PROs: Frank O'Connor, Brendan O'Connor, Hannah Keogh
Minor Chairperson/Secretary: Padraic O'Dowd
Juvenile Chairperson: Joe Doyle
Juvenile Secretary: Sean O'Reilly
Oifig Na Gaelilge: Pól O'Concubhair
Delegates to County Board: Mick Kelly, Michael Weldon, Sean Joyce.
Children/Youth Officers: Lisa Burke and Neil Shortall
Safety Officer: Richard O'Connor
Gate Voucher Officer: Denis Kelly
Insurance Officer: Joe Webb
Joint Membership/Registration Officers: Ray Toner and Brian Fay
Players Rep: TBC
I.T. Officer: Joe Dowling
Club Teams Coaching Officer: Stephen Morgan
Schools Liaison Officer: Michael Weldon
Community Liaison Officer: Padraic O'Dowd
Healthy Club Officers: Bernie Hogan + Sub Committee
Designated Child Protection: Padraic O'Dowd, Joe Webb, Paul O'Connor,
Officers: Pat Moriarty, Lisa Burke, Pat Gaffney.
Advertising Officer: Cecil Brennan
First Team Manager/Selectors: TBC
Second Team Management: Pat Moriarty, Willie Downey, John Hogan, Joe Webb.
Under 21 Managers: Gavin Coyle and Pat Moriarty.
Honorary Club Presidents: Gerry Duffy, Fr. Brendan Ferris, John Hogan, Mick Kelly, John Keogh, Tom Keogh, Christy Lynch, Tom Lynch, Packie Mulvany, Patsy Swan, Michael Weldon, Frankie O'Connor.
Most Read Stories