LGFA rubbish Leahy's claim of 'trial by television'
August 26, 2019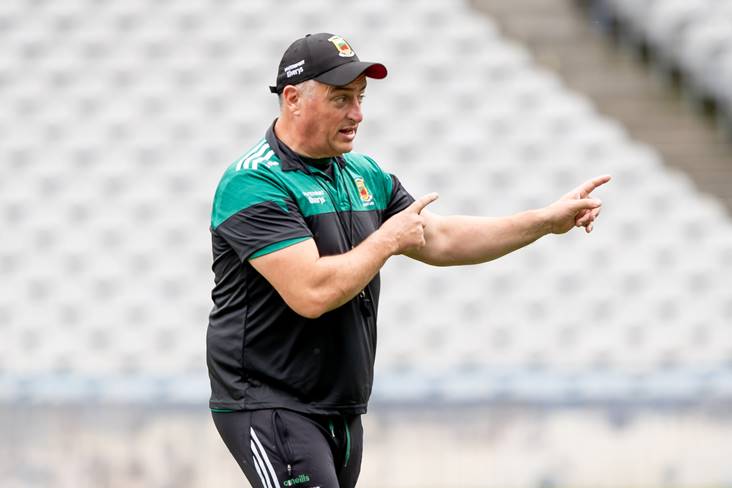 Mayo manager Peter Leahy. ©INPHO/Morgan Treacy.
The Ladies Gaelic Football Association (LGFA) has dismissed Mayo manager Peter Leahy's claim that a TV replay influenced referee Seamus Mulvihill's decision not to award Rachel Kearns a free-in in the dying moments of yesterday's All-Ireland semi-final.
Galway won a thrilling encounter at Croke Park thanks to a Roisin Leonard free with 85 seconds remaining, but Mayo believe they were denied the chance to force extra-time by an official 'upstairs' after Mulvihill appeared to change his mind in awarding a free-out to Galway.
"First of all, she was fouled twice; on the way in and fouled very deliberately when she was through on goals," an irate Leahy told RTÉ.
"They [Galway] took her out of it, but what happened was the fourth official said to me, 'Peter, you are not going to like this. We're hearing from upstairs there has been two hops.'
"We then changed that situation where it was, 'the umpire called two hops'. I can tell you here and now he didn't. It was done from upstairs.
"The referee had given a free and he changed his mind because of television upstairs. There is nowhere in the book that says you can change your mind from television upstairs. If we are to go down VAR route, we are going to have to seriously look at it.
"They [officials] changed their mind and said it was the umpire that did [called] it, but it's very easy to do that. I'm not calling anyone a liar, but I was told it was done from upstairs."
A spokesperson for the LGFA strongly refuted Leahy's claims by insisting: "There was nothing from upstairs."
Most Read Stories