Ladies club previews: All-Ireland final places on the line
November 08, 2019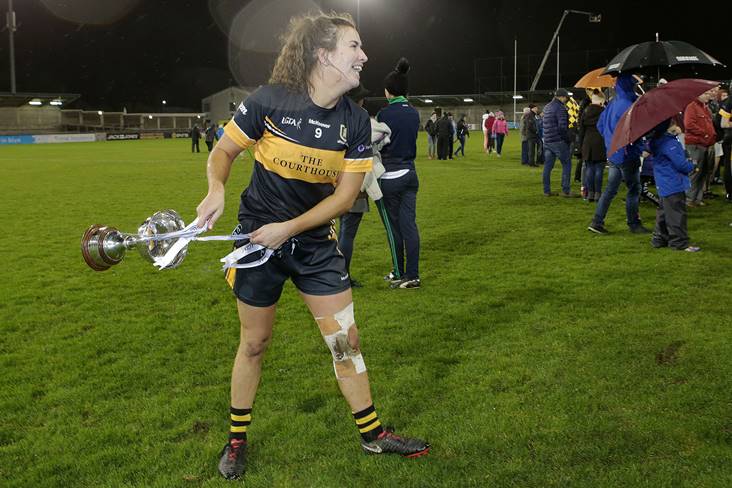 Mourneabbey's Brid O'Sullivan celebrates with the All-Ireland ladies senior club trophy. ©INPHO/Laszlo Geczo.
NEXT Sunday, the 2019 All-Ireland Ladies Club Football Championship finalists will be revealed.
In the Senior grade, holders Mourneabbey from Cork put their title on the line when 5-time winners Donaghmoyne from Monaghan make the trip to Clyda Rovers GAA club.
Mourneabbey won't be lacking in motivation as Donaghmoyne got the better of them in the 2015 Final, and at the semi-final stage a year later.
Meanwhile, Foxrock-Cabinteely from Dublin, the 2018 and 2016 runners-up, face a trip to Kilkerrin-Clonberne from Galway, who are aiming for a very first Final appearance, and that semi-final will be played at the Connacht GAA Centre of Excellence.
The Intermediate semi-finals will pit St Pauls of Antrim against visitors St Nathys from Sligo, with Naomh Ciaran from Offaly playing host to Cork outfit Inch Rovers.
And in the Junior semi-finals, Edendork of Tyrone have home advantage for their clash with CL McHale Rovers, while Navan O'Mahonys from Meath are the visitors to Cork outfit Donoughmore.
Just like in 2017, there is the possibility of Cork clubs appearing in all three Finals.
The 2019 All-Ireland Intermediate and Senior Club Finals will be played on November 23 at Parnell Park in Dublin, with the Junior decider pencilled in for Sunday November 24, at a venue to be confirmed.
Sunday November 10:
All-Ireland Ladies Senior Club Championship semi-finals:
Kilkerrin-Clonberne (Galway) v Foxrock-Cabinteely (Dublin); Connacht GAA Centre of Excellence, 2pm
Sunday's semi-final pits two teams who harbour genuine hopes of getting their hands on the Dolores Tyrrell Memorial Cup for the very first time.
Kilkerrin-Clonberne will hope that it's fourth time lucky as they aim for a Final appearance, following previous semi-final losses in 2014 (Termon – Donegal), 2015 (Mourneabbey – Cork) and 2018 (Mourneabbey).
The Galway and Connacht champions will start as many people's favourites to advance, as they pit their wits against Foxrock-Cabinteely from Dublin.
The Leinster champions have lost two of the last three All-Ireland Finals, and will be determined to give themselves another shot at national silverware.
They'll have to do it without Dublin star Sinéad Goldrick, however, as the TG4 Senior Players' Player of the Year nominee is starting a new adventure with the Melbourne Football Club AFL Women's team.
Goldrick has been struggling with injury in recent times in any case, and was an absentee for the Leinster Final victor over Laois opponents Sarsfields.
Niamh Collins, another TG4 All-Ireland winner with Dublin, didn't start that game either, but she's named at centre half back for Sunday's fixture.
The Kilkerrin-Clonberne team is a rich mixture of youth and experience, with the Ward twin sisters, Nicola and Louise, set to feature heavily.
Both are nominated for 2019 TG4 All Star awards, while Louise is also in the running for the coveted Senior Players' Player of the Year award.
Annette Clarke is Galway's 2004 All-Ireland winning captain who's still going strong, while goalkeeper Lisa Murphy is another All Star nominee.
The Kilkerrin-Clonberne team also contains the Noone sisters, Hannah, Lynsey and Eva, who have been hoovering up titles for Galway in the underage ranks.
Olivia Divilly is also nominated for an All Star on the back of an excellent year for Galway, and she's joined in the starting line-up by sister Siobhan.
Kilkerrin-Clonberne: L Murphy; S Gormally, A Costello, S Fahy; C Dunleavy, N Ward, H Noone; A Clarke, L Ward; L Noone, S Divilly, C Miskell; E Noone, A Morrissey, O Divilly.
Foxrock-Cabinteely: A Tarpey; A Murray, S Quinn, E McDonagh; L Fusciardi, N Collins, C O'Riordan; T O'Sullivan, L Nerney; F Claffey, A Connolly, H O'Neill; A Ring, K McNally, J Egan.
Mourneabbey (Cork) v Donaghmoyne (Monaghan); Clyda Rovers GAA club, 1pm
All-Ireland champions Mourneabbey welcome old foes Donaghmoyne to Clyda Rovers for an intriguing semi-final clash.
Mourneabbey have suffered real heartbreak against Donaghmoyne, losing the Final in 2015, and a semi-final a year later.
Mourneabbey, managed by Tipperary's TG4 All-Ireland winning boss Shane Ronayne, won't be lacking in motivation and they have real class in their ranks, and home advantage for this one.
Cork star Eimear Meaney will lock down the full-back position, with Maire O'Callaghan another county player at midfield.
In attack, there's a real scoring threat with the O'Sullivan sisters, Ciara and Doireann, household names alongside Noelle Healy, the Dublin ace and recruit from St Brigid's.
Ciara O'Sullivan scored 2-6 as Mourneabbey claimed a sixth successive Munster Senior crown and she's going into this game in a rich vein of form.
Donaghmoyne held off the challenge of Donegal's Termon to retain their Ulster title but this is another step up for the Monaghan side.
They have plenty of experience and proven ability in their ranks, too, with Sharon Courtney a real tower of strength at centre half back.
Many of these players also know what it's like to win an All-Ireland club title and they have teen stars Louise Kerley and Lauren Garland in excellent attacking form.
Amanda Casey, the 35-year-old mother of four and former Monaghan star, is still going strong at midfield, with Cathriona McConnell at full-forward another ex-county player who provides a huge scoring threat.
This game promises to be a tie to remember, with two of the top clubs in the national game going toe to toe for a place in the Parnell Park decider on Saturday, November 23.
Just two points separated them in the 2016 semi-final, while Donaghmoyne edged the 2015 Final by three points, despite finishing the game with 13 players.
Mourneabbey: M O'Sullivan; A O'Sullivan, E Meaney, S Conroy; K Coakley, R O'Sullivan; A Ryan, M O'Callaghan, N O'Sullivan; C O'Sullivan, B O'Sullivan, N Healy; L Fitzgerald, D O'Sullivan, S O'Callaghan.
Donaghmoyne: L Martin; J Geoghegan, F Courtney, H Kingham; J Courtney, S Courtney, E Trainor; A Casey/Finnegan, C Courtney; L Garland, R Courtney, L Kerley; A Garland, C McConnell, N Callan.
All-Ireland Ladies Intermediate Club Championship semi-finals:
St Pauls (Antrim) v St Nathys (Sligo); Páirc Naomh Pól, Shaws Road, Belfast, 1pm
It's a battle of the Saints in Belfast as St Pauls from Antrim welcome St Nathys from Sligo for the All-Ireland Intermediate semi-final.
St Pauls overcame the stern challenge of Fermanagh outfit Kinawley to book their place in the All-Ireland semi-finals, while St Nathys, the Connacht champions, had a good victory away to Parnells of London at the All-Ireland quarter-final stage.
St Nathys have Sligo goalkeeper Noelle Gormley, a vastly-experienced player, between the sticks, and they'll look to her leadership skills for this one.
Gormley could be busy, however, as Mairead Cooper is a proven finisher up front for St Pauls.
Lara Dahunsi is a young player of immense quality who's worn the Antrim shirt with distinction, while captain Áine Tubridy will look to pull the strings at midfield.
St Pauls: A Healy; C Stewart, E Kelly, L O'Neill; M Hanna, C Brown, L Wallace; S McCann, A Tubridy; N Enright, C McGuinness, L Dahunsi; F Rocks, K McGuinness, M Cooper.
St Nathys: N Gormley; J Creegan, A Doohan, E Flanagan; L Mullen, J O'Dowd, H Walsh; T Doddy, A Coleman; Á Gormley, C Gorman, D McGrath; C Coleman, R Scanlon, K Coleman.
Naomh Ciarán (Offaly) v Inch Rovers (Cork); Ferbane GAA, 2pm
Naomh Ciarán from Offaly will represent Leinster in the All-Ireland series, and they're up Cork and Munster representatives Inch Rovers.
A Player of the Match display from Kate Kenny, and 1-3 off the bench from Roisin Egan, were key factors in Naomh Ciarán's Leinster Final victory over Wicklow outfit Tinahely.
Inch Rovers, meanwhile, overcame the challenge of Tipperary opponents Templemore by ten points in their semi-final.
Annie Walsh is the best-known Inch Rovers player, as the former Cork ace won eight TG4 All-Ireland Senior medals during her intercounty days.
The winners of this one will face off against St Pauls or St Nathys in the All-Ireland Final at Parnell Park on November 23.
Naomh Ciarán: A Keena; A Spain, E Nally, A Grehan; R Ennis, E Flynn, F Boland; K Kenny, A Gavin Mangan; E Cahill, L Keena, K Rigney; A Corbett, R Cockram, E McEvoy.
Inch Rovers: R Fogarty; E Cosgrove, C Gillman, C Daly; A Higgins, J O'Shea, A Joyce; D O'Shea, L Williams; R Goggin, C Barry, C Irwin; A.M. O'Connor, Aoife Walsh, Annie Walsh.
All-Ireland Ladies Junior Club Championship semi-finals:
Edendork (Tyrone) v CL McHales (Mayo); Páirc Arthur Mallon, Edendork, 1pm
CL McHale Rovers made the trip to Manchester for an All-Ireland quarter-final with Oisín, and came away with the win.
Rachel Kearns is the star player for the club, and the Mayo star is a TG4 All Star nominee for 2019.
The CL McHales starting team is also noteworthy for the inclusion of four Maughans in the starting line-up, all of them nieces of current Offaly senior football manager John, the ex-Mayo boss.
Edendork will prove a tough nut to crack for CL McHales, as they showed ominous form in the Ulster Championship.
In their Ulster Final win against Donegal outfit Naomh Muire, Maeve Maxwell scored a remarkable individual tally of 3-8.
Edendork: A Grew; A Kerr, R Mallon, C McGeary; S McGeary, N Rafferty, S Devlin; K Rafferty, L McCaffrey; E Connolly, A Rafferty, E Corr; L McCaffrey, L Kelly, M Maxwell.
CL McHale Rovers: N Larkin; L Maughan, D Kelly, C Kelly; C Walsh, A Deane, G Murray; M Larkin, E Keane; K Maughan, S Maughan, E Murray; S Walsh, R Kearns, R Maughan.
Donoughmore (Cork) v Navan O'Mahonys (Meath); Donoughmore Community Pitch, Stuake, 2pm
Still going strong after all these years, Cork legend Rena Buckley is hoping to inspire Donoughmore to another All-Ireland Final.
She'll have fond memories of the 2001 and 2003 All-Ireland Senior championship wins but now Buckley and Donoughmore find themselves in a rebuilding period.
Winning the Munster title recently was a significant step forward and now Donoughmore, who also have Cork's eight-time All-Ireland Senior medallist Aisling Barrett in the fold, are aiming for a first All-Ireland Final appearance since losing the 2009 Senior Final.
Navan O'Mahonys from Meath and Leinster will provide formidable opposition for Donoughmore.
County player Aoibheann Leahy was Player of the Meath in the Leinster Final, with another Royal County star, Sarah Powderly, a key name in defence.
Donoughmore: C O'Connell; Aoife Barrett, Aisling Barrett, L McCarthy; A Quigley M Dilworth, D Dineen; R Buckley, C Keane; E O'Reilly, N Lohan, A Greene; J Brew Dinan, E Lyons, A Buckley.
Navan O'Mahonys: C Blake; D Forde, H Heskin, S Fitzhibbert, C Clynch, S Powderly; A Devlin, T Fay, L McDermott; O Mallon, Aoibheann Leahy, E Fay; M Collins, J Maher, Ailbhe Leahy
Most Read Stories