Ladies previews: Leinster club titles up for grabs in Kinnegad
November 01, 2019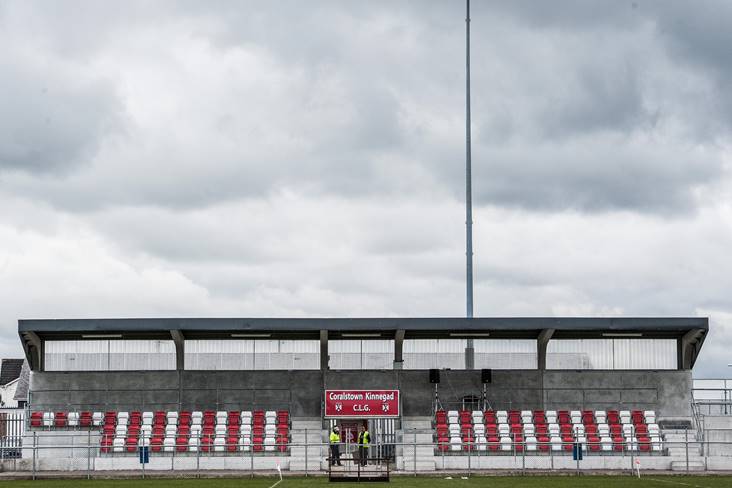 Coralstown-Kinnegad will host a Leinster ladies junior and intermediate club final double-header.
Compiled by Jackie Cahill
THE Leinster Junior and Intermediate club champions for 2019 will be decided on Sunday.
There's a double-header down for decision in Kinnegad, with Navan O'Mahonys from Meath up against Kildare outfit Kilcock in the Junior Final at 2pm. The winners of this game will advance to the All-Ireland club semi-finals, where their opponents in the last four will be Donoughmore of Cork on Sunday, November 10.
That's followed by the Intermediate Final meeting of Naomh Ciaran (Offaly) and Tinahely (Wicklow), which will have a 5pm start. The winners of this game will advance to the All-Ireland club semi-finals, where their opponents in the last four will be Inch Rovers of Cork on Sunday, November 10.
On Saturday, the Munster Senior Plate winners will be decided, with Brian Borus of Tipperary set to battle it out with Waterford club Comeragh. That game will be played in Killeagh, Co. Cork, at 5.30pm.
Saturday, November 2nd
Munster Senior Plate Club Final
Brian Borus (Tipperary) v Comeragh Rangers (Waterford); Killeagh, Co. Cork, 5.30pm
The Munster Senior Plate Club Final promises to be an interesting affair on Saturday.
Tipperary representatives Brian Borus have former Tipperary stars Mairead Morrissey and Jennifer Grant in the central attacking positions, but Waterford opponents Comeragh Rangers can call upon their county stars and triplets Aoife, Emma and Katie.
The Plate competition is for the runners up in the Senior County championships in the Munster province, with the exception of Cork, who are represented by the winners of the Cork Senior B County championship.
The teams who competed in the Munster Senior Plate competition this year were Brian Borus, Comeragh Rangers, Bride Rovers (Cork), Rathmore (Kerry) and The Banner (Clare).
Limerick were not represented as their clubs don't play at Senior level in the provincial championship, with Brian Borus and Comeragh Rangers the last teams standing in the race for the title.
Brian Borus: N Noonan; A Meaney, C Condon, S Maher; C Hickey, E Myles, L Morrissey; S Norris O'Farrell, C O'Dwyer; K Martin, M Morrissey, N Myles; P Hickey, J Grant, C Morrissey.
Comeragh Rangers: A Norris; N Dunphy, C Dunphy, C Keane; B Norris, K Hahessy, E Power; G Power, E Murray; O Kelly, K Murray, A Murray; A Dunphy, S Dunphy, K Broxson.
Sunday, November 3rd
Leinster Junior Club Final
Navan O'Mahonys (Meath) v Kilcock (Kildare); Kinnegad, 2pm
Navan O'Mahonys from Meath and Kildare outfit Kilcock battle it out for the right to succeed Carlow's Old Leighlin as Leinster Ladies Junior Club champions.
Navan O'Mahonys have seen off Dublin outfit Man O War to reach the Final, after their proposed semi-final was conceded by Kilkenny City.
Navan O'Mahonys have Meath county star Sarah Powderly anchoring their defence but they'll get nothing easy from Kilcock, who have the LGFA's 2017 inaugural winner of the Overall Volunteer of the Year award, Sheena Byrne, in their ranks.
Kilcock were reinstated in the Leinster Junior Championship despite losing to Old Leighlin, who were switched to the Intermediate grade.
They took the second chance on offer and defeated Westmeath's Moate and Longford outfit Grattans last time out to book their spot in the Final.
The reward for the winners here is a trip to Donoughmore of Cork in the All-Ireland semi-final on November 10.
Kilcock: E Kelly; M Tighe, A McGrath, T Macken; P Byrne, E Maguire, L Gibbons; M O'Connor, C Fagan Hynes; S Lavin, A O'Connor, S Byrne; E Robinson, G White, L Murray.
Navan O'Mahonys: C Blake; D Forde, H Heskin, S Fitzhibert; C Clynch, S Powderly, A Devlin; T Fay, L McDermott; O Mallon, A Leahy, E Fahy; M Collins, J Maher, A Leahy.
Leinster Intermediate Club Final
Naomh Ciaran (Offaly) v Tinahely (Wicklow); Kinnegad, 5pm
Naomh Ciaran from Offaly thought they'd booked their place in the Leinster Intermediate Final, but had to battle through again when they were pitted with Old Leighlin from Carlow, who were moved to the Intermediate grade.
But Naomh Ciaran won by double scores against Old Leighlin, 2-16 to 1-8, and now have the chance to claim a provincial crown.
The Leinster club championship is a fiercely-contested competition and last year's winners, Clontarf, went on to claim the All-Ireland title.
Naomh Ciaran and Tinahely will hope that there's some precedent here, and Wicklow representatives Tinahely have been motoring well themselves.
They beat Dublin champions Clanna Gael Fontenoy and Geraldines from Louth to reach the Final, with a number of county stars in their ranks, experienced Jackie Kinch and the Hogan sisters, Laura and Sarah, among them.
Naomh Ciaran will look to the likes of county midfielder Amy Gavin Mangan for inspiration, Kate Kenny was on fire in the recent semi-final, while dual star Lorraine Keena is another key player.
The winners of this tie will have a home All-Ireland semi-final against Cork's Inch Rovers to look forward to on the following weekend.
Naomh Ciaran: A Keena; A Spain, E Nally, A Grehan; R Ennis, E Flynn, Ffion Boland; K Kenny, A Gavin Mangan; E Cahill, L Keena, K Rigney; A Corbett, R Cockram, E McEvoy.
Tinahely: E Hadden; C Stokes, S Hogan, N Kenny; S Goeteleen, J Byrne, A Maher; A Gorman, J Kinch; C Byrne, A Byrne, E Mulhall; L Gilbert, L Hogan, S Byrne.
Most Read Stories