"I have no allegiance to Dublin football whatsoever"
November 30, 2019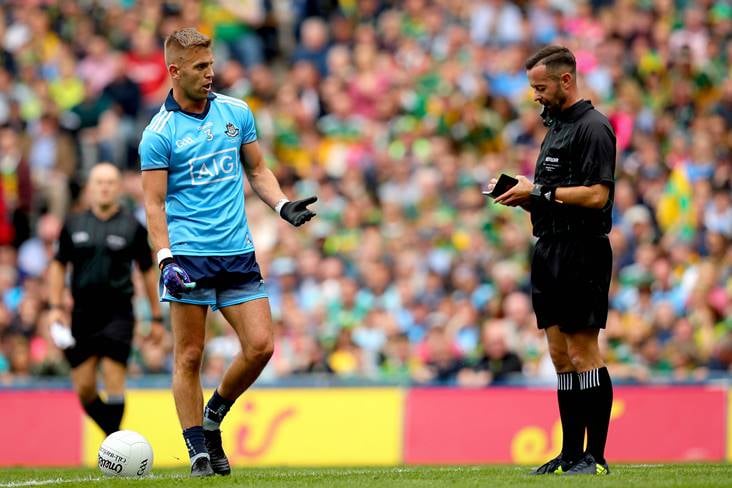 Referee David Gough with Dublin's Jonny Cooper. ©INPHO/Ryan Byrne.
David Gough has admitted that insinuations he might be biased towards Dublin in advance of the drawn All-Ireland SFC final against Kerry didn't sit well with him.
The Meath referee – who also revealed in an Irish Independent interview that he sobbed after getting the Sam Maguire final call – talked about remarks made by former Kerry manager Eamonn Fitzmaurice and others surrounding his links to the capital city.
"It's difficult to take," the proud Slane clubman remarked.
"I have to live and work somewhere, I love my job and I own a house in Dublin. I'm also an openly gay man so outside of Dublin there is not much of a lifestyle for a single gay man. It's easier for me to live here.
"I'm quite anonymous in the city. I can walk around Dame Street or O'Connell Street and nobody has a clue who I am. I couldn't walk down the main street in Navan or Slane without people stopping to talk.
"The Dublin thing, I didn't understand where it was coming from in that I have no allegiance to Dublin football whatsoever."
Most Read Stories