Revealed: next year's round-by-round football league fixtures
September 05, 2018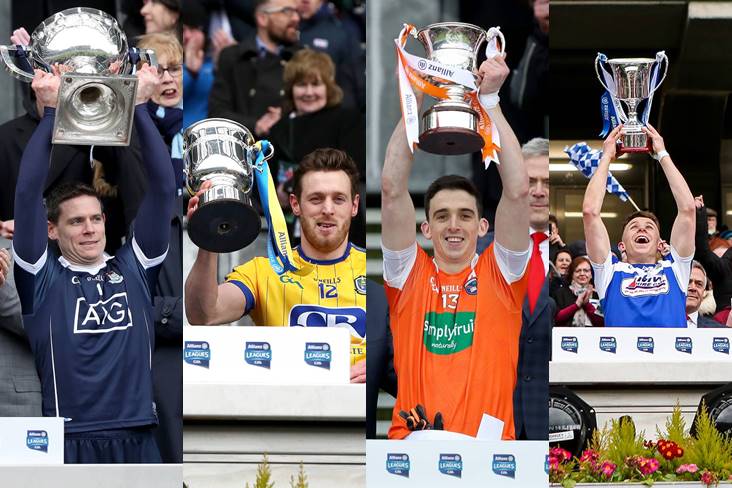 The four 2018 Allianz FL winning captains... Stephen Cluxton (Dublin), Conor Devaney (Roscommon), Rory Grugan (Armagh) and Stephen Attride (Laois).
Dublin will begin the defence of their league title away to Monaghan on Sunday, January 27, 2019.
The dust has barely settled on the Sky Blues' amazing four-in-a-row All-Ireland achievement and already thoughts are turning to the new year.
The Irish Independent has revealed the provisional fixture list for next year's Allianz football leagues and the Farney County are scheduled to play host to Jim Gavin's all-conquering side on the opening day.
The Dubs have been handed four away trips, they will also be on the road against Kerry, Roscommon and Cavan while they will face Galway, Mayo and Tyrone in Croke Park.
Here is the full provisional fixtures list for the four divisions...
2019 Allianz Football League Provisional Fixtures
Saturday 26 January
Division 1 round 1
(7.0): Mayo v Roscommon
Division 3 round 1
(7.0): Down v Westmeath
Division 4 round 1
(7.0): Waterford v Wicklow
Sunday 27 January
Division 1 round 1
(2.0): Kerry v Tyrone
TBC Galway v Cavan
TBC Monaghan v Dublin
Division 2 round 1
(2.0): Clare v Donegal
(2.0): Fermanagh v Cork
(2.0): Kildare v Armagh
(2.0): Meath v Tipperary
Division 3 round 1
(2.0): Carlow v Sligo
(2.0): Offaly v Laois
TBC Louth v Longford
Division 4 round 1
(2.0): Leitrim v Wexford
(2.0): London v Limerick
TBC Antrim v Derry
Saturday 2 February
Division 1 round 2
(7.0): Dublin v Galway
Division 2 round 2
(7.0): Cork v Kildare
(7.0): Donegal v Meath
Division 3 round 2
(7.0): Laois v Carlow
Sunday 3 February
Division 1 round 2
(2.0): Cavan v Kerry
TBC Roscommon v Monaghan
TBC Tyrone v Mayo
Division 2 round 2
(2.0): Tipperary v Fermanagh
TBC Armagh v Clare
Division 3 round 2
(2.0): Longford v Offaly
(2.0): Sligo v Down
(2.0): Westmeath v Louth
Division 4 round 2
(2.0): Limerick v Waterford
(2.0): Wexford v Antrim
TBC Derry v London
TBC Wicklow v Leitrim
Saturday 9 February
Division 1 round 3
(7.0): Kerry v Dublin
(7.0): Mayo v Cavan
(7.0): Monaghan v Galway
Division 2 round 3
(7.0): Fermanagh v Kildare
Division 3 round 3
(7.0): Down v Laois
Sunday 10 February
Division 1 round 3
(2.0): Roscommon v Tyrone
Division 2 round 3
(2.0): Clare v Cork
(2.0): Meath v Armagh
(2.0): Tipperary v Donegal
Division 3 round 3
(2.0): Carlow v Longford
(2.0): Offaly v Louth
(2.0): Westmeath v Sligo
Division 4 round 3
(2.0): Leitrim v Antrim
(2.0): London v Wexford
(2.0): Waterford v Derry
(2.0): Wicklow v Limerick
Saturday 23 February
Division 1 round 4
(7.0): Dublin v Mayo
(7.0): Tyrone v Monaghan
Division 3 round 4
(7.0): Laois v Westmeath
Sunday 24 February
Division 1 round 4
(2.0): Galway v Kerry
TBC Cavan v Roscommon
Division 2 round 4
(2.0): Armagh v Tipperary
(2.0): Cork v Meath
(2.0): Donegal v Fermanagh
(2.0): Kildare v Clare
Division 3 round 4
(2.0): Longford v Down
TBC Louth v Sligo
TBC Offaly v Carlow
Division 4 round 4
(2.0): Antrim v London
(2.0): Derry v Wicklow
(2.0): Wexford v Waterford
TBC Limerick v Leitrim
Saturday 2 March
Division 1 round 5
(7.0): Mayo v Galway
(7.0): Tyrone v Cavan
Division 2 round 5
(7.0): Donegal v Armagh
(7.0): Tipperary v Cork
Division 3 round 5
(7.0): Carlow v Louth
(7.0): Down v Offaly
Division 4 round 5
(2.0): Wicklow v Wexford
Sunday 3 March
Division 1 round 5
(2.0): Roscommon v Dublin
TBC Kerry v Monaghan
Division 2 round 5
(2.0): Meath v Kildare
TBC Fermanagh v Clare
Division 3 round 5
(2.0): Sligo v Laois
TBC Westmeath v Longford
Division 4 round 5
(2.0): Leitrim v London
(2.0): Limerick v Derry
TBC Waterford v Antrim
Saturday 16 March
Division 1 round 6
(2.0): Galway v Roscommon
(7.0): Dublin v Tyrone
(7.0): Kerry v Mayo
(7.0): Monaghan v Cavan
Division 2 round 6
(2.0): Clare v Meath
(2.0): Cork v Donegal
(2.0): Kildare v Tipperary
(7.0): Armagh v Fermanagh
Division 3 round 6
(2.0): Carlow v Down
(2.0): Longford v Sligo
(2.0): Louth v Laois
(2.0): Offaly v Westmeath
Division 4 round 6
(2.0): Antrim v Wicklow
(2.0): London v Waterford
(2.0): Wexford v Limerick
(7.0): Derry v Leitrim
Sunday 24 March
Division 1 round 7
(2.0): Cavan v Dublin
(2.0): Mayo v Monaghan
(2.0): Roscommon v Kerry
(2.0): Tyrone v Galway
Division 2 round 7
(2.0): Armagh v Cork
(2.0): Donegal v Kildare
(2.0): Meath v Fermanagh
(2.0): Tipperary v Clare
Division 3 round 7
(2.0): Down v Louth
(2.0): Laois v Longford
(2.0): Sligo v Offaly
(2.0): Westmeath v Carlow
Division 4 round 7
(1.0): Derry v Wexford
(1.0): Leitrim v Waterford
(1.0): Limerick v Antrim
(1.0): Wicklow v London
Most Read Stories