Drogheda's Joey Maher was a handball legend
May 17, 2016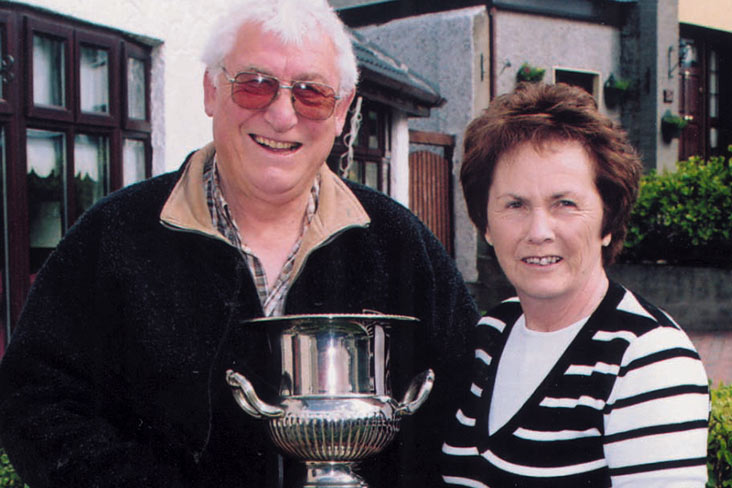 The late Joey Maher with his wife Dolores in 2005 with the World Over 50's Championship Cup that Joey won in Kelowna Valley in 1986
The death has taken place of Louth handball hero Joey Maher.
One of the all-time greats of the game, Joey was a multiple All-Ireland senior, Canadian and world champion. On Saturday, October 25th, 2008, a life-sized sculpture of the Louth handball icon was unveiled at Scotch Hall overlooking the Boyne.
Joey was the first Irishman to win the world handball crown when he took the title in Toronto in 1967, having moved to Canada and joined the Royal Canadian Mounted Police to concentrate on improving his handball skills.
In 1956, he won his first Irish junior title. He claimed the Irish Senior Hardball Singles in 1961, 1963 and 1964 and also the Irish Senior Softball titles in the latter two years. In 1962, Joey won the first of several Gael Linn Cups from an entry of 1,200 players.
He travelled to the first World Handball Championships in 1964 and felt that the only way to win the title was to quit his job as a painter-decorator and enlisted in the Royal Canadian Mounted Police in Toronto. His move to Canada saw him winning Canadian National Titles beating Barrie Leech twice (1966/68) and Dinty Moore (1967) as well as two US titles; he became the first Irishman to take the World handball title in 1967 in Toronto.
On his return to Ireland, the Drogheda man won both the softball and hardball senior titles three years in a row 1968/69/70. In 1969, he became the first handballer to win a Texaco Sports Star Award and Joey received his trophy from another sporting legend, Jack Lynch, the then Taoiseach.
Joey collected the last of his Irish Senior Softball titles in 1973 but he won another US singles championship in Knoxville in 1974. In Kilowna Valley in Canada in 1986, he won another World Championship, this time in the Golden Masters grade.
Having reached the top in handball , Joey turned his attention to music, forming the Maher Family Band with three of his sons and his daughter and went on to win the hugely popular Hughie Green's Opportunity Knocks on ITV television.

Read an interview with Joey Maher from the 2005 Louth GAA Yearbook HERE.
Most Read Stories