All 32 counties support GAA project for frontline workers
July 05, 2021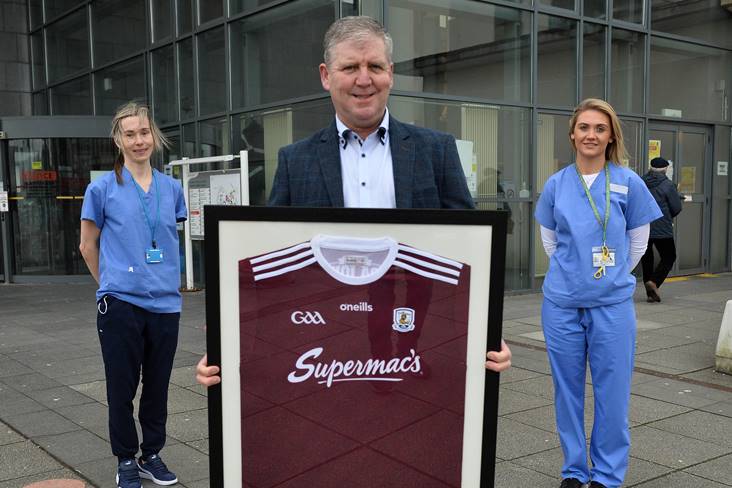 Tommy Devane presenting the Galway GAA jersey to UHG. Also in picture are Galway GAA stars and UHG staff Tracey Leonard (left) and Emma Helebert (right).
All throughout this pandemic our frontline workers have worked tirelessly to keep us safe and well and continue to do so on a daily basis as the vaccine role out continues.
Five months ago, Tommy Devane, a GAA commentator with Galway Bay FM and former inter-county player came up with a wonderful initiative to acknowledge their incredible work. In association with Paul Byrnes Media, they asked all thirty-two counties to supply one county jersey accompanied by a short message of thanks. The jersey along with their note was then framed in Galway and sent to the hospital or care setting of the county's choice. They project was completed recently.
"We received a huge reaction to the project and would like to thank all thirty-two counties who helped us enormously. I'd also like to thank our main sponsors Merit Medical led by Mark Butler along with a number of other Galway businesses – Carabay Packaging, Langan Couriers Ltd, Coyle Veterinary, Express Frames, Gerry Stronge Photography and PJ Personnel as well as District Health & Fitness, Arrabawn Co-Op & Tranquillity Leisure & Spa in Athenry," said Tommy.
Galway GAA were the first county to support the project thanking all the frontline workers in the county for their continuing hard work and dedication. "It was a brilliant idea and we were delighted to support it. The frontline staff here in Galway and right across the country do an amazing job every day," said Pat Kearney, Galway GAA Chairman.
"Huge congrats to both Tommy and Paul for taking on the project and getting all thirty-two counties involved. It was a wonderful way to acknowledge our frontline staff," said John Costello, Dublin GAA CEO. "Our frontline workers are just incredible people and this was a wonderful way to say thank you to them," said Tim Murphy, Kerry GAA Chairman.
Former Offaly great and now Chairman Michael Duignan said the project was "a great idea" and thanked the frontline workers again for all their hard work.
Most Read Stories