Ulster GAA launch Community Support Award for Clubs
March 31, 2021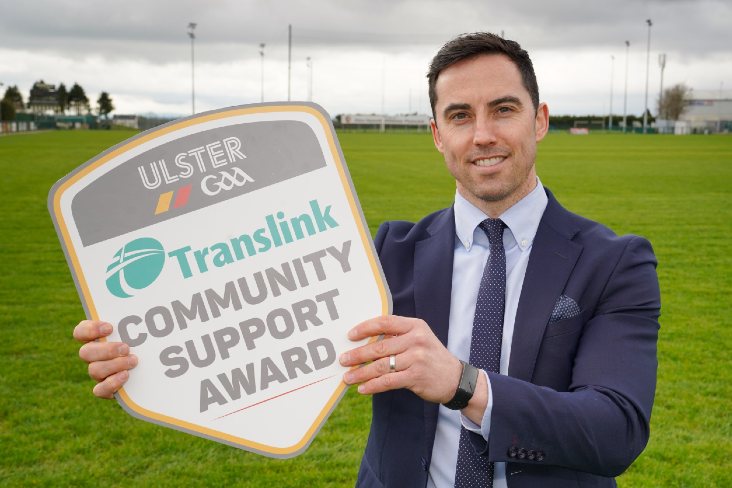 Former Armagh and All-Ireland Club winning Crossmaglen footballer Aaron Kernan launches the Translink and Ulster GAA Community Support Award.
Ulster GAA are calling on GAA officials across the province to showcase the work of their clubs during the Covid-19 crisis for the Translink Ulster GAA Community Support Award.
The new Award has been created to recognise the outstanding contribution of GAA Clubs in the community throughout the ongoing Covid-19 pandemic. Since GAA activity was suspended at all levels in March 2020, clubs and their members have remained hugely active in alternative ways by providing much needed support for local people. This community focus continued during the year through safely managed off-field activities to maintain club life and also implementation of best practice GAA procedures for resumption of training and playing activities.
Translink and Ulster GAA would like to hear from Gaelic Football, Hurling, Camogie, Rounders and Handball clubs from across Ulster on all the great community focussed initiatives carried out over the last twelve months and are calling on club Officers to nominate their clubs.
After nominations have closed, a panel of judges will select a shortlist, to include one finalist from each county with the overall winner receiving the Translink Ulster GAA Community Support Award plaque, and £1000 of O'Neill's Sports equipment vouchers.
Ulster GAA President Oliver Galligan said: "The GAA in Ulster has always taken great pride in being not just a sporting organisation but also a community one and the level of support our clubs have provided during the Covid-19 health crisis has been simply incredible. I would encourage the Officers from all of our clubs to showcase their own initiatives by submitting a nomination for this award."
Club officials can find out further details and nominate their own club for this award by visiting ulster.gaa.ie/communitysupportaward.
The nomination process opens on 31st March and closes on 18th April.
For further information on the Translink Young GAA Volunteer of the Year Award please contact [email protected]
Most Read Stories