Repeat of 2020 season 'completely ruled out'
January 25, 2021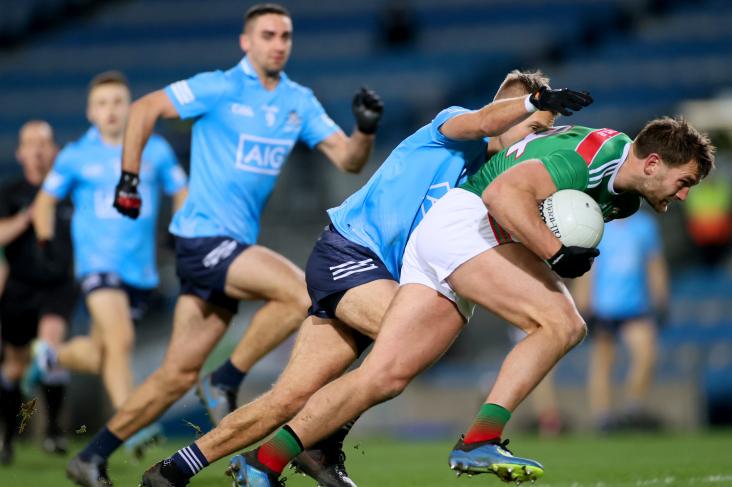 Dublin's Jonny Cooper puts a tackle in on Mayo's Aidan O'Shea during the All-Ireland SFC final at Croke Park ©INPHO/James Crombie
GAA Director of Communications Alan Milton says they have 'completely ruled out' the prospect of the All-Ireland football and hurling championships being played out at the end of the year.
The Association confirmed plans last month for a split season in 2021, the Allianz League and All-Ireland championshps wrapping up before the club window opens on July 24.
Level 5 Covid-19 restrictions has already scuppered some of those plans, with the GAA's Advisory Committee meeting this week to decide fresh start dates for the Allianz Leagues.
The 2020 season was significantly delayed by the impact of the coronavirus, and saw the All-Ireland championships culminating in December.
"[A repeat of the 2020 calendar] can be completely ruled out," Milton is quoted as saying on BBC Sport.
"From the get-go, we've taken the situation that we would try to accommodate 100% of our players and their club players.
"You could organise the season on that basis and it would give us a fighting chance of a bigger number of spectators but to do that would mean you would be taking a gamble that the rest of the island would go back to Level 2 or 3, somewhere in between where our club players could go back and play.
"But what would happen if we don't return to Level 2 or 3? The club player would be marooned so the GAA has taken the stance that the club player, which is every player in the GAA, will have the opportunity to play for their clubs at some stage - and hopefully sooner rather than later."
Most Read Stories