Ballymun boss hails "super performance"
September 28, 2020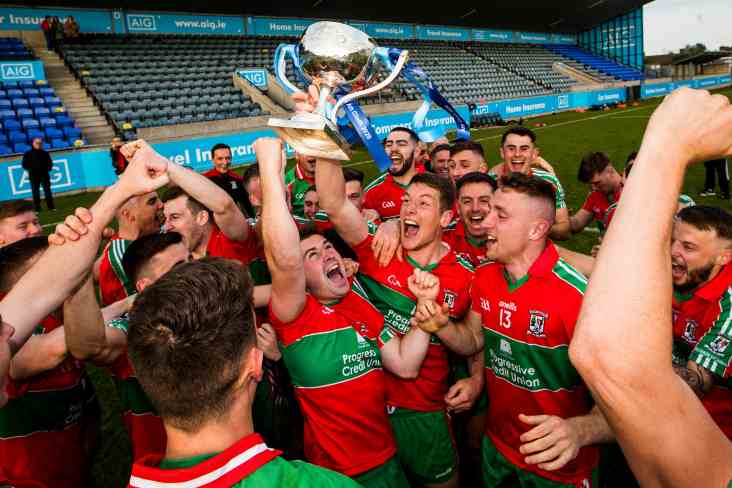 The Ballymun Kickhams players celebrate with the trophy
Ballymun Kickhams manager Brendan Hackett was full of praise for his players after yesterday's Dublin SFC final victory over Ballyboden St Enda's.
Hackett's charges scored an impressive 1-19 to 0-8 win over the defending champions at Parnell Park, with Dublin sharpshooter Dean Rock landing 1-8 over the hour.
Speaking to Dubs TV afterwards, the Ballymun boss credited his players and also remembered the late Declan Small, father of John and Paddy, who died last year.
"It was a super performance," Hackett said. "I said a few times already that this was going to be the toughest championship and the one that everybody would remember, not just because of Covid but because every team was at full strength.
"There were no excuses, no safety nets. We weren't able to come out with the excuse that our county players were tired. I'm delighted for the players and the club because a lot of people have put a lot of work into players over the years and Dublin have had the benefit of them, whereas we've had them for the last couple of months... What a performance.
"Declan Small, when he interviewed me and we sat down to talk about the job, he said 'Look, the guys that you see in July and August playing in Croke Park will be spent by the time they come back to you in September. You've got to bear that in mind'. He's up there looking down now. He arranged things nicely this year."
He continued: "There's no doubt about it, when they're there (the county players) all the time, Ballymun are a completely different outfit.
"It means a huge amount to the club and the community. First of all, Ballymun has gone through a regeneration and that will be a major lift. It was great to see flags around the area.
"For the club, it's a really proud day. They've worked so hard. They are a small club, one of the smallest in Dublin. There's very much a family feel about it. I could name names to you: the Leahys, the McCalls, the Rocks, the Andrews - names that are synonymous. Of course, Declan Small was chairman for so long and the two lads...
"It really is a small club and so many people work hard within it with limited resources and limited facilities compared to what the bigger clubs have."
Most Read Stories