"You're training more than professional soccer players, and that's their job"
April 18, 2021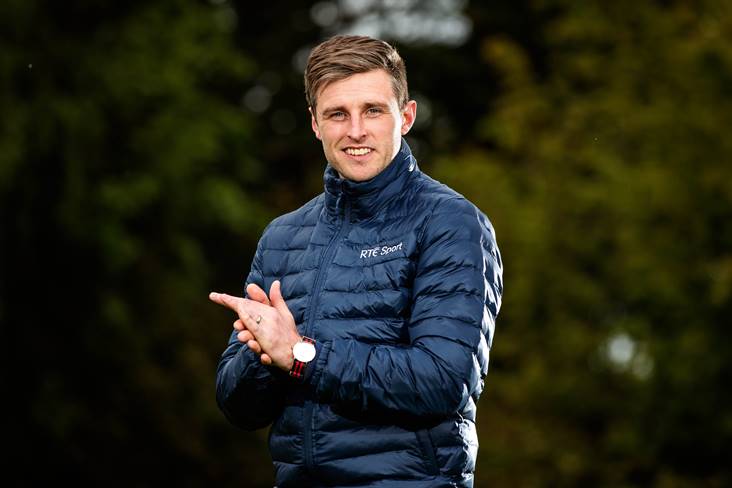 RTÉ Sport hurling pundit Shane McGrath. ©INPHO/Ryan Byrne.
Former Tipperary hurler Shane McGrath backs the argument that inter-county players are doing too much training.
McGrath was responding to a suggestion made by top strength and conditioning coach Mike McGurn in the Irish News last week that "a lot of senior county football teams are doing more training" than the New Zealand rugby team.
McGurn worked with the All Blacks in 2008 before becoming involved in senior inter-county so has seen first hand the demands that are being placed across both sports at the highest level.
The topic arose during a discussion on RTÉ Radio 1's Saturday Sport, in which McGrath said: "You're training more than professional soccer players, and that's their job. Inter-county players have jobs on top of that as well.
"It's very evident in the physique of players. Every team tries to imitate the best team. In hurling, the best team now are Limerick so a lot of teams are trying to get to that physique that they have.
"Galway are very close in my opinion but a lot of other teams are a bit off them."
The current Tipp minor coach continued: "My belief is we're losing out on a lot of skilful players because they mightn't have the physique, or have the interest to go training six times a week.
"I think the craic is gone out of it. If you're winning, maybe fine, but all of the training and everything that goes with it, we're maybe seeing a lot of male and female inter-county players saying at 26 or 27, 'I can't be doing this. We might not have a chance of saying winning anything, I'm going to go travel the world or something.'"
Most Read Stories