McConville wants GAA in the Six Counties to return early if allowed
March 04, 2021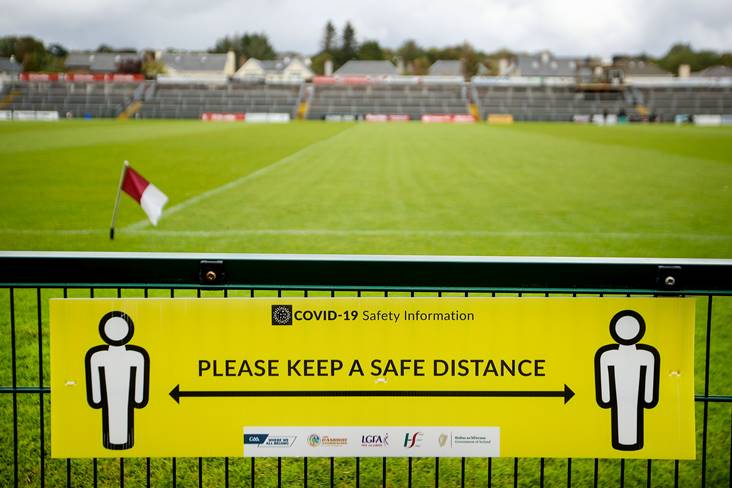 Social distancing sign at Pearse Stadium. ©INPHO/Tommy Dickson.
Oisin McConville believes that GAA clubs in Northern Ireland should be allowed to resume training ahead of those in the Republic if given the go ahead by the NI Executive.
It is currently not expected that club training will be permitted by the GAA until all school children have fully returned to their classes, which is not scheduled to happen in the South until April 12 for all Secondary students.
In the Northern Ireland roadmap for unwinding Covid restrictions, a return to outdoor training is pencilled in as one of the first things to be allowed. While there is no definite date for that happening, it is expected that it could occur in the middle of March given the success of the Northern Ireland vaccine rollout.
Speaking on BBC Sport Northern Ireland Radio, McConville said that if given the go ahead by the NI Government, then the six counties must be allowed back on the pitch even if regulations prohibit it happening in the Republic.
"If we have the opportunity in the north go back on the pitch, that's exactly what we should do," said McConville.
"The message is very, very simple. Don't punish 25% of the association because we don't have our ducks in a row elsewhere.
"That for me would almost be the final straw in this whole pandemic that we have the opportunity to get 25% of our membership back out on the pitch and we don't accept that with both hands."
Most Read Stories