Hayes calls for continuity in Galway amidst Davy Fitz speculation
September 18, 2019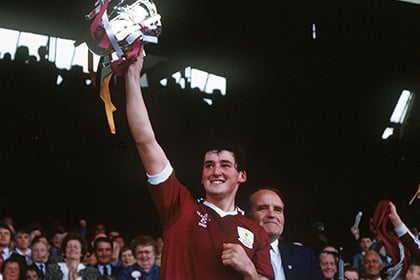 Conor Hayes lifts the 1987 Liam McCarthy for Galway
Davy Fitzgerald doesn't fit the bill for Galway as far as two-time All-Ireland winning captain Conor Hayes is concerned.
The three-time All-Star was inducted into the GAA Hall of Fame yesterday and, speaking to the Irish Independent, he outlined what he believes members of the backroom team that had worked with Micheal Donoghue in recent years would be the best bet.
"There's talk of Davy Fitz doing it but I don't know if that's a runner at all. I would imagine he's probably going to stay with Wexford.
"If he went in he's going to bring in a new (backroom) team too, it could be hit or miss with him too. In fairness to him, he comes in with great gusto into each county. I don't think that team, or that bunch of players are a Davy Fitz type (squad) at that level. It could blow the whole thing apart."
Hayes continued: "The fear you have is that someone new would come in and say, 'we are going with something completely different here' or 'we are going to change it around'.
"I still think the continuity is important and there is talk that Franny Forde and Noel Larkin might take over and keep that continuity.
"I think that might not be the worst thing that would happen because I think there is a backroom team there already of statisticians and dieticians that are working well with the players
"And if you try and impose that on a bunch of players that have been there for the last six or seven years or more, that can be difficult too. So I don't think it's time for a full change of scenery, continuity would be great and I think this bunch have another All-Ireland final in them."
Most Read Stories