Bradley sees Derry showdown in Ballybofey as "business as usual"
June 01, 2023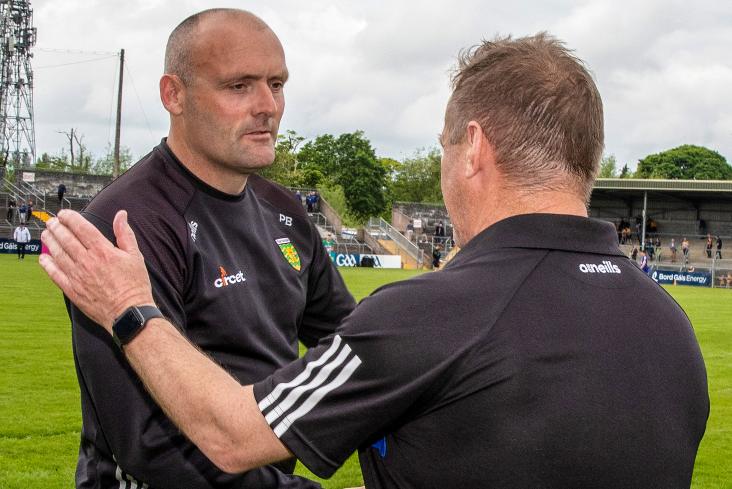 Donegal assistant Paddy Bradley and Clare manager Colm Collins exchange shake hands ©INPHO/Natasha Barton
Former Derry sharpshooter Paddy Bradley says it will be "business as usual" when he looks to steer Donegal to victory over his native county this weekend.
The Tir Chonaill men welcome the Ulster champions to Ballybofey on Sunday (4pm) for round two of the All-Ireland SFC's round-robin stage having overcome Clare in their opener.
Speaking to BBC Sport NI ahead of the weekend's clashes, Donegal assistant Bradley says the derby is "two points up for grabs" and nothing more as far as he's concerned.
"When you take on the job of managing a different club or a different county, there's a possibility that some day you're going to come up against your own club or your own county," he said.
"I just happen to be in that boat at the weekend.
"There are two points up for grabs. We have a home fixture. Donegal generally have a good record in Ballybofey and we think it's a game that we're capable of winning."
He added: "It's a home fixture for us. It's one we've been targeting. We think we've turned a bit of a corner. Players are coming back from injury. So we feel, it's two points we can get.
"We're not silly. Derry are double Ulster champions, have some fantastic players and are going to be huge favourites but if we start the game well and grow into it the way we did in Ennis, there is definitely no reason why we can't get something out of it."
Most Read Stories