Joe McDonagh Cup and Champion 15 Teams and Players of the Year announced
December 06, 2021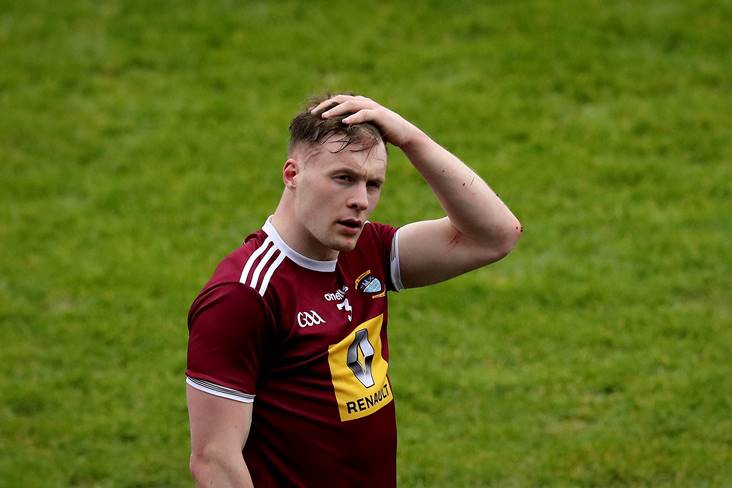 2021 Joe McDonagh Cup Player of the Year Tommy 'Jogger' Doyle.
The 2021 GAA/GPA Joe McDonagh Cup and Champion 15 Teams of the Year have been announced.
First-time winners Westmeath lead the way on the Joe McDonagh Cup selection, with seven representatives (Darragh Egerton, Aonghus Clarke, Tommy Doyle, Robbie Greville, Davy Glennon, Killian Doyle and Niall Mitchell), while beaten finalists Kerry have three and Down get two. Lough Lene Gaels clubman 'Jogger' Doyle is recognised as Player of the Year after his commanding performances in defence for the Lake County. The remaining places are shared between Carlow, Kildare and Meath.
The Champion 15 team features seven players who played in the Christy Ring Cup, five from the Nicky Rackard Cup along with three who featured in the Lory Meagher Cup. The Players of the Year in each category are Oisin Kelly (Offaly, Christy Ring Cup), Keith Higgins (Mayo, Nicky Rackard Cup) and Seán Corrigan (Fermanagh, Lory Meagher Cup)
2021 GAA/GPA Joe McDonagh Cup Team of the Year
1. Stephen Keith (Down)
2. Darragh Egerton (Westmeath)
3. Conor Woods (Down)
4. Eric Leen (Kerry)
5. Aonghus Clarke (Westmeath)
6. Tommy Doyle (Westmeath)
7. Fionan Mackessy (Kerry)
8. Robbie Greville (Westmeath)
9. Brian Byrne (Kildare)
10. Davy Glennon (Westmeath)
11. Killian Doyle (Westmeath)
12. Jack Regan (Meath)
13. Chris Nolan (Carlow)
14. Niall Mitchell (Westmeath)
15. Shane Conway (Kerry)
2021 GAA/GPA Champion 15 Team of the Year
1. Simon Doherty (Armagh) - Nicky Rackard Cup
2. Sean Cassidy (Derry) - Christy Ring Cup
3. Ciarán Burke (Offaly) - Christy Ring Cup
4. Rory Porteous (Fermanagh) - Lory Meagher Cup
5. Enda Shalvey (Cavan) - Lory Meagher Cup
6. Ben Conneely (Offaly) - Christy Ring Cup
7. David Kenny (Mayo) - Nicky Rackard Cup
8. Cathal Freeman (Mayo) - Nicky Rackard Cup
9. Cormac O'Doherty (Derry) - Christy Ring Cup
10. Damian Casey (Tyrone) - Nicky Rackard Cup
11. Gerard O'Kelly Lynch (Sligo) - Christy Ring Cup
12. Seán Corrigan (Fermanagh) - Lory Meagher Cup
13. Oisin Kelly (Offaly) - Christy Ring Cup
14. Eoghan Cahill (Offaly) - Christy Ring Cup
15. Keith Higgins (Mayo) - Nicky Rackard Cup
2021 GAA/GPA Joe McDonagh Cup Player of the Year
Tommy Doyle (Westmeath)
2021 GAA/GPA Champion 15 Players of the Year
Oisin Kelly (Offaly) - Christy Ring Cup
Keith Higgins (Mayo) - Nicky Rackard Cup
Seán Corrigan (Fermanagh) - Lory Meagher Cup
Most Read Stories