"It's just a complete reset button and we'll go at it again"
November 18, 2021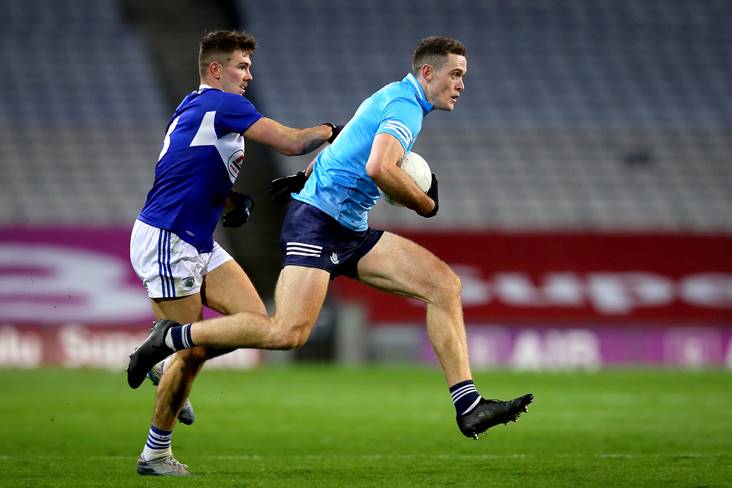 Dublin's Brian Fenton holds off Daniel O'Reilly of Laois. ©INPHO/Ryan Byrne.
Dublin midfielder Brian Fenton says he's glad that the narrative around him having never lost a championship game is gone as he looks towards next season.
Fenton hadn't lost a championship match with Dublin until this past August's All-Ireland semi-final extra time defeat to Mayo at Croke Park.
Speaking to GAA.ie at the launch of the new Avonmore Pro-Oats product, says he's happy the statistic will no longer be a narrative around the team anymore.
"In many ways it wasn't this big shock for me, to be honest, or this big momentous event. I'm well used to losing in many ways in different sports growing up. It was just, I suppose, that whole narrative around me and this Dublin team at the end of that run of games," said the Raheny clubman.
"That was new, certainly, and I suppose the immediate aftermath in that dressing-room was certainly new as well, that was a new experience. It's disappointing obviously when you're a sportsperson and you're a competitor.
"Disappointing, but, I think, again, in many ways, the monkey is off your back or the pressure balloon is burst, you know that sort of way?
"It's not a relief, I don't want to say it's a relief, but that's it done now and I think for me and for the team, certainly, it's just a complete reset button and we'll go at it again. Right, who's in the group, who's the 30 lads trying to take it on next year?
"Thankfully that sort of narrative around me never having lost a championship game will be gone now and I won't be asked about it. It's just sort of, here we go again, trying to get to the top again."
Most Read Stories