GAA can't contribute to a step backwards in the fight against Covid 19 says Clerkin
June 01, 2020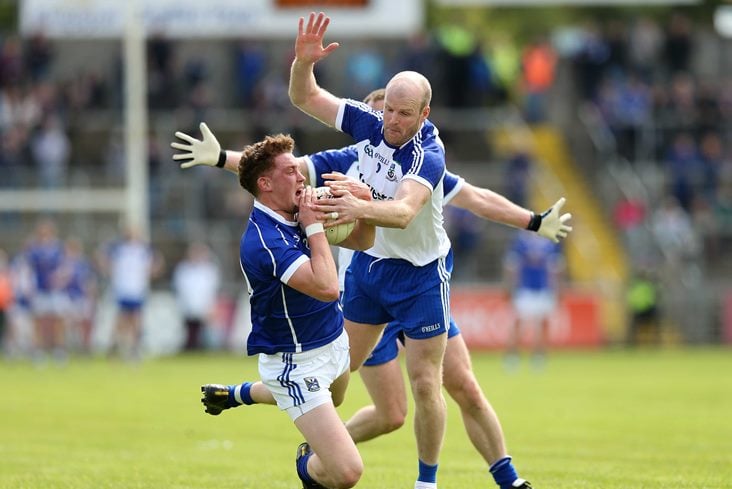 Cavan's Ciaran Brady is tackled by Dick Clerkin of Monaghan during the 2015 Ulster SFC quarter-final at Kingspan Breffni Park
Dick Clerkin, a member of the GAA's Covid-19 advisory group, says that the huge size of the GAA nationwide means that if a return to full activity happened too quickly, it could hamper the battle against Coronavirus.
Clerkin was speaking on the Sunday Game on RTE and he explained that the scale of the GAA membership means that care has to be taken as the country exits lockdown.
The former Monaghan player feel that the decision to cease all GAA activity on March 12 played a major role in the country's battle to 'flatten the curve'.
"You have to be conscious of the scale of the GAA," explained Clerkin. "In many ways, the size and the membership of the GAA is its greatest strength. When it comes to this public health issue, it's arguably its greatest challenge.
"You've over half a million playing members, on top of that you have members and then you include parents, grandparents. En masse, it is such a massive potential impact on the overall public health issue, so it is not just an isolated club, it is in every corner of the country.
"Arguably, it had a huge impact at the start of this pandemic when it took the quick lead to close down. All of the positive news from a transmission point of view, you'd think the GAA had a massive impact on that.
"Equally, if we move too soon, because of the sheer scale and volume of the membership, you don't want to be in a position where you're contributing to a step backwards. So, you have to be a bit more conservative."
A roadmap for how clubs will be able to return will be published in the coming days according to Clerkin, who said that the GAA is closely monitoring professional sports to learn from their experience.
"We will learn an awful lot in the next couple of months from the professional sports that are back playing, the transmission rates between players. We'll be taking all that information and will have a roadmap that will be predicated on making good forward steps.
"I think we're moving on at a fairly fast pace and we will move as fast as we can within the government guidelines. That's really all we can do."
Most Read Stories