Down Memory Lane: The Rackards of Killanne
March 07, 2021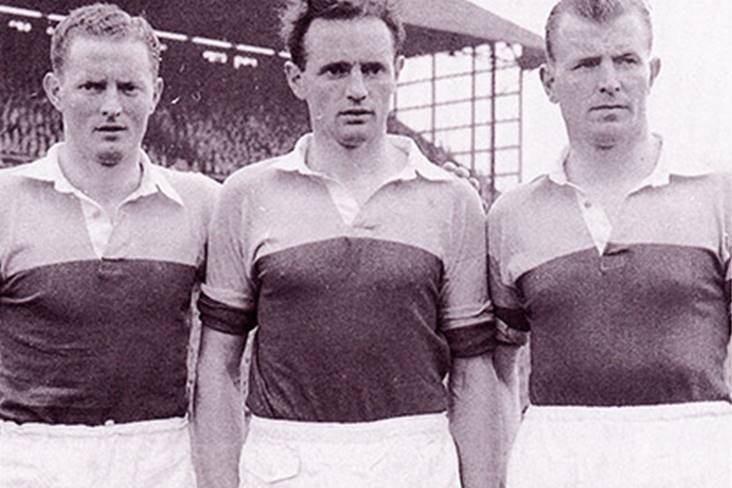 The famous Rackard brothers, from left Billy, Bobby and Nicky.
Taken from Hogan Stand magazine 5th February 1993
The 1950s will surely be remembered by the unbiased hurling followers (if such a remarkable phenomenon really exists) not for the wonderful games between Cork and Tipperary, superb though they were, which marked the early years of the decade, nor for the thrilling nip-and-tuck clashed between Waterford and Kilkenny that saw out the period. They will be remembered for the meteoric rise and ultimate triumph of the mighty men of Wexford, that grand and gallant band of hurlers who, through most of the fifties, brought fresh glory to their county. They had a glamour all of their own, and carried with them onto the field all the hopes and all the ambitions of the many 'weaker' counties.
For forty years, three or four counties had dominated the hurling fields of Ireland. Other teams had briefly fought their way to the forefront before fading dramatically, unable to sustain their challenge for more than a year or two. Now, quite suddenly, from village and parishes of which hurling centres in Ireland had seldom ever heard - from Rathnure and Coughbawn, Camross and Horeswood, and the towns of New Ross and Enniscorthy - a superb set of hurlers stepped into the limelight and held it year after year. And as the Wexford hurlers slowly but surely built up their reputation for sportsmanship, style and an abundance of skill, the Rackard family name became well-known and much-lived by sporting fans throughout the land. Bobby, Billy and Nicky were the three brothers who formed the cornerstone of the greatest team ever to come out of the Model County, performing herculean feats in Croke Park as the Slaneysiders took on and beat the traditional strongholds with a great deal of panache.
It was no coincidence that Wexford's upsurge in the hurling world happened directly after the arrival of these three hurling heroes from famed Rathnure on to the county team in the early 1950s. Bobby and Billy made their inter county debuts in the heart of the defence in 1950, and Nicky, the greatest full forward of them all, joined the fray the following year as Wexford captured their first Leinster title since 1918. Croke Park was the venue as Laois were downed on a 3-12 to 4-3 scoreline to end 33 years of frustration and numerous heartbreaking defeats. It was a memorable day for all Wexford, but for one family in particular - the Rackards of Killanne. Nicky, Bobby and Billy were, of course, automatic choices, and the Wexford selectors, continuing their quest for a custodian, called in a fourth Rackard as netminder, Jimmy.
The All-Ireland semi final against Galway was decided by one of the many spectacular goals scored by Nicky Rackard in a glittering career. The Westerners led by 2-6 to 1-6 at half time, and still held a narrow lead with less than ten minutes of a see-saw battle remaining. Then, in the 25th minute, Galway had a fatal wide, fatal in that it resulted in the deciding score at the other end. The resultant puck out by Nick O'Donnell was one of the longest ever seen at Croke Park and took a mighty hop into the hands of Nicky Rackard some 15 yards from the Galway goal. The big full forward took a step or two in the direction of the goal before sending the ball like a rocket to the top of the net. Croke Park reputed with a mighty roar, and the issue was decided when the star of many a Wexford win flashed over a fine point.
The county went hurling mad following this great victory, and September 2nd saw the biggest exodus ever from the county for the All-Ireland final against Tipperary in Croke Park. Wexford got a tremendous uplift shortly after the start when Bobby Rackard, from a 90 yards free, landed the ball in the goalmouth and there to complete the good work was his brother Nicky, who carried Tony Reddan, a couple of Tipperary defenders and the ball into the back of the net! Despite this great start, the day ended in disappointment as Wexford were defeated on a 7-7 to 3-9 scoreline, and Tipp were also the masters in 51 when they captured the League title by a solitary point (4-7 to 4-6). Wexford were victorious by 4-7 to 5-1 against Kilkenny in their first defence of the Leinster title, and only Dublin stood between them and another piece of silverware. Wexford followers felt that it would be a mere formality, particularly when it was learned that Nicky Rackard was fit and Dublin would not have some of their stars.
However, the metropolitans caused one of the greatest sensations of the hurling world by totally eclipsing the favourites by 7-2 to 3-6. After another Leinster final loss in 53, Wexford and the Rackards returned with renewed vigour the following year. The 1954 All-Ireland with Cork, watched by a record attendance of 84,856, provided more talking points than any other match in which Wexford played. The games gave rise to many questions, like what would have happened if Nick O'Donnell had not been injured, leading to the switch of Bobby Rackard from centre half back to full back. This move led to heated argument, and there were still those followers who will maintain that Wexford would have won this game if Bobby Rackard had been left in the centre back position. At first glance, in view of his wonderful performance at full back, it would appear that the selectors were perfectly right in their decision. But there is a second school of thought. There is the one that maintains that Wexford would have won if Bobby had been left in his original position because his clearances from centre back would have been dropping very close to the Cork goal.
The controversy raged for a long time after the game in which Christy Ring won his eight All-Ireland medal. Would he have done it if Bobby Rackard had been left at centre back? That is a question that will never be answered. 1955 was a year to be remembered for Wexford, with the hurlers sweeping to victory in the All-Ireland senior campaign for the first time since 1910. The final against Galway was a magnificent triumph, and won fairly and squarely by a dint of first class hurling ability, stamina and good sportsmanship, with the Rackard trio, once again, playing leading roles. And the mantle of greatness was donned in '56 when Wexford completed the National League/All-Ireland double with some of the most stirring displays ever seen in Croke Park. The league decider produced the greatest hurling fightback of all time - Wexford gave Tipperary a 2-10 to 0-1 interval lead, and came back to beat them by 5-9 to 2-14.
That achievement must go down in history as Wexford's greatest and most thrilling victory, but few people are aware of the role which Nicky Rackard played in that magnificent comeback, both on the field and off it. As stunned supporters reflected on the over-powering of their favourites in stunned silence, they were unaware that Nicky Rackard was rallying his forces by word in the Wexford dressingroom at the interval. Emphasising every well chosen word with a pounding fist, he instilled new life into his colleagues, infusing a new spirit of determination. He set the example himself in no uncertain manner, carrying a couple of Tipp defenders as he palmed the ball to the net, and in the ensuing few minutes he had set up three more goals. The Slayeysiders were one point ahead, and the supporters went wild. There was an encore in the 29th minute when Rackard charged through again and beat Reddan with a pile-driver.
The All-Ireland final against Cork later that year provided one memorable moment with Artie Foley's legendary save from Christy Ring, but another was provided by Bobby Rackard who tapped the ball off Ring's hurl when a Cork goal seemed certain. Nicky Rackard struck for several crucial scores again as Wexford retained their title on a 2-14 to 2-8 scoreline, but the memorable incidents did not finish with the final whistle. Immediately after it, Ring was seized by Bobby Rackard and Nick O'Donnell and carried shoulder high from the field - a memorable moment in a year of many memories. Wexford hurling was struck a tremendous blow shortly before the 1957 Leinster Final against Kilkenny when Bobby received an injury on his farm which ended a great inter county career. The noresiders deprived Wexford of their provincial crown, and shortly after the game, hurling lost one of the game's greatest personalities when Nicky Rackard retired.
Rackard had an inter county career spanning 19 years and he had won every honour in the game. His name will always be synonymous with Wexford's hurling rise and he will be remembered not alone for his great scoring feats but for his inspiring leadership and sportsmanship. In the three years before he retired he was the country's leading scorer, and his tally for 1956 - 35 goals and 50 points - created a record. His untimely passing at an early age in 1976 left the entire county in deep mourning but his memory will live on forever. Billy Rackard's career continued into the '60s, and he captured a league medal in 58, two Leinster titles in 60 and 62, and an All-Ireland in 60. The three famous brothers also represented Leinster on numerous occasions, and they won a number of senior hurling and football county titles with their beloved Rathnure.
And memories came flooding back for followers of the fifties when Bobby and Billy Rackard received the All Time All Star Hurling Award before Christmas, at a glittering ceremony from the Burlington Hotel which was screened live on television. It was a fitting award for two much-liked, unassuming men who, along with their late brother Nicky, carved out a unique place for the Rackard family in GAA circles. Their fantastic feats will live on whenever great games and great hurlers are recalled.
Most Read Stories