Connolly wants to see Jack back in Dublin jersey
March 04, 2021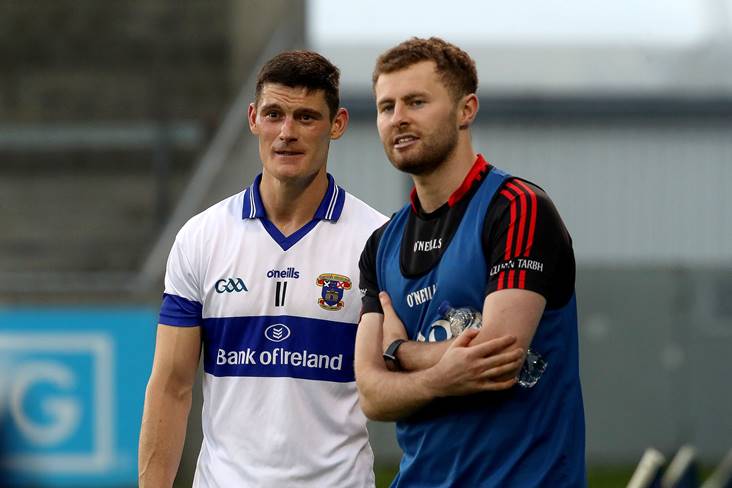 St Vincent's Diarmuid Connolly with Jack McCaffrey of Clontarf. ©INPHO/Bryan Keane.
"Jack McCaffrey running up the sideline under the Hogan Stand" is a sight all Dublin fans want to see again.
None more so than his former All-Ireland winning Dublin teammate Diarmuid Connolly, who announced his retirement from intercounty football at the age of 33 last summer. Around the same time when McCaffrey's departure from the Dubs' squad that would go on to win an unprecedented sixth All Ireland SFC title in-a-row became known.
St Vincent's clubman Connolly joined Leon Blanche of Boylesports to discuss McCaffrey's potential return to the Dublin ranks in 2021.
"Only Jack will know if he wants to come back. He's the sort of guy who wears his heart on his sleeve, and if he's all in, he's all in," Connolly said.
"I know personally he was finding it tough with the virus, he's doing savage hours with work and still studying. If he has a little bit of free time, you'd like to see Jack McCaffrey running up the sideline under the Hogan Stand.
"Look, every time Jack plays with Dublin, he wins a 'Player of the Year' or an All-Star and he's pretty much 'man-of-the-match' in most of the games. So we'd love to see him back in blue but you just don't know at the moment."
McCaffrey, 27, had been juggling his work as a doctor at Temple Street Children's Hospital and commitments as an inter-county footballer for some time.
"He's come from a family of doctors. His mother and father are both doctors," Connolly continued.
"He has been on the front line for I don't know how long. I haven't spoken to him in a good while yet. I hope to catch up with him in the coming weeks and please God we can see him back kicking a ball!"
Most Read Stories