Dessie goes out on a high
October 14, 2019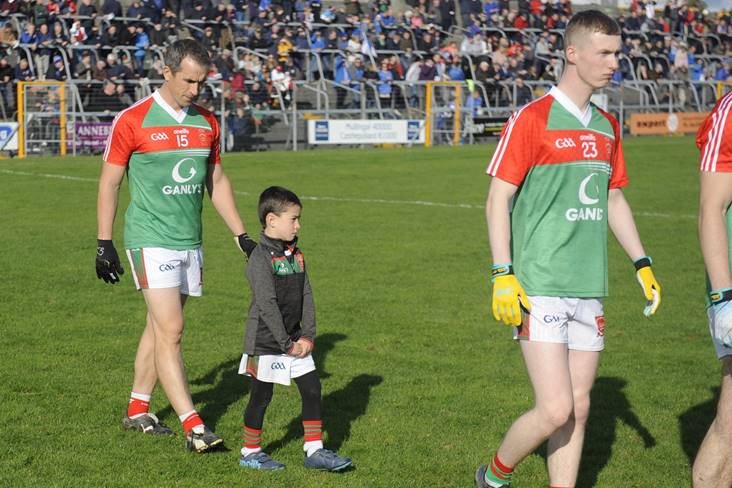 Garrycastle's Dessie Dolan with his son Nathan before the Westmeath SFC final against St Loman's.
Dessie Dolan announced his retirement from Westmeath club football after winning his eighth county SFC medal with Garrycastle yesterday.
And the Lake County legend was chuffed to surpass his father Dessie Snr's haul of seven county medals, telling RTE: "I'm delighted because my dad has seven. It's hard to beat your dad at anything but I beat him at county titles finally. I'll take that one over him!
"Today was my last day playing Westmeath county football. I'll do a little bit in Leinster but I'm finished with county football in Westmeath.
"It was a massive performance. No-one had performed in the first half. County finals are for performing, and no one was happy. There's a bit of character in that room and we showed it in the second half.
"I turned 40 during the summer. My younger brother (Gary) is the manager. He was saying, 'just play a little bit, help the lads on he pitch'. I was delighted to do it. It was a special day for Garrycastle."
Dolan started the final against St Loman's at corner forward, but was substituted at half-time as Garrycastle changed tack by bringing on James Sheerin, who helped turn an eight-point deficit into a four-point victory.
"We were struggling with St Loman's all over the park," said Dolan.
"We couldn't contain Ronan O'Toole and John Heslin. Myself and Gary had a chat. I went off and we put James Sheerin in at full-forward, a big target man. We got a couple of balls into him and it kind of changed the game for us. The lads were incredible. The longer it went on the better we were getting.
"St Loman's were playing all the football but they never turned up in the second half. We smelled the opportunity and we took it. It's incredible."
Most Read Stories