GAA on TV: two top class documentaries plus Dublin in the 90's
April 22, 2021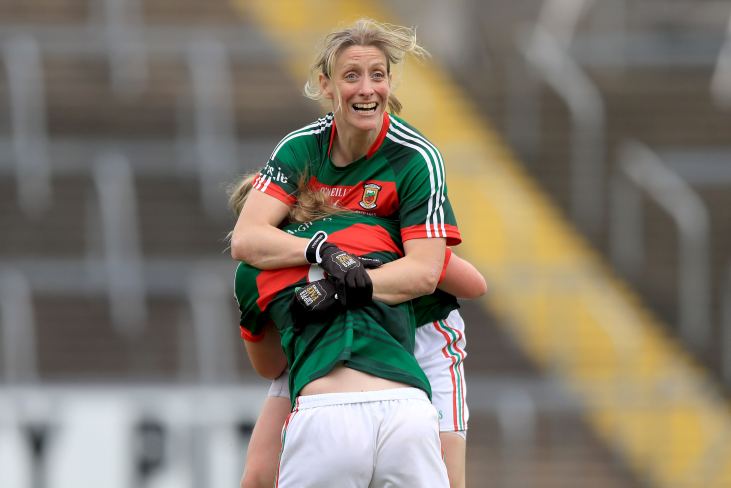 Mayo's Cora Staunton celebrates with Fiona McHale
Another chance to watch the brilliant documentary on Cora Staunton plus a look back at Dublin during a different era.
Saturday 24 April
TG4
11am: Cluichí na Bliana
Corofin made history as they became the first club to win three AIB Club All-Ireland titles in a row. Kilcoo battled for the title in extra time but failed to put a stop to Corofin's remarkable run of dominance through out the year.
TG4
5.30pm: Cora - The Greatest
This access-all-areas documentary gives an exclusive insight into the very unique and fascinating world of Ireland's footballing sensation, Cora Staunton. Shot over the course of six months, we first see Cora juggling life on, and off the field before making her way over to Australia to play for the Sydney Giants. Throughout the AFLW season Cora battles time in order to come to terms with Aussie Rules while being tested to her limits.

Sunday 25 April
TG4
5.55pm: Laochra Gael
Laochra Gael continues with the story of Tyrone footballer, Seán Cavanagh. Seán overcame his early challenges with nutrition to become one of the most accomplished athletes of his era. He put himself under incredible pressure. Insecurity became a driving force, and he came through the tragedies that were visited upon the team to win three All Ireland titles. Uncompromising on the field and in life, Seán has had his share of criticism. But nobody bothers Seán more than Seán Cavanagh, one of the most fascinating characters in modern sport.
TG4
7pm:Peil na mBan 20 bliain ag Fás

After numerous All Ireland Final defeats Dublin's Noelle Healy played a huge role in helping a talented Dublin team reach their potential & win the All Ireland Championship in 2017. Noelle talks about how working to reach the potential you have can be hard but rewarding & how in winning the team inspired many others to work hard in the same way.
eir Sports 2
7pm: Dublin v Tyrone. All-Ireland SFC final 1995
Dublin hadn't won Sam Maguire for 12-years and Tyrone were after an historic first success.
eir Sports 2
8.30pm: Down v Dublin, All-Ireland SFC final 1994
The 1994 All-Ireland SFC Final saw Dublin, looking for a first title since 1983, take on Down, who were champions in 1991 and had won all four of their previous All-Ireland Finals
eir Sports 2
10pm: Kerry v Cork, All-Ireland SFC final 2007
The 2007 All-Ireland SFC Final between Cork and Kerry was only the second same-province decider, with Kerry aiming for the first back-to-back titles since the Rebels in 1990.
Most Read Stories