What they said … the football weekend in quotes
January 13, 2020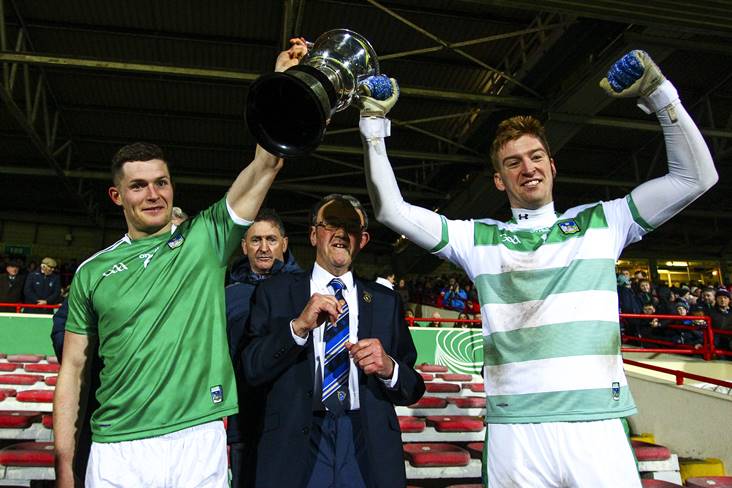 Limerick joint-captains Iain Corbett and Donal O'Sullivan with the McGrath Cup. ©INPHO/Ken Sutton.
"It has been really important for giving the lads a bit of belief about themselves about winning games and to understand what it is to win against teams that have been historically and currently better than us."
Limerick's McGrath Cup final victory over Cork is a big confidence booster, according to manager Billy Lee.
"We knew it would be difficult. Billy has a lot of good work put down with them in the last few years and it was a well-deserved victory."
Cork's Ronan McCarthy was magnanimous in defeat.
"I wouldn't be a huge fan of it. Fair play to the ten players who took the penalties, and the two goalkeepers. Look, penalty-taking, for me, is for a different sport, not for our sport."
New Galway manager Padraic Joyce isn't a fan of penalty shoot-outs.
"It suited today that there wasn't extra-time, (but) I'm not sure if it is the right method."
Joyce's Mayo counterpart James Horan is of the same opinion.
"I was delighted we were competitive. This is about trying to identify the couple of players that we want to bring forward into the squad. That will give us a reasonable assessment of that."
Dessie Farrell was satisfied with his first outing as Dublin senior football manager despite the loss to Longford.
"If we can stay clean on the injury front, I'm delighted we're getting another game. And it's a final. Trophies don't come across that door saddle too often in this county."
After defeating Farrell's experimental Dublin side, Padraic Davis and Longford will take on Offaly this Friday evening.
"I'm not overly happy with the performance to be quite honest with you, it was quite messy and sloppy, we butchered lots of good chances."
Despite defeating neighbours Westmeath by five points, Faithful County boss John Maughan says they have lots of room for improvement.
"Of the lads that took the pitch today, all 25 or 26 of them, I'm delighted with their attitude, and the fellas coming back in, they need to lead these young lads through the next few weeks and months."
It's all systems go now for the league as far as Lake County supremo Jack Cooney is concerned.
"That's what we like the McKenna Cup for, to get games, get game-time, see new players who haven't seen much game-time at this level. And you don't get to play more games if you don't win the ones you're in, so that's the name of the game."
Mickey Harte and Tyrone are closing in on Dr McKenna Cup success number eight in the space of nine years.
"It is becoming an elite association and they are just catering for inter-county teams, while clubs, third level and second level are all suffering."
Cork legend and UCC manager Billy Morgan didn't hold back in his criticism of the powers-that-be in Croke Park.
Most Read Stories