Wexford's George O'Connor happy if son Barry spends his sporting career in Aussie Rules
August 05, 2020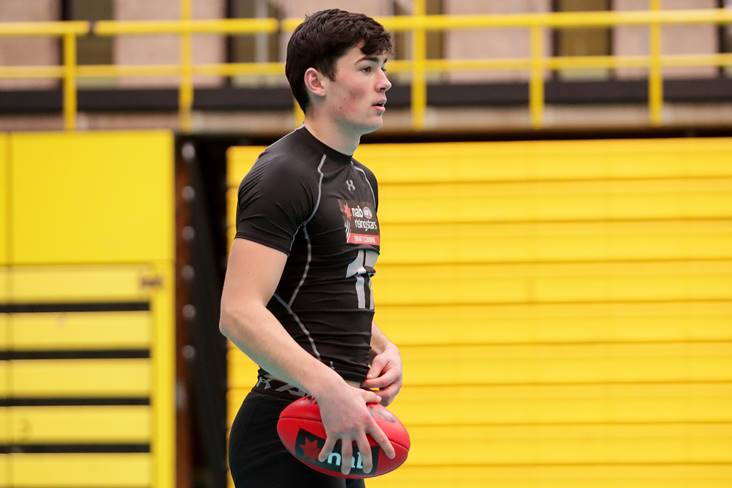 Wexford's Barry O'Connor. ©INPHO/Laszlo Geczo.
By Paddy Hickey
Wexford legend George O'Connor says he will be happy enough if his son Barry spends the rest of his sporting career solely featuring in Aussie Rules action.
Having already made his mark with the Wexford senior football team, 22-year-old Barry was also considered by many shrewd observers to be close to receiving a call-up from the Slaneysiders' hurling boss Davy Fitzgerald.
Understandably, George, who enjoyed an illustrious career with Wexford hurlers from 1979 to 1996, would be very partial to seeing his talented son feature once again in inter-county action, in either football or hurling, or in both native codes.
"Of course, it would be nice to see Barry playing for Wexford again," said George, who retired from inter-county hurling after playing a massive part in the Model County's 1996 All-Ireland final win over Limerick.
"But at the same time I won't be broken-hearted if this does not prove to be the case and that he spends the rest of his sporting career playing Aussie Rules.
"The most important thing is that Barry is happy, contented and fulfilled in what he's doing, so that's what myself and Ellen (his wife) will be putting all the emphasis on rather than wishing that he comes home to play again for Wexford.
"Barry has made a decision to do his best to make a big impact in Aussie Rules and we'll be supporting him all the way in his attempt to achieve his ambition.
"It's a tremendous opportunity for Barry, and, as well as the sport, after studying commerce in UCD, he can finish his degree at New South Wales University", added George about his son, who recently made a major move when he was elevated to the senior squad of his club Sydney Swans.
Asked if he reckoned that Barry was relatively close to receiving a call-up to match action in the Premiership, the two-time All Star said: "Naturally we would love to see Barry playing for the Swans' first team, but I think we will have to wait a bit of time for this to happen.
"The main reason why Barry and a number of other players were promoted to the Swans' first team squad was due to a number of established players picking up injuries.
"It's only a month since Barry turned 22 and it's often not until a player is 26 or 27 years of age before they play in a Premiership match for the first time. But hopefully Barry won't have to wait that long.
"However, we're very aware and fully appreciative of the fact that regarding Aussie Rules football Barry is very much in the yellow-pack category and that he's still learning his trade in the sport."
Nevertheless, O'Connor senior, who, along with his wife, spent "16 days" in Sydney, courtesy of the Swans club, in March, is heartened by the fact that he feels that Barry is favourably equipped to adapt to the Aussie Rules game.
"I feel a big plus for Barry is that, although he's naturally right-footed, he's also very strong on his left side, and this is something that we would have focussed a lot on as he was growing up," explained the former midfield ace.
"In that regard, he is very similar to (former Wexford player) Mattie Forde.
"As well, as football and hurling, he has played a good lot of rugby and so he is very used to the physical element of rugby which should stand him in good stead in Aussie Rules. A lot of the physicality has now gone out of Gaelic football, and it would be the same for soccer which Barry played a bit of.
"Also the ball is somewhat similar in rugby as in Aussie Rules."
Interestingly, Barry O'Connor is somewhat following in the footsteps of his great, great grand-father who emigrated to Australia when he was only 19.
"The man went there with a grandfather of the horse racing trainer Jim Bolger, and they had to travel by boat around the bottom of South Africa because the Suez Canal had not been built at that time," revealed George.
"The two men went gold prospecting and they returned to Ireland when they were in their 40s."
Most Read Stories