What they said … the weekend in quotes
December 09, 2019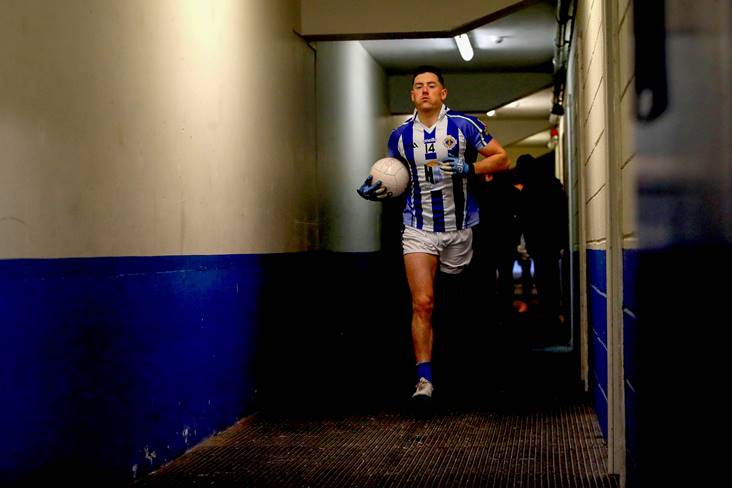 Ballyboden St Enda's Ryan Basquel leads out his team. #©INPHO/Ryan Byrne.
"This team deserves it. They have been training unbelievably hard for the last two years."
The hard work paid off for the evergreen Conal Keaney and his club-mates as Ballyboden are Leinster club football champions for the second time in four years
"It was horrendous out there."
The inclement conditions made life difficult for both sets of players, according to 'Boden's victorious manager Anthony Rainbow.
"What we do in Eire Og is try to establish a good foundation for the kids coming through and give them something to be proud of. This journey has been wonderful, it's over now."
Joe Murphy wasn't too downbeat following the Carlow champions' defeat.
"We have to look at what happened last year and see where the gaps exist. Ultimately, we didn't have that last 12 or 15 minutes in the locker, we'll have to try and find that."
Meath have work to do ahead of their return to Division 1 and Andy McEntee is looking forward to the challenge.
"He has been one of the mainstays of the team for the last few years so that is obviously a blow but I've had some very good conversations with him over the last few weeks."
Louth manager Wayne Kierans revealed that key player Andy McDonnell won't be part of his plans for the early part of the new year, at least, due to work commitments.
"He's anxious to get back involved and we're anxious to have him back."
Jack Cooney will welcome Ray Connellan back into the Westmeath fold after his return from the AFL.
"Look, the name of the game at this time of the year is we're experimenting with young lads. Some fellas did well and other fellas maybe underperformed a bit."
The Jack O'Connor era started with a defeat for Kildare against Longford.
"At this time of year it is all about performance – we go that, wherever it takes us."
O'Connor's Longford counterpart Padraic Davis was singing from the same hymn sheet.
"He brings a wealth of experience, vision and skill to our coaching set up and this will also fit in very well with the development phase we are currently in with this senior squad."
James Horan announced that former star forward Ciaran McDonald has joined the Mayo backroom set-up for 2020.
"It's an end of an era, there's no point in hiding from it. It was a bit sad but the lads are pretty motivated athletes, are able to turn things around pretty quick and already have their heads up looking at next year and what's going to happen next."
Michael Darragh Macauley spoke about Jim Gavin's departure on Friday night's Late Late show.
"It is like all disciplinary matters, they are handled inhouse. As far as we are concerned the matter is closed. We are back training since last Tuesday and 2019 has been concluded and we are looking forward to 2020 with great anticipation."
John Kiely refused to comment on the incident which resulted in two Limerick players being sent home from New York recently.
Most Read Stories