CCAO Third Level Camogie announce UPMC as Ashbourne Cup Weekend sponsor
November 12, 2019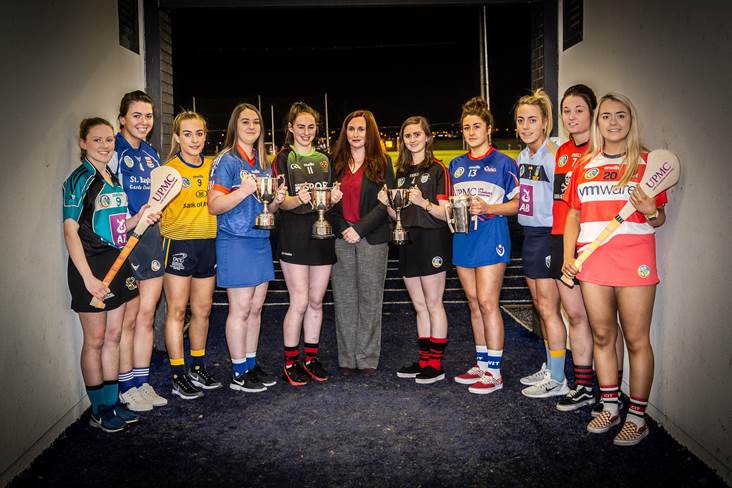 UPMC CCAO Third Level College Championship Launch 2019/2020 WIT Arena, l/r: Linda Bolger (Maynooth), Orla Owen (MIC Thurles), Ciara Phelan (DCU), Farren Byrne (Garda College), Sara Cuddy (IT Carlow), Michelle Clancy (UPMC Whitfield), Muireann Nic Corcráin (Trinity), Shauna Quirke (WIT), Lydia Fitzpatrick (UCD), Chloe Sigerson (UCC), Caleigh Boland (CIT)
UPMC Whitfield Hospital in Waterford has been announced as the 2020 sponsor of the CCAO Third Level Camogie Ashbourne Cup Weekend, which takes place in conjunction with the WIT Vikings GAA Club on 14th- 16th February 2020 at the WIT Arena.
The UPMC Ashbourne Cup Weekend will involve fourteen Third Level college teams from across the country competing in the Ashbourne, Purcell, Fr. Meaghair and O' Maolagain Cup competitions. The highly anticipated draw for the 115th year of the Ashbourne Cup took place at WIT Arena on Monday night. A host of college captains and representatives were in attendance to see two exciting groups drawn for this year's renewal of the competition. In Group A, last year's champions University of Limerick were drawn with last year's Purcell Cup winners National University of Ireland Maynooth and Dublin City University Dochas Éireann. In Group B, University College Cork will face up against Waterford Institute of Technology and Mary Immaculate College, Limerick.
UPMC's sponsorship of the Ashbourne Cup Weekend is part of the healthcare provider's ongoing commitment to building healthier communities across Ireland, according to David Beirne, managing director of UPMC in Ireland and senior vice president of UPMC International.
"UPMC is already the main sponsor of the WIT Vikings GAA Club and this collaboration with the CCAO will further strengthen our support for Gaelic players across the country. With WIT a current member of the 20x20 Women in Sport campaign, I am especially delighted that UPMC, the CCAO and WIT are working together to support women's participation in sport. We look forward to welcoming some of the country's top camogie players to Waterford next February for the UPMC Ashbourne Cup Weekend and to being part of the inclusive movement to encourage and accelerate progress for women's sport in Ireland."
Speaking on behalf of WIT Vikings GAA Club, Development Officer and CCAO Treasurer Katie Redmond said: "The Club and the WIT Arena are delighted to have the opportunity to host this year's event. We are looking forward to welcoming all teams and spectators to our wonderful facilities here in the WIT Arena and to what I am sure will be an exciting weekend, showcasing some of camogie's greats. Having worked closely with UPMC over the last year in our Club sponsorship, the partnering of the CCAO Third Level Camogie with UPMC Whitfield - a world class healthcare provider - is a natural fit for the Ashbourne Cup Weekend in 2020."
* Details of gradings and groups for the other three championships can be viewed on the @3rdLevelCamogie Instagram, Facebook and Twitter accounts.
Most Read Stories