"My class have learned so much from these lads"
November 27, 2020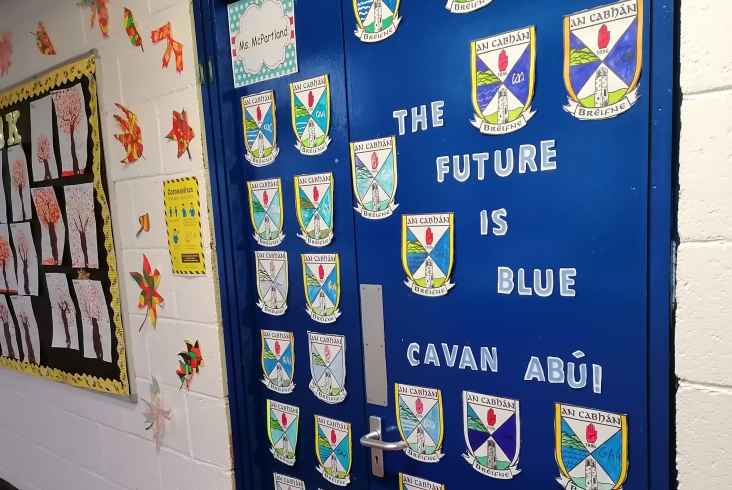 St. Fiachra's Senior National School in Beaumont, Co Dublin became a sea of blue following Cavan's Ulster SFC final victory
This is what the GAA's all about…
One Dublin classroom has been beaming with delight this week following Cavan's Ulster senior football championship final triumph over Donegal last Sunday.
Deirdre McPartland teaches fourth class at St. Fiachra's Senior National School in Beaumont and, as a proud native of the Breffni County, her love for Mickey Graham's team has managed to rub off on her students these past couple of weeks.
In fact, Miss McPartland can now confidently say that she has convinced 31 Dubs to become avid Cavan supporters with the encouragement of little to no homework for their success thrown in to sweeten the deal!
"With a night off homework for every victory to date and a week off for an Ulster title, let's just say the atmosphere is electric for the chance to have a rattle at Sam as they would get no homework for the year," says Miss McPartland.
Upon return to school on Thursday morning, the students had Cavan flags, banners and poems ready for their teacher with the game itself at the Athletic Grounds being described to her as "edge of your seat kinda stuff". One child even noted how she was ready to strap her parents to the couch should they try to leave the house during the match.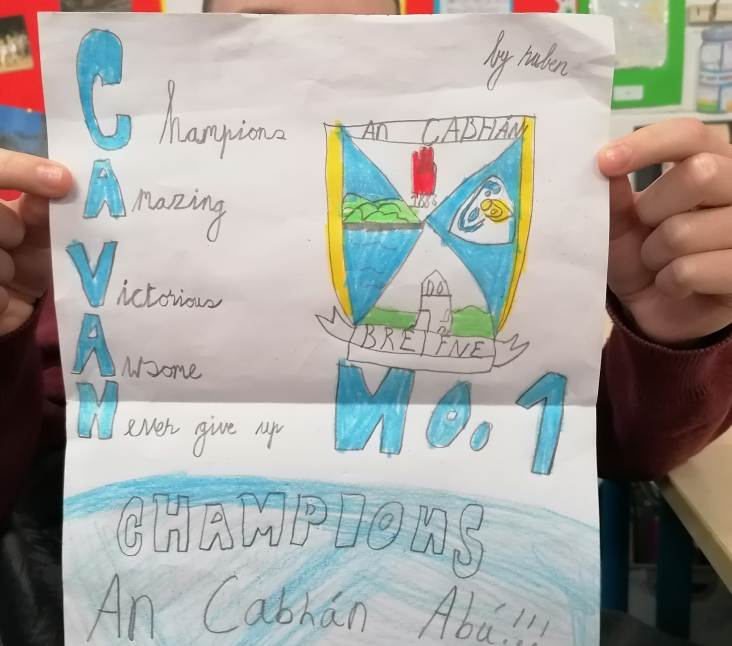 31 Dubs at St. Fiachra's Senior National School have become avid Cavan supporters in recent weeks
Of course, next up for the newly crowned Ulster champions is a date against Dublin at Croke Park on Saturday week when newly born Cavan fans and seasoned supporters of the Dubs will just have to learn to co-exist in the same household for 70 minutes at least.
The comeback kings of this year's championship, Cavan have taught a valuable lesson to these students, according to Miss McPartland, and that is to never give up.
"I feel this year more than ever this is something we need to remember," she said.
"We need to mirror what the Breffni boys are doing and that is to dig deep when times are tough, hold firm and remember winners never quit and quitters never win! This is something that I've emblazoned into the minds of these young Dubs and so they are merry in the prospect of a potential victory against their home county, the mighty Dubs!
She added: "My class have learned so much from these lads and they have truly inspired them not only in the world of sport but in their everyday lives as they now see the value in the three words...DREAM...BELIEVE... ACHIEVE!"
Most Read Stories