Joe McDonagh Cup: Antrim into final as Bonnar steps down in Carlow
November 28, 2020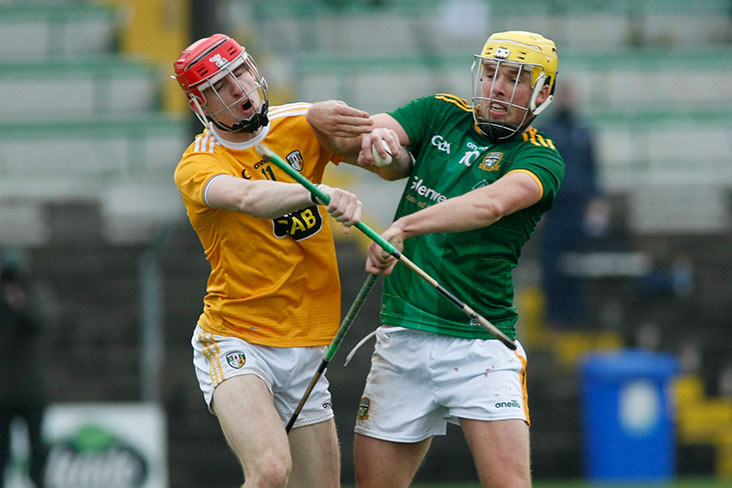 Antrim's James McNaughton with James Kelly Meath during the Joe McDonagh Cup clash at Pairc Tailteann
Antrim will face Kerry in next month's Joe McDonagh Cup final after seeing off Meath's challenge this afternoon in Navan.
It finished 2-30 to 3-10 in the visitors' favour at Pairc Tailteann, where goals from Niall McKenna and Dan McCloskey helped see them safely over the line towards a third win in the competition.
It was Meath that made the better start to the final round tie on home turf, with James Kelly's goal after four minutes putting them in the driving-seat.
The Royals opened up the gap to four (1-8 to 0-7) by the 22nd minute before McKenna netted two minutes later.
The hosts managed to stretch their lead through the scores of Alan Douglas and Jack Walsh but a string of points from Ciaran Clarke, Michael Bradley (3) and Conor McCann had Antrim ahead by 1-13 to 1-9 at the break.
The Glensmen's lead would be stretched to seven early in the restart with Clarke and Bradley to the fore prior to a Stephen Morris goal bringing Meath right back into contention.
However, Antrim closed the door on their opponents with an unanswered 1-4, which included a superbly taken goal by McCloskey, to seal their final berth against Kerry at Croke Park on December 13th.
In Mullingar, Westmeath concluded their 2020 campaign with a second win on the bounce when they defeated Carlow by 1-21 to 2-13.
Niall Mitchell's 24th minute goal helped Shane O'Brien's side to take control of this one, as that strike cancelled out John Michael Nolan's goal at the other end seven minutes in and set the hosts towards a 1-9 to 1-7 interval lead.
The Lake men would go on to open up a 10-point gap in the second-half, with Aonghus Clarke finishing with 0-13 to his name, as Carlow grabbed a goal in injury-time which proved mere consolation.
Following the five-point defeat, Carlow boss Colm Bonnar announced his intention to step down after four years in charge with the Barrowsiders.
"I think it is time for a fresh voice and a fresh face and give the lads a chance to regroup. It has been great. I have really enjoyed it and have fond memories of my time in Carlow," Bonnar is quoted saying by GAA.ie afterwards.
Antrim - C McAllister; S Rooney, M Donnelly, P Duffin; G Walsh, P Burke, R McGarry (0-1); E Campbell (0-1), A O'Brien; N McKenna (1-0), J McNaughton (0-2), M Bradley (0-8); C Clarke (0-12, 10f), C McCann (0-2), D McCloskey (1-0). Subs: D McMullan (0-1) for G Walsh, D Nugent (0-1) for C McCann, N McKeague (0-2) for N McKenna, E O'Neill for D McCloskey, C Johnston for R McGarry.
Meath - C Ennis; M Burke, S Brennan, S Geraghty; B McGowan, D Kelly (0-1), S Whitty; P Potterton (0-1), P O'Hanrahan (0-2, 1f, 1'65); J Kelly (1-1), S Morris (1-0), A Douglas (0-2); J Walsh (0-1), D McGowan (0-1), K Keoghan (0-1). Subs: P Conneely for S Geraghty, D Healy (1-0f) for J Walsh, J McGowan for S Morris, N Potterton for K Keoghan, E O Donnnchadha for P O'Hanrahan.
Referee - D Hughes.
**
Westmeath - E Skelly; B Doyle, D Egerton, C Shaw; A Craig, T Doyle, A Cox; C Boyle (0-4), R Greville; J Boyle, A Clarke (0-13, 6f, 2'65), J Galvin (0-1); D Clinton, N Mitchell (1-0), S Williams (0-1). Subs: L Loughlin (0-1) for S Williams, B Murtagh (0-1) for J Galvin, C Kane for A Cox, E Price for D Clinton, D McNicholas for N Mitchell.
Carlow - D Jordan; R Smithers, P Doyle, M Doyle; G Coady, D English, D Byrne; J Kavanagh (0-2), A Amond; J M Nolan (1-0), P Coady, E Byrne (0-1); C Nolan (0-5, 2f), K McDonald (0-4, 3f), J Nolan (1-1). Subs: J Doyle for C Nolan, R Coady for A Amond.
Referee - T Walsh.
Most Read Stories