Dublin face Kerry in 2020 National League opener
November 26, 2019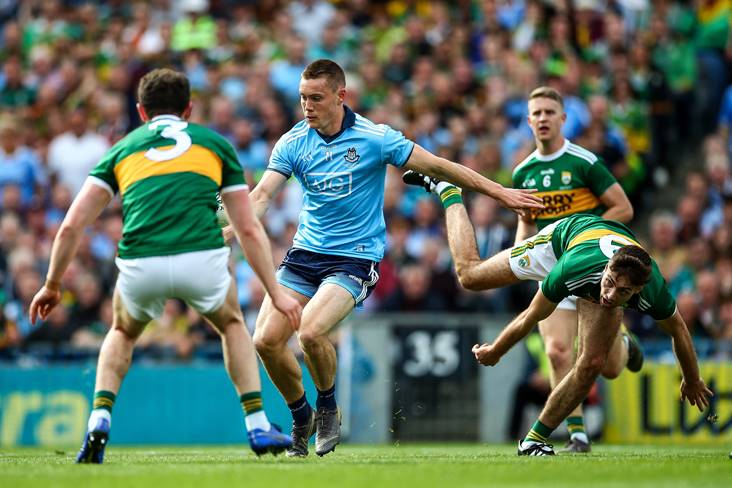 Dublin's Con O'Callaghan kicks a point under pressure against Kerry. ©INPHO/James Crombie.
Dublin and Kerry will collide at Croke Park in the opening round of next year's Allianz Football League.
Last year's All-Ireland finalists face each other at headquarters on Saturday, January 25th (throw-in 7.15pm), with Division 1 champions Mayo taking on Donegal in Ballybofey at the same time.
The Allianz Hurling League is also set to start with a bang as All-Ireland champions Tipperary host this year's league winners Limerick at Semple Stadium that Saturday at 5.15pm.
Galway's new manager Shane O'Neill will plot against his home county Limerick in Round 2.
See the full list of the 2020 Allianz Football and Hurling League fixtures round by round below
Saturday 25 January
FL Division 1 round 1
Donegal v Mayo, MacCumhaill Park, 7.15pm
Dublin v Kerry, Croke Park, 7.15pm
FL Division 2 round 1
Armagh v Cavan, Athletic Grounds, 7pm
FL Division 3 round 1
Derry v Leitrim, Celtic Park, 5pm
Cork v Offaly, Pairc Ui Chaoimh, 6pm
FL Division 4 round 1
Carlow v Wicklow, Netwatch Cullen Park, 7pm
Waterford v Limerick, Fraher Field, 7pm
HL Division 1 Group A round 1
Tipperary v Limerick, Semple Stadium, 5.15pm
HL Division 1 Group B round 1
Laois v Wexford, MW Hire O'Moore Park, 7pm
HL Division 2A round 1
Mayo v Kerry, MacHale Park, 2pm
HL Division 2B round 1
Roscommon v Warwickshire, Dr Hyde Park, 1pm
HL Division 3B round 1
Lancashire v Cavan, Abbotstown, 2pm
Sunday 26 January
FL Division 1 round 1
Tyrone v Meath, Healy Park, 2pm
Galway v Monaghan, Pearse Stadium, 2.30pm
FL Division 2 round 1
Westmeath v Clare, TEG Cusack Park, 2pm
Roscommon v Laois, Dr Hyde Park, 2pm
Kildare v Fermanagh, Newbridge, 2.30pm
FL Division 3 round 1
Longford v Louth, Glennon Bros Pearse Park, 2pm
Tipperary v Down, Clonmel, 2pm
FL Division 4 round 1
Antrim v Wexford, Glenavy, 2pm
London v Sligo, Ruislip, 2pm
HL Division 1 Group A round 1
Galway v Westmeath, Pearse Stadium, 12.30pm
Waterford v Cork, Walsh Park, 2pm
HL Division 1 Group B round 1
Clare v Carlow, Cusack Park, 2pm
Kilkenny v Dublin, UPMC Nowlan Park, 2pm
HL Division 2A round 1
Wicklow v Antrim, Aughrim, 2pm
Offaly v Meath, Birr, 2pm
HL Division 2B round 1
Kildare v London, Newbridge, 12.30pm
Derry v Down, Owenbeg, 2pm
HL Division 3A round 1
Louth v Tyrone, Darver, 2pm
Donegal v Armagh, Letterkenny, 2pm
Monaghan v Longford, Inniskeen, 2pm
HL Division 3B round 1
Fermanagh v Leitrim, Brewster Park, 2pm
Saturday 1 February
FL Division 1 round 2
Mayo v Dublin, MacHale Park, 7pm
Kerry v Galway, Austin Stack Park, 7pm
FL Division 2 round 2
Laois v Armagh, MW Hire O'Moore Park, 6pm
Cavan v Westmeath, Kingspan Breffni, 7pm
FL Division 3 round 2
Down v Derry, Pairc Esler, 7pm
FL Division 4 round 2
Wexford v Carlow, Wexford Park, 2pm
HL Division 1 Group A round 2
Cork v Tipperary, Pairc Ui Chaoimh, 7pm
HL Division 2B round 2
Warwickshire v Kildare, Pairc na hEireann, 2pm
HL Division 3B round 2
Sligo v Lancashire, Markievicz Park, 1pm
Sunday 2 February
FL Division 1 round 2
Monaghan v Tyrone, Castleblayney, 2pm
Meath v Donegal, Pairc Tailteann, 2.30pm
FL Division 2 round 2
Clare v Kildare, Cusack Park, 2pm
Fermanagh v Roscommon, Brewster Park, 2pm
FL Division 3 round 2
Louth v Tipperary, Gaelic Grounds, 2pm
Leitrim v Cork, Pairc Sean MacDiarmada, 2pm
Offaly v Longford, O'Connor Park, 2pm
FL Division 4 round 2
Limerick v London, Kilmallock, 12pm
Wicklow v Waterford, Aughrim, 2pm
Sligo v Antrim, Markievicz Park, 2pm
HL Division 1 Group A round 2
Westmeath v Waterford, TEG Cusack Park, 2pm
Limerick v Galway, LIT Gaelic Grounds, 2.30pm
HL Division 1 Group B round 2
Dublin v Laois, Parnell Park, 2pm
Carlow v Kilkenny, Netwatch Cullen Park, 2pm
Wexford v Clare, Wexford Park, 2pm
HL Division 2A round 2
Meath v Wicklow, Pairc Tailteann, 12.30pm
Antrim v Mayo, Loughgiel, 2pm
Kerry v Offaly, Austin Stack Park, 2pm
HL Division 2B round 2
Down v Roscommon, Ballycran, 12.30pm
London v Derry, Ruislip, 2pm
HL Division 3A round 2
Longford v Louth, Glennon Bros Pearse Park, 2pm
Armagh v Monaghan, Athletic Grounds, 2pm
Tyrone v Donegal, Healy Park, 2pm
HL Division 3B round 2
Cavan v Fermanagh, Kingspan Breffni, 2pm
Saturday 8 February
FL Division 1 round 3
Dublin v Monaghan, Croke Park, 7pm
FL Division 2 round 3
Armagh v Kildare, Athletic Grounds, 7pm
FL Division 4 round 3
Waterford v Wexford, Fraher Field, 7pm
Sunday 9 February
FL Division 1 round 3
Meath v Mayo, Pairc Tailteann, 2pm
Donegal v Galway, Letterkenny, 2pm
Tyrone v Kerry, Healy Park, 2pm
FL Division 2 round 3
Westmeath v Fermanagh, TEG Cusack Park, 2pm
Laois v Cavan, MW Hire O'Moore Park, 2pm
Roscommon v Clare, Dr Hyde Park, 2pm
FL Division 3 round 3
Derry v Tipperary, Owenbeg, 1pm
Longford v Leitrim, Glennon Bros Pearse Park, 2pm
Louth v Offaly, Gaelic Grounds, 2pm
Cork v Down, Pairc Ui Chaoimh, 2pm
FL Division 4 round 3
Carlow v Limerick, Netwatch Cullen Park, 2pm
Wicklow v Sligo, Aughrim, 2pm
London v Antrim, Ruislip, 2pm
Saturday 15 February
HL Division 1 Group A round 3
Limerick v Waterford, LIT Gaelic Grounds, 7pm
HL Division 1 Group B round 3
Carlow v Dublin, Netwatch Cullen Park, 7pm
HL Division 2A round 3
Meath v Kerry, Trim, 2pm
HL Division 2B round 3
Down v Warwickshire, Ballycran, 1pm
Sunday 16 February
HL Division 1 Group A round 3
Westmeath v Cork, TEG Cusack Park, 2pm
Galway v Tipperary, Pearse Stadium, 2pm
HL Division 1 Group B round 3
Clare v Laois, Cusack Park, 2pm
Wexford v Kilkenny, Wexford Park, 2pm
HL Division 2A round 3
Mayo v Wicklow, MacHale Park, 1pm
Offaly v Antrim, O'Connor Park, 2pm
HL Division 2B round 3
Roscommon v London, Dr Hyde Park, 1pm
Derry v Kildare, Owenbeg, 2pm
HL Division 3A round 3
Longford v Armagh, Glennon Bros Pearse Park, 2pm
Louth v Donegal, Darver, 2pm
Monaghan v Tyrone, Castleblayney, 2pm
HL Division 3B round 3
Fermanagh v Sligo, Brewster Park, 2pm
Leitrim v Cavan, Pairc Sean MacDiarmada, 2pm
Saturday 22 February
FL Division 1 round 4
Dublin v Donegal, Croke Park, 7pm
FL Division 2 round 4
Fermanagh v Cavan, Brewster Park, 7pm
FL Division 3 round 4
Down v Longford, Pairc Esler, 7pm
Tipperary v Cork, Semple Stadium, 7pm
FL Division 4 round 4
Sligo v Waterford, Markievicz Park, 2pm
HL Division 1 Group B round 4
Dublin v Wexford, Croke Park, 5pm
Laois v Carlow, MW Hire O'Moore Park, 7pm
HL Division 2A round 4
Wicklow v Kerry, Aughrim, 2pm
HL Division 2B round 4
Derry v Warwickshire, Owenbeg, 1pm
HL Division 3B round 4
Lancashire v Fermanagh, Abbotstown, 2.30pm
Sunday 23 February
FL Division 1 round 4
Kerry v Meath, Fitzgerald Stadium, 1pm
Galway v Tyrone, Tuam Stadium, 2pm
Monaghan v Mayo, Clones, 2pm
FL Division 2 round 4
Clare v Laois, Cusack Park, 2pm
Westmeath v Armagh, TEG Cusack Park, 2pm
Kildare v Roscommon, Newbridge, 2.30pm
FL Division 3 round 4
Derry v Louth, Owenbeg, 2pm
Leitrim v Offaly, Pairc Sean MacDiarmada, 2pm
FL Division 4 round 4
Wexford v London, Wexford Park, 12pm
Limerick v Wicklow, Rathkeale, 2pm
Antrim v Carlow, Glenavy, 2.30pm
HL Division 1 Group A round 4
Waterford v Galway, Walsh Park, 2pm
Cork v Limerick, Pairc Ui Chaoimh, 2pm
Tipperary v Westmeath, Nenagh, 2pm
HL Division 1 Group B round 4
Kilkenny v Clare, UPMC Nowlan Park, 2pm
HL Division 2A round 4
Antrim v Meath, Loughgiel, 12.30pm
Mayo v Offaly, MacHale Park, 2pm
HL Division 2B round 4
Kildare v Roscommon, Newbridge, 12.30pm
London v Down, Ruislip, 2pm
HL Division 3A round 4
Armagh v Louth, Athletic Grounds, 2pm
Donegal v Monaghan, Letterkenny, 2pm
Tyrone v Longford, Healy Park, 2pm
HL Division 3B round 4
Sligo v Leitrim, Markievicz Park, 2pm
Saturday 29 February
FL Division 1 round 5
Mayo v Kerry, MacHale Park, 7.15pm
Tyrone v Dublin, Healy Park 7.15pm
FL Division 2 round 5
Laois v Kildare, MW Hire O'Moore Park, 7pm
FL Division 4 round 5
London v Wicklow, Ruislip, 1pm
Wexford v Sligo, Wexford Park, 2pm
Waterford v Carlow, Fraher Field, 7pm
Sunday 1 March
FL Division 1 round 5
Donegal v Monaghan, Ballyshannon, 2pm
Meath v Galway, Pairc Tailteann, 2.30pm
FL Division 2 round 5
Fermanagh v Armagh, Brewster Park, 2pm
Roscommon v Westmeath, Dr Hyde Park, 2pm
Cavan v Clare, Kingspan Breffni, 2.30pm
FL Division 3 round 5
Louth v Leitrim, Gaelic Grounds, 2pm
Cork v Derry, Pairc Ui Chaoimh, 2pm
Longford v Tipperary, Glennon Bros Pearse Park, 2.30pm
Offaly v Down, O'Connor Park, 2.30pm
FL Division 4 round 5
Antrim v Limerick, Glenavy, 2pm
HL Division 1 Group A round 5
Galway v Cork, Pearse Stadium, 2pm
Limerick v Westmeath, LIT Gaelic Grounds, 2pm
Tipperary v Waterford, Semple Stadium, 2pm
HL Division 1 Group B round 5
Clare v Dublin, Cusack Park, 2pm
Laois v Kilkenny, MW Hire O'Moore Park, 2pm
Wexford v Carlow, Wexford Park, 2pm
HL Division 2A round 5
Meath v Mayo, Trim, 12.30pm
Kerry v Antrim, Austin Stack Park, 12.30pm
Offaly v Wicklow, O'Connor Park, 12.30pm
HL Division 2B round 5
Down v Kildare, Ballycran, 2pm
Roscommon v Derry, Athleague, 2pm
Warwickshire v London, Pairc na hEireann, 2pm
HL Division 3A round 5
Longford v Donegal, Glennon Bros Pearse Park, 12.30pm
Monaghan v Louth, Inniskeen, 12.30pm
Armagh v Tyrone, Athletic Grounds, 12.30pm
HL Division 3B round 5
Cavan v Sligo, Kingspan Breffni, 12.30pm
Leitrim v Lancashire, Pairc Sean Mac Diarmada, 12.30pm
Saturday 14 March
FL Division 1 round 6
Donegal v Tyrone, MacCumhaill Park, 7pm
FL Division 2 round 6
Armagh v Roscommon, Athletic Grounds, 6.30pm
FL Division 4 round 6
Waterford v London, Fraher Field, 5pm
Carlow v Sligo, Netwatch Cullen Park, 7pm
Sunday 15 March
FL Division 1 round 6
Galway v Mayo, Pearse Stadium, 2pm
Dublin v Meath, Croke Park, 2pm
Monaghan v Kerry, Inniskeen, 2pm
FL Division 2 round 6
Clare v Fermanagh, Cusack Park, 2pm
Westmeath v Laois, TEG Cusack Park, 2pm
Kildare v Cavan, Newbridge, 2pm
FL Division 3 round 6
Down v Leitrim, Pairc Esler, 2pm
Cork v Louth, Pairc Ui Chaoimh, 2pm
Derry v Longford, Celtic Park, 2pm
Tipperary v Offaly, Semple Stadium, 2pm
FL Division 4 round 6
Wicklow v Antrim, Aughrim, 2pm
Limerick v Wexford, Rathkeale, 2pm
Sunday 22 March
FL Division 1 round 7
Kerry v Donegal, Austin Stack Park, 2pm
Galway v Dublin, Pearse Stadium, 2pm
Mayo v Tyrone, MacHale Park, 2pm
Monaghan v Meath, Clones, 2pm
FL Division 2 round 7
Cavan v Roscommon, Kingspan Breffni, 2pm
Clare v Armagh, Cusack Park, 2pm
Kildare v Westmeath, Newbridge, 2pm
Fermanagh v Laois, Brewster Park, 2pm
FL Division 3 round 7
Longford v Cork, Glennon Bros Pearse Park, 2pm
Louth v Down, Gaelic Grounds, 2pm
Leitrim v Tipperary, Pairc Sean MacDiarmada, 2pm
Offaly v Derry, O'Connor Park, 2pm
FL Division 4 round 7
Antrim v Waterford, Glenavy, 1pm
Wexford v Wicklow, Wexford Park, 1pm
London v Carlow, Ruislip, 1pm
Sligo v Limerick, Markievicz Park, 1pm
Most Read Stories