What they said … the weekend in quotes
December 07, 2020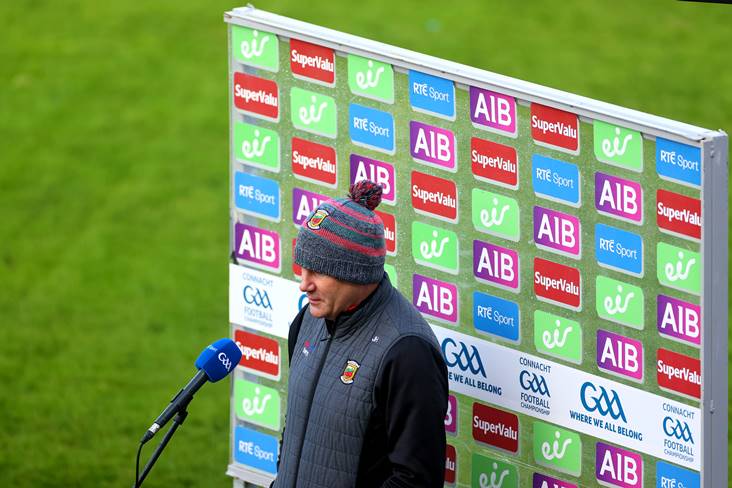 Mayo manager James Horan is interviewed. ©INPHO/James Crombie.
"Dublin are the most successful team in the history of the GAA. You can't miss that fact. But sport is funny, you know. We'll do our thing and see what we can do."
James Horan and Mayo will be hoping to throw a spanner in the works of the well-oiled Dublin machine.
"The last six, seven weeks has been a great journey for Tipperary football. The big thing for Tipp football is we have a habit of going back, we need to go forward now."
David Power hopes Tipperary can build on this year's Munster SFC title success and semi-final appearance.
"I don't want it to sound like sour grapes but that's the time we should have taken a stand. We should have just walked off the field. We shouldn't have continued on until we had a sufficient warm-up in place."
Galway manager Tim Rabbitt regrets not walking off the field prior to their All-Ireland Ladies SFC semi-final defeat to Cork.
"They [Galway] spent quite a bit of time in the dressing room and then emerged out onto the pitch. They would have had the opportunity to get out onto the pitch earlier had they not spent so much time in the dressing room."
LGFA President Marie Hickey responded to Rabbitt's claims.
"For me the whole thing needs to be looked at and say the reality is there's more urbanisation coming. Dublin, Limerick, Cork, Galway, they'll grow and the rest of them will shrink. You have to think 2050 here and say what could it look like. But you're taking all sorts of sacred cows there."
2011 All-Ireland Dublin winning manager Pat Gilroy on Dublin's monopoly of the All-Ireland SFC.
"I spent a couple of years over Ballyboden and I know the work they've done. The amount of players that are over in Ballyboden that would never even get a smell of playing inter-county football. There's an awful lot of guys in Dublin who would get on a lot of other county teams."
Meath manager Andy McEntee highlighted the embarrassment of riches at Dublin's disposal.
"It's a shame for family members if there wasn't some allowance made for those. You look around the country today, we're back in Level 3, every shopping centre the length and breadth of the country is full of people buzzing around."
Following their semi-final success over Cavan, Dessie Farrell called for family members to be allowed to attend the final at Croke Park.
"I am not one of those people who feel we should cut Dublin's finances because that is not the answer. Those finances are going into schools, creating new players and new clubs. So, to me, the only answer for the future has to be dividing Dublin into three or four teams otherwise everyone else is wasting their time. Eventually someone is going to have to sit down and have a serious discussion about what we are going to do with Dublin."
RTE pundit Colm O'Rourke doesn't believe that counties can compete with the Dublin juggernaut.
"If they [Dublin] continue to win as easy as they're looking like, they'll have 80,000 in an All-Ireland final but they might not fill Croke Park for any other matches because they're so far ahead."
Colm Cooper echoed O'Rourke's sentiments on The Sunday Game last night.
"People talk about the quality of players that Dublin have, but their work ethic is excellent. When they didn't have the ball, how quickly they wanted to get it back. That's what we need to get that into our game and every other team before us. That work-ethic, that intensity. It's a wee bit like Barcelona under Pep Guardiola. That's the standard they've set."
Defeated Breffni County boss Mickey Graham compared the Sky Blues to Barcelona.
"Dublin are the bench mark for the last three years. They are going for four in a row and we have a huge job ahead of us. But we'll spend the next two weeks preparing to make sure we can do the best job we can."
Cork selector Paddy O'Shea is looking forward to their ladies final showdown with the reigning champions.
"I am so proud of them. All over lockdown – we closed down collectively – but they worked individually. They never lost sight of the goal that we had. They deserve this today and it's for them."
Jonny Garrity guided Fermanagh to All-Ireland Ladies junior glory.
"It was a difficult year, with everything that went on and girls travelling on their own. We started on the 12th of December, today is the 5th, and to win the All-Ireland – that makes up for a lot."
Manager Derek Dunne and Down were celebrating following their 4-16 to 2-10 All-Ireland Intermediate Camogie final win over Antrim on Saturday.
"It was a tough year for everybody. Some of these girls have lost family members so it's great to finish the year on a high. It lifts people at home to have a day like this."
Victorious manager Michael Murphy outlined what Armagh's All-Ireland Premier Junior Camogie final success meant to his players.
Most Read Stories