Shinty/ Hurling International returns after four-year absence
September 14, 2023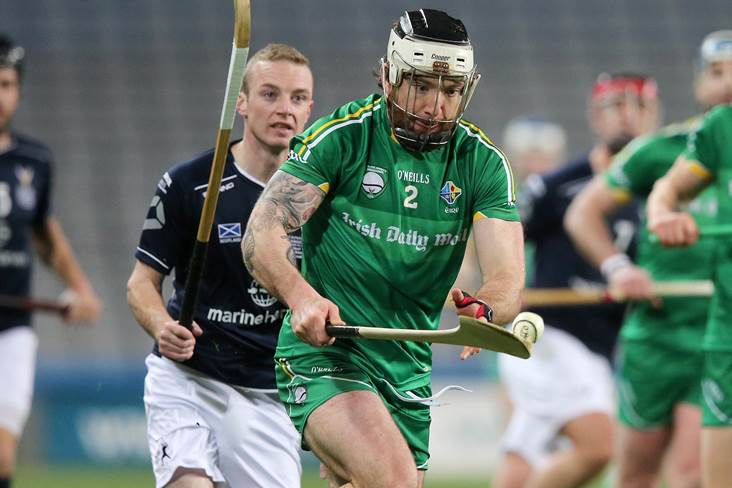 Ireland's Mickey Burke in action against Scotland in the 2015 Hurling/Shinty International second test at Croke Park.
©INPHO/Ryan Byrne.
The GAA is has announced the return of the Shinty/ Hurling International Exhibition match, which will see Ireland take on Scotland in a composite rules game for the first time since 2019.
This event will be held at Páirc Esler in Newry on Saturday October 21. The Shinty/Hurling International Exhibition match has been a long-standing tradition, bringing together top talents from both Scotland and Ireland.
The event is a collaboration between the GAA and the Camanachd Association, the governing body for Shinty.
The match will take place at 3.00pm, with the Down Intermediate Hurling Final following at 5.00pm.
Larry McCarthy, GAA President, said: "On behalf of the Gaelic Athletic Association I welcome the resumption of our collaboration with our friends, and neighbours and sporting cousins in Alba agus An Cumann Camanachad to stage the Ireland-Scotland Hurling-Shinty international.
"This match is an opportunity to celebrate our ties and the cultural links between our proud peoples – chief among which are the games of hurling and shinty which share a common ancestor.
"Next year, the Gaelic Athletic Association will be 140 years old but, that is a mere trifle in the life span of hurling, which later this decade will mark 3,300 years in our consciousness.
"Rules have changed dramatically in the last 140 years never mind 3,000. But what the games of hurling and shinty continue to champion are extraordinary levels of skill and feats of stamina and strength that people marvel at.
"Nothing celebrates Gaelic Games more than the playing of games and that is why this link between the GAA and the Camanachad Association is so important."
Each organisation will select a 20-player squad to travel to Newry in the coming weeks. Scotland will be managed by Garry Reid and the Irish team will be managed by former Connacht Hurling Director, Damien Coleman.
Most Read Stories