Wexford refs hail "constructive" meeting with county board
September 29, 2022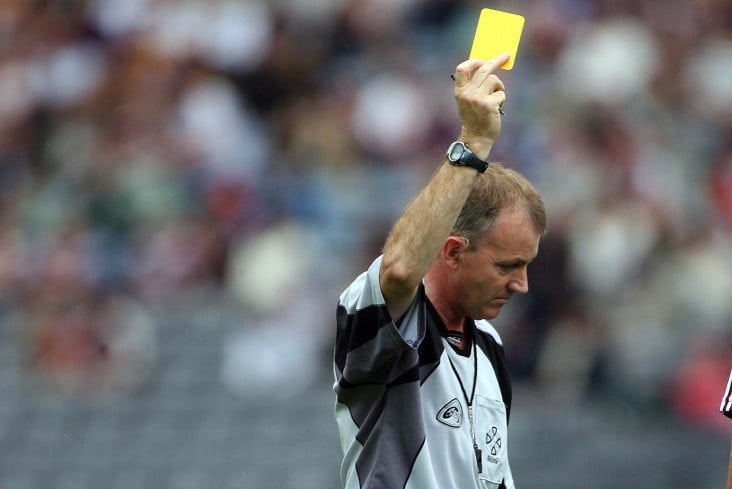 Referee Dickie Murphy issues a yellow card ©INPHO/Lorraine O'Sullivan
Wexford referee representatives have hailed the progress made at a recent meeting with the county board.
It comes after an alleged assault of a match official at a junior football championship game last Sunday, which led to a member of the St Joseph's club being suspended and is the second such incident involving the alleged assault of a match official in the Model County in the space of six weeks.
Speaking to RTE Sport after what he described as "a very constructive meeting" with the county board, Dickie Murphy, a four-time All-Ireland final referee, and a member of the Wexford referee's committee welcomed the progress that was made.
"In fairness to the county chairman Michael Martin, the whole management committee of the board was there and there was a huge turnout of referees," he said.
"At the end of the meeting we decided that we're going to referee next weekend and we came up with some very good initiatives that will hopefully be a template for other counties as well.
"Serious things have happened in other countries over the last few weeks as well and not playing games is probably not the answer but we need to do something that will help everyone.
"We're finding it hard to get referees in all counties. We're trying to attract referees, there's recruitment campaigns going on and we're trying to retain.
"So any kind of abuse be it online abuse, is not good, it doesn't help the cause.
"It's not a talking shop now, things have to be done. It's going to have to really come from Croke Park in conjunction with the counties and if we want to get new referees or retain referees, that's what we have to do."
Most Read Stories