Champions Laois and Antrim lead the way as TG4 Teams of the Championship announced
September 27, 2022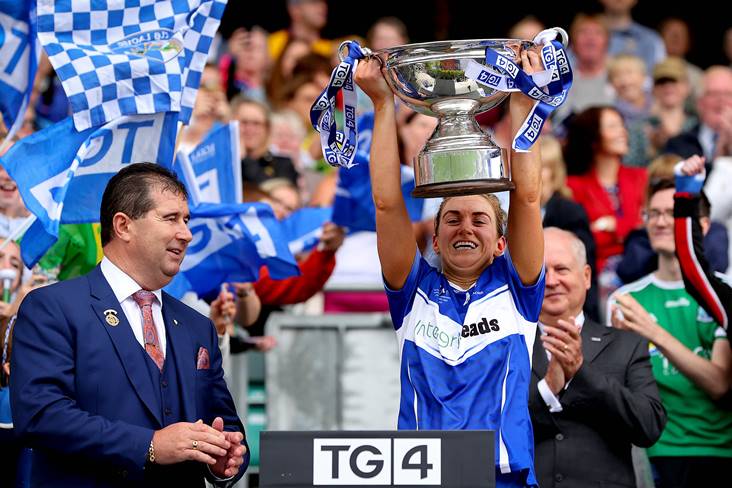 Laois captain Aimee Kelly lifts the Mary Quinn Memorial Cup. ©INPHO/Ryan Byrne.
These selections honour outstanding individual displays throughout the 2022 TG4 All-Ireland Championships in the Junior and Intermediate grades – with the winners set to receive their awards at a Croke Park function on Friday November 4.
Laois were crowned TG4 All-Ireland Intermediate champions on July 31, following victory in the Final over fellow Leinster outfit, Wexford.
There was also a provincial 'derby' in the Junior decider, as Ulster rivals Antrim and Fermanagh battled it out for the West County Hotel Cup.
The silverware eventually went to Antrim, following a replay on August 13 at Armagh's Athletic Grounds.
The Teams of the Championship have now been selected by members of the LGFA's All Star committee – with Laois claiming seven slots on the Intermediate team, while Antrim have eight players included on the Junior 15.
Laois goalkeeper Eimear Barry, winner of the ZuCar Golden Glove award, is joined on the TG4 Team of the Intermediate Championship by six team-mates, including ZuCar Golden Boot winner and top scorer across the TG4 All-Ireland Championships, Mo Nerney.
Player of the Match in the TG4 All-Ireland Intermediate Final, Aisling Donoher, is also selected from Laois, as are Rachel Williams, Ellen Healy, Laura-Marie Maher and Erone Fitzpatrick.
Runners-up Wexford have four included, namely Sarah Harding Kenny, team captain Róisín Murphy, Caitríona Murray and Aisling Murphy, while semi-finalists Clare have Tara Kelly, Aisling Reidy and Fidelma Marrinan named on the team.
The remaining slot goes to captain Laura Fleming, representing semi-finalists Roscommon.
On the TG4 Junior Team of the Championship, winners Antrim are represented by goalkeeper Anna McCann, Aislinn McFarland, Niamh McIntosh, Saoirse Tennyson, Sarah O'Neill, Lara Dahunsi, who was player of the match in the drawn Final, captain Cathy Carey, who was player of the match in the replay against Fermanagh, and Orlaith Prenter.
Fermanagh's exploits in reaching the Final are rewarded by the inclusion of Sarah McCarville, Aisling O'Brien, Bláithín Bogue and Junior Championship top scorer Eimear Smyth in the Team of the Championship, while there are also slots for Carlow forwards Rachel Sawyer and Sara Doyle.
Limerick, who were also beaten semi-finalists along with Carlow, have corner back Kristine Reidy selected in the team.
It has also been confirmed that the 2022 TG4 All Star banquet will be held at Dublin's Bonnington Hotel on Saturday, November 19.
The list of 45 nominees will be revealed next week.
TG4 Junior Team of the Championship
Anna McCann – Antrim
Kristine Reidy – Limerick
Aislinn McFarland – Antrim
Niamh McIntosh – Antrim
Sarah McCarville – Fermanagh
Saoirse Tennyson – Antrim
Sarah O'Neill – Antrim
Lara Dahunsi – Antrim
Aisling O'Brien – Fermanagh
Cathy Carey – Antrim
Bláithín Bogue – Fermanagh
Rachel Sawyer – Carlow
Sara Doyle – Carlow
Orlaith Prenter – Antrim
Eimear Smyth – Fermanagh
County by county breakdown: Antrim 8, Fermanagh 4, Carlow 2, Limerick 1.
TG4 Intermediate Team of the Championship
Eimear Barry – Laois
Sarah Harding Kenny – Wexford
Aisling Donoher – Laois
Tara Kelly – Clare
Rachel Williams – Laois
Róisín Murphy – Wexford
Ellen Healy – Laois
Aisling Reidy – Clare
Laura Fleming – Roscommon
Caitríona Murray – Wexford
Laura-Marie Maher – Laois
Erone Fitzpatrick – Laois
Mo Nerney – Laois
Aisling Murphy – Wexford
Fidelma Marrinan – Clare
County by county breakdown: Laois 7, Wexford 4, Clare 3, Roscommon 1.
Most Read Stories