Sherlock sets the record straight
September 21, 2019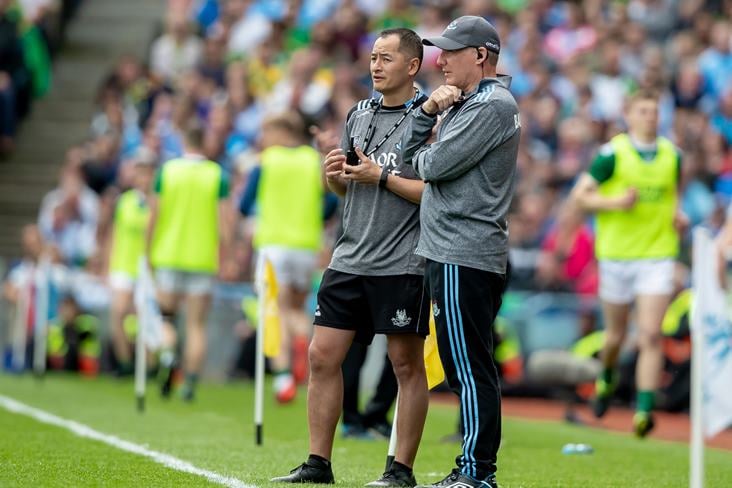 Jason Sherlock with Dublin manager Jim Gavin
Rumours of Jason Sherlock's departure as a Dublin senior football selector earlier this year were greatly exaggerated.
Back in February it was widely reported that the former darling of Hill 16 had left the Dublin set-up. It was suggested that 'relations had become strained' between Sherlock and manager Jim Gavin but he was subsequently captured by tv cameras disembarking from the team bus for their league clash with Kerry in Tralee.
In an extensive interview in today's Irish Daily Star, the 1995 All-Ireland winner gave his side of the story.
"I'm not saying everything was perfect, but we weren't at that stage," he revealed.
"In some ways, it might have helped things because when that came out, it was important that Jim and myself showed that we were on the same page.
"I was forced to listen to talk shows on radio talking about me as if I was gone and thanking me for everything.
"Everyone is curious about Dublin GAA and I appreciate it's hard for journalists to get access (to check stories), whether that's right or wrong, that's another day's work."
At the time, speculation as to the cause of the rift focused on Sherlock's decision to release an autobiography and participation in a documentary about his life, 'Jayo', which aired on RTE last Christmas.
"When I did the book, when I did the documentary, I knew that mightn't fit with what Dublin expected.
"I went into both of them with my eyes open to what the consequences could be and it's a credit to the Dublin management team, the Dublin players, that they accepted it and continued to treat me as part of the team."
Fast forward to September and now there is question marks over Jim Gavin's, and by extension the entire management teams, future following the Sky Blues' ground-breaking five in-a-row achievement.
"Emotionally, you need to recalibrate and see where you are. When the dust settles, you decide.
"I was very lucky that Jim took a punt on me and gave me this opportunity. I've really enjoyed it and would like to think that I've added a bit of value.
"Ultimately, Jim is the leader and we're at the mercy of his decisions but, at the same time, you have to make your own decisions. Only time will tell."
Most Read Stories