What they said ... the weekend in quotes
October 09, 2017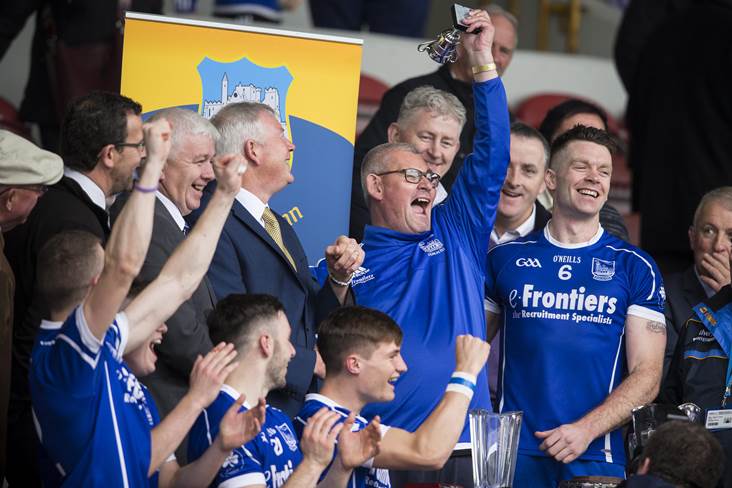 Thurles Sarsfields chief supporter Declan Ryan receives his own trophy during the presentation after their Tipperary SHC final victory over Borris-Ileigh at Semple Stadium, Thurles.
©INPHO/Cathal Noonan.
"Naturally, we'll smell the flowers and the bloom. County finals are always hard to win and we'll certainly enjoy this one."

Paddy McCormack mastermined a Tipperary SHC four-in-row for Thurles Sarsfields.

"They are a super team with threats all over the field. We needed to be winning as many individual battles as possible and that just didn't happen."

Borris-Ileigh's Brendan Maher took his hat off to Sars.

"If we win there won't be a cow milked or mass said for a couple of days."

Unfortunately for Fr Vinny Stapleton and Borris-Ileigh, they were no match for Thurles Sarsfields in the Dan Breen Cup decider.

"It's always a big question about hunger, but these lads have had so little success in 67 years, and to come and win it last year, you could have forgiven them if they said they had got what they wanted and faded away into the sunset."

Mullinalaghta, under the guidance of former Cavan star Mickey Graham, put Longford SFC titles back-to-back.

"We haven't talked about an Ulster final at all. I know it's a bit of a cliche but we're just taking it one game at a time."

Ballygalget's manager Paddy Monan will now turn his attention to taking on holders Slaughtneil in the Ulster Club SHC decider.

 "I'm staying put, that's the main thing. To be honest, playing for Kerry was always a dream of mine so any opportunity I got to do that, I was going to jump at it. Whichever step the management teams decide to take, I'll be delighted to go along with that."

Kerry supporters can breath a sigh of relief as David Clifford has committed his future to the Kingdom.
"The International Rules is something I've always loved doing, but there's certain priorities. I had a fire in the business this week, and my wife is heavily pregnant at this stage, so there's lots of things happening in my life at the moment."
After starring in Moy's first Tyrone IFC success since 1982, Sean Cavanagh ruled himself out of the upcoming International Rules series against Australia.

"We won by 14 points yet we are not happy. Most clubs would be delighted with that result. But we set tasks and standards for the players in games and we expect every one of them to follow that through all the way. It gets frustrating when they don't."

Despite the 5-13 to 0-14 win over West Kerry, Dr Crokes selector Harry O'Neill wasn't satisfied with their performance in the Kerry SFC semi-final.

"I wouldn't be super confident that it is going to do anything for the game. I think it will make the stronger teams stronger. I think we are thinking of the big days only in the GAA  we are leaving clubs behind and weaker counties behind and ultimately I think it will damage the game."

The 'Super 8s' will benefit just the strong counties, according to Carlow manager Turlough O'Brien.

"We sent these plans actually to 32 counties on a registered letter and not one County Board responded. So it just goes to show that there is serious levels of incompetence across County Boards in general."

CPA fixtures co-ordinator Derek Kavanagh highlighted the lack of engagement from county officials throughout the country.

"Joe actually sent me a text this week to say 'sorry about all the fuss'. He said he wishes there wasn't the reaction that there was and that it's gone overboard. And he's apologising for it. So he's obviously changed his tune since. And he fully respects that I'm entitled to have a testimonial dinner if I want."

Appearing on the Late Late Show, Colm Cooper claimed that Joe Brolly had a change of heart about his upcoming testimonial dinner - something that the 1993 Derry All-Ireland winner later contradicted on twitter.

"I think it's a load of crap."

Retiring Crossmaglen 'keeper Paul Hearty isn't a fan of gaelic football's new kick-out rule.
Most Read Stories